"Advice? Sometimes you are going to be so frustrated you want to give up – you'll hate the guitar. But if you stick with it, you'll be rewarded." Jimi Hendrix talks technique, songwriting, making records and more in this 1968 Guitar Player interview
Electric Ladyland was released 25 October 1968. Guitar Player interviewed Jimi Hendrix shortly before the album's release...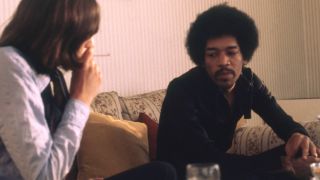 (Image credit: Getty Images)
In early October 1968, Guitar Player spoke to Jimi Hendrix on what was just the second anniversary of his trio, the Jimi Hendrix Experience. That night, the band played a historic performance at the Winterland Arena in San Francisco. At the time, the guitarist was riding high – his third and final studio album with the group, Electric Ladyland was just about to hit the stores.
1968 was quite a year. Martin Luther King Jr. and Robert Kennedy were assassinated, Apollo 8 became the first manned spacecraft to reach the Moon, and American opinion began to turn firmly against the Vietnam War.
On the music front, 1968 saw the release of Jeff Beck's Truth, the Mothers of Invention's We're Only in It for the Money and Cream's Wheels of Fire. Meanwhile, the Beatles studied Transcendental Meditation in India, where they wrote much of the music that appeared on the 'White Album'.
Released on 25 October, 1968, Electric Ladyland, a self-produced double-LP reached the number one position in the U.S. charts the following month. Hendrix then appeared on the cover of the December 1968 issue of Guitar Player where he gave this incredible interview...
Jimi Hendrix plays, the house comes down. It doesn't fall in small pieces, but in chunks. The whole place topples on the audience, but it doesn't touch them because he has got them flying up there with him somewhere.
That's the way it was at Winterland in San Francisco when we interviewed Jimi Hendrix. That's the way he makes it.
"All of my songs happen on the spur of the moment," he says, and you know he's leveling with you. So you ask him if he has to compensate for this spontaneity by using gimmicks.
"On some records, you hear all this clash and bang and fanciness," he answers. "But all we're doing is laying down the guitar tracks, and then we echo here and there. We're not adding false electronic things. We use the same thing anyone else would, but we use it with imagination and common sense.
"Like in 'House Burning Down' [Electric Ladyland], we made the guitar sound like it was on fire. It's constantly changing dimensions, and up on top that lead guitar is cutting through everything."
He tells you his most important thing is to honestly communicate with the audience. His stage presence is usually expected to be sort of obscene, with lots of gesturing, but this is not true most of the time.
Jimi's presence is always cool, and he lets his emotions come through strong. At times, he has turned his back on the audience – if that's the way he really felt.
"When I don't say 'thank you,' or I turn my back to the audience, it's not against them," he explains. "I'm just doing that to get a certain thing out. I might be uptight about the guitar being out of tune or something.
"Things have to go through me, and I have to show my feelings as soon as they're there."
One problem Jimi has is that his instruments won't hold up. He explains: "Like these two guitars I have now, they've been around for a while and just don't stay in tune. They might slip out of tune a bit right in the middle of the song, and I'll have to start fighting to get it back in tune.
"We tune up between every song because it's not a Flash Gordon show – everything all neat and rehearsed. It's not one of those kinds of things. It's important for us to get our music across the best way we can. It means we have to do it naturally, like tuning up before songs."
Jimi adds that it sometimes is tough working with the other members of the Experience, drummer Mitch Mitchell and bassist Noel Redding.
"Sometimes they might want to tell me something, and I might not be able to understand. It gets frustrating. Any time you make a song, you want your own personal thing in it – as well as the group.
"We don't compromise with each other very much, you know. Like one guy thinks one thing, and he's going to stick with that one thing, so he does it the way he wants it."
Jimi admits the trio doesn't do much practicing.
"Most of our practice is thinking about it. They might hear the same tune I have, so they throw it around in their minds and picture the fingerboard. So when we go to the studios and I give them a rough idea, maybe Mitch and I will lay a track down completely by ourselves, and then add the rest.
"As far as jamming out here on a show, we try to listen to each other. I just keep my music in my head. It doesn't even come out to the other guys until we go to the studio.
"Sometimes, if I have a new song, or if the guys want to take a vacation, or something like that, maybe I'll go to the studio by myself and have an acetate made with a rough idea about the drums, guitar, bass and vocal.
"Then, other times, I'll just come in banging away on the guitar, be singing, and say this is a new song. We try to put our own self into it, no matter what song we play."
What does Jimi look for in other musicians?
"When I see a group, I look for feeling, but not the jump-around kind of feeling," he says. "Then I look for togetherness – a communication between the musicians. Originality comes about fourth or fifth."
The night we talked with Jimi Hendrix was the second anniversary of the trio.
Jimi himself was born in Seattle, 25 years ago. He left school early to join the Army Airborne. "I've played with millions of groups, played behind cats who are making it now," says the guitarist.
Jimi feels that those who influenced him while he was trying to make it were Muddy Waters, Elmore James, Eddie Cochran, and B.B. King, among others. But Jimi's style is not a mixture of the past. It is something which comes out of himself.
"I write songs to release frustration," he says. "I like to play lead sometimes so I can express myself. But the way I play lead is a raw type of way. It comes to you naturally."
The way Jimi Hendrix plays may be natural for Jimi Hendrix, but it's the opposite of most other guitarists. A left-hander, he usually plays a right-handed Fender Stratocaster that's flopped upside down and restrung the normal way with Fender light-gauge strings.
He also has two Gibsons.
"Some of the tracks on our new LP have a Gibson on them," he says. "I also use Sunn amps. It doesn't make any difference what size the amps are, as long as I know I have it.
"I'm not necessarily trying to be loud. I'm just trying to get this impact. I don't like to use mics. To get the right sound, it's a combination of both amp and fretting."
Jimi feels it's important not to have a closed mind to new things that are happening.
"You can't just get stuck up on guitar. You have to use a little bit of imagination and break away. There are millions of other kinds of instruments. There's horns, drums – everything.
"Music is getting better and better, but the idea now is not to get as complicated as you can, but to get as much of yourself into it as you can. Music has to go places. We'll squeeze as much as we really feel out of a three-piece group, but things happen naturally. We've got about four tracks that we haven't released yet.
"One has a very simple rhythm with a funky horn pattern in it, and a tiny bit of echo to make the horn sharper. It happens naturally – like when you hear something you might want to use strings with. But we haven't been able to get these things together because we've been on tour."
Jimi's advice to guys who are still out there trying to make it?
"It's pretty hard to give advice, but if these guys have really gotten into it and everyone – mothers and friends – have said 'Wow,' then they should try to get in touch with a major musician, or have a representative of a record company come to one of their gigs.
"But tell them it's best not to sign anything too soon. Tell them to get some lawyers. Managers may not know it all, and a lawyer knows what's right.
"You have to stick with it," he adds. "Sometimes, you are going to be so frustrated you want to give up the guitar – you'll hate the guitar. But all of this is just a part of learning, because if you stick with it, you're going to be rewarded."
Originally published in Guitar Player, December 1968
All the latest guitar news, interviews, lessons, reviews, deals and more, direct to your inbox!
Guitar Player is the world's most comprehensive, trusted and insightful guitar publication for passionate guitarists and active musicians of all ages. Guitar Player magazine is published 13 times a year in print and digital formats. The magazine was established in 1967 and is the world's oldest guitar magazine.
When "Guitar Player Staff" is credited as the author, it's usually because more than one author on the team has created the story.