Watch the Rolling Stones Performing "Hoochie Coochie Man" with Blues Legend Muddy Waters
Keith Richards plays the Chess Records blues standard with his guitar "god."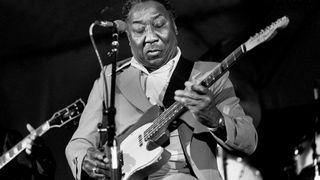 (Image credit: Paul Natkin/Getty Images)
Penned by Willie Dixon and originally titled "I'm Your Hoochie Cooche Man," this Chess Records classic was first recorded and released by blues guitar legend Muddy Waters in 1954.
Over the years, "Hoochie Coochie Man" has been recorded by numerous artists, including other heroes of the electric guitar such as Jimi Hendrix, Buddy Guy and Eric Clapton.
Seen by many as a 'missing link' between Delta blues and rock 'n' roll, the landmark Chicago blues masterpiece is also a touchstone for the Rolling Stones.
Keith Richards was (and probably still is) particularly in awe of Muddy Waters. Some 30 years ago, Guitar Player editors Jas Obrecht and Jesse Gress met with the Rolling Stones guitarist for an interview in New York where he spoke warmly of his musical hero…
Like Muddy Waters, you approach rhythm guitar with the primal energy of a sex drive.
"Well, that's a compliment. Thank you."
Do you feel that way?
"Yeah! He's my man. He's the guy I listened to. Maybe I just picked it up off of him. I recognized it. It was just the same as my drive. I felt an immediate affinity when I heard Muddy go [picks up guitar and plays the opening lick from "Rollin' Stone"]. You can't be harder than that, man. He said it all right there. So all I want to do is be able to do that.
"I have several memories of Muddy Waters. The weirdest one is when we first went into Chess Studios in '64, the first time we came here. Went to Chicago to record most of the second or third album at Chess, and we walked in. There's Phil Chess and there's Ron Malo, the engineer, and this guy in white overalls painting the ceiling.
"As we walked by into the studio, somebody said, "Oh, by the way, this is Muddy Waters, and he's painting the ceiling." He wasn't selling records at the time, and this is the way he got treated. My first meeting with Muddy Waters is over the paintbrush, dripping, covered in white paint.
"This is Muddy Waters." I'm dying, right? I get to meet the Man – he's my fucking god, right? – and he's painting the ceiling! And I'm gonna work in his studio. Ouch! Oh, this is the record business, right? Mmmmm. The highs with the lows! Ooh, boy.
"And the look in his eye was saying, "Well, you can be painting the ceiling next year!" Because he had no idea that we revered him or anything. We were just another bunch of creeps."
But later on, he always credited the Rolling Stones.
"Ah, he did, yes. And bless him. When we started the Rolling Stones, we were just little kids, right? We felt we had some of the licks down, but our aim was to turn other people on to Muddy Waters.
"I mean, we were carrying flags, idealistic teenage sort of shit: "There's no way we think anybody is really going to seriously listen to us. As long as we can get a few people interested in listening to the shit we think they ought to listen to" – which is very elitist and arrogant, to think you can tell other people what to listen to, but that was our aim, to turn people onto the blues.
"If we could turn them on to Muddy and Jimmy Reed and Howlin' Wolf and John Lee Hooker, then our job was done. That was our aim. That's the way you start off."
Browse the Muddy Waters catalog here.
All the latest guitar news, interviews, lessons, reviews, deals and more, direct to your inbox!
Rod Brakes is a music journalist with an expertise in guitars. Having spent many years at the coalface as a guitar dealer and tech, Rod's more recent work as a writer covering artists, industry pros and gear includes contributions for leading publications and websites such as Guitarist, Total Guitar, Guitar World, Guitar Player and MusicRadar in addition to specialist music books, blogs and social media. He is also a lifelong musician.