Watch B.B. King's Awe-Inspiring 'Sing Sing Thanksgiving' Performance 50 Years On
Filmmaker David Hoffman says the legendary bluesman called this "the best recording of his music he had heard"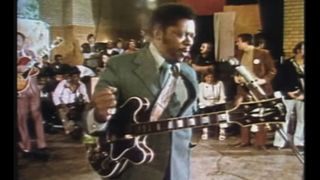 (Image credit: David Hoffman/YouTube)
Back in 2015, shortly before his death, I spent a weekend going back through B.B. King's back catalog (opens in new tab).
It was during one of my visits to YouTube that I found a video of him performing at Sing Sing, New York State's maximum-security prison.
The show took place on Thanksgiving Day 1972 and featured B.B., Joan Baez, Mimi Farina, the Voices of East Harlem vocal ensemble, and comedian Jimmy Walker, who was then a stand-up and had not yet found fame on the TV series Good Times.
Titled Sing Sing Thanksgiving (opens in new tab), director David Hoffman's concert film is available on DVD (opens in new tab).
Hoffman says the legendary bluesman called this "the best recording of his music he had heard", and judging by the video below, it's easy to see why.
In this clip, the legendary bluesman turns in a stunningly impassioned performance of "How Blue Can You Get," full of soul, humor, and his fantastic guitar work.
B.B. had originally recorded the song as "Downhearted" for his 1963 album, Blues in My Heart (opens in new tab).
Soon after he remade it as "How Blue Can You Get," it was released as a single in 1964.
From then on, it became a staple in his live set.
Browse the B.B. King catalog here (opens in new tab).
All the latest guitar news, interviews, lessons, reviews, deals and more, direct to your inbox!
Guitar Player editor-in-chief
Christopher Scapelliti is editor-in-chief of Guitar Player (opens in new tab) magazine, the world's longest-running guitar magazine, founded in 1967. In his extensive career, he has authored in-depth interviews with such guitarists as Pete Townshend, Slash, Billy Corgan, Jack White, Elvis Costello and Todd Rundgren, and audio professionals including Beatles engineers Geoff Emerick and Ken Scott. He is the co-author of Guitar Aficionado: The Collections: The Most Famous, Rare, and Valuable Guitars in the World (opens in new tab), a founding editor of Guitar Aficionado magazine, and a former editor with Guitar World, Guitar for the Practicing Musician and Maximum Guitar. Apart from guitars, he maintains a collection of more than 30 vintage analog synthesizers.