Steve Howe's 10 Most Mind-Blowing Yes Solos
Celebrate Steve Howe's greatest guitar work with Yes.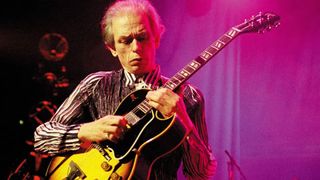 (Image credit: Peter Pakvis/Getty Images)
Howe joined the prog-rock heroes Yes in 1970 and quickly established himself as one of the most stylistically well-rounded players of the time. His expansive musical range and virtuosity were head and shoulders above those of many prog-rock guitarists of the time, and he instantly put his stamp on the group's music.
Howe's Yes debut, 1971's The Yes Album, is in many ways one continuous showcase for his riffing and solos, from "Yours Is No Disgrace" to "Perpetual Change" to his Travis-picked solo track, "Clap."
On that album's followup, Fragile, Howe created one of classic rock's instantly identifiable themes with his harmonics-laden intro to the hit "Roundabout," and he further established himself as a versatile player with his flamenco- and baroque-inspired solo moment "Mood for a Day."
Howe carried on as one of the major players in Yes in the years after, playing on such great albums as Close to the Edge, Tales from Topographic Oceans, Relayer and Going for the One. He was gone from the band for much of the Eighties, during which time he performed with Asia and GTR (with former Genesis guitarist Steve Hackett), before returning to Yes in the Nineties.
While Howe certainly turned in some stellar moments with those acts and on his own solo records, we've decided to stick with the Yes catalog for our celebration of his greatest guitar solos.
"Yours Is No Disgrace"
The Yes Album (1971)
Howe's cleanly arpeggiated riffs and jazzy runs propel the song through its first half, but the real excitement begins halfway through with a wah-drenched guitar break that bounces from speaker to speaker before giving way to a psychedelic reverb-saturated solo.
"Clap"
The Yes Album (1971)
Howe recalls, "It's the first song I ever wrote, and I think it's really a good piece. I wrote it on the 4th of August in 1969, when my oldest son, Dylan, was born." A meld of country blues and ragtime, "Clap" is a showpiece for Howe's excellent Travis-picking technique. In concert, "Clap" serves as a vehicle for him to improvise around the distinctive themes, making each performance a special treat.
"Starship Trooper (Würm)"
The Yes Album (1971)
Howe's big moment doesn't come until the end of this nine-plus-minute track, in the part titled "Würm," where he improvises freely over a three-chord vamp consisting of G, E flat and C. It requires that he switch scales with each chord change and find the common tone center that keeps it all sounding harmonious. It's a skill you'll find in numerous jazz guitarists and not too many rockers. Howe, naturally, is among the few who can pull it off. While the studio version is excellent, we have a warm spot in our hearts for this live performance, with Howe shredding away on his white Gibson EDS-1275.
"I've Seen All Good People"
The Yes Album (1971)
Howe combines his rockabilly influences and tremolo picking on a solo that's part Chet Atkins, part Jimmy Bryant. If you'd heard only the solo, you might think you were listening to the hottest boogie band rather than the biggest prog act. Admittedly, it's hard to choose between the original studio version and the blazingly fast live version on 1973's Yessongs set, as both have their charms, but we'll opt for the impeccable execution of the former.
"Perpetual Change"
The Yes Album (1971)
Howe shows an impressive span of his range within the scope of this song's eight minutes and 49 seconds. Starting around the four-minute mark, he plays a brief and bluesy string-bending solo before segueing into a jazzy section that wouldn't sound out of place in a cocktail lounge. On the build-up back to verse, Howe performs a flurry of atonal lines that ascend the fretboard. He caps it all off on the outro with a continuous stream of country-blues licks that prove his musical versatility knows no bounds.
"Mood for a Day"
Fragile (1971)
This flamenco- and baroque-style solo showpiece from Fragile is full of lovely contrapuntal textures, and it shows off Howe's excellent finger-picking technique. But there's also no denying that it is first and foremost a lovely and evocative melody and, along with "Clap," one of Howe's finest solo moments on record.
"Siberian Khatru"
Close to the Edge (1972)
The last of the three tracks on Close to the Edge, "Siberian Khatru" is a Howe showpiece and one of his finest recorded moments, beginning with his snarling Hendrix-like opening phrase, complete with funky "chukka" string muting. His brief Coral sitar break is followed shortly afterward by a delay-drenched overdriven Fender steel guitar passage and a ripping six-string solo that leads back to the song's opening phrase. Howe's jagged solo phrases on the outro are as memorable as anything else in the song, and it's a treat to hear this part on the Yessongs version, where Howe blazes along to keep up with the rest of the band. By the time he hits that closing phrase, you can practically hear the sizzle coming off his fingers.
"Going for the One"
Going for the One (1977)
Yes responded to the advent of punk by emphasizing their rock and blues roots and stripping their songs down to about half their usual length. "Going for the One" is among the best examples of this approach, with the band losing none of its prog bearings as it embraces a more straightforward rocking approach. Howe's raunchy pedal-steel work on the intro kicks "Going for the One" into high gear, and he turns in an appropriately greasy solo that should leave no doubt as to his and the band's rock and roll bona fides.
"Awaken"
Going for the One (1977)
For many fans and Jon Anderson himself, "Awaken" is the greatest work in Yes's estimable catalog. Howe gets solo moments toward the beginning and end of the song, and the first is easily the better of the two. Beginning near the three-minute mark, he kicks in with a series of rapid-fire runs and blazingly fast shredding along the length of the neck. The beauty of Howe's playing is that it's never one dimensional. Even when playing fast, he imbues his licks and solos with evocative and memorable melodies.
"Machine Messiah"
Drama (1980)
Yes sound more metal than ever on this track from 1980's Drama album, with the slow, doomy intro recalling Black Sabbath and the twin-lead-guitar lines suggesting Judas Priest. The middle solo gives Howe plenty of room to shred, but where others would overplay, he instead turns in a series of blazing runs, some drama-inducing tremolo picking and groaning whammy-bar work. Howe has good reason to show restraint, since the 10-minute track contains yet another opportunity for him to shred all over the place.
All the latest guitar news, interviews, lessons, reviews, deals and more, direct to your inbox!