Here's Why the Allman Brothers Band's 'At Fillmore East' Still Holds Up 50 Years Later
The classic album that gave southern rock a home.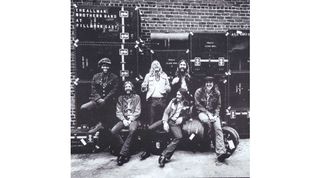 (Image credit: Capricorn)
Released in 1971 on Capricorn Records, At Fillmore East captures the Allman Brothers – guitarists Duane Allman and Dickey Betts, keyboardist/singer Gregg Allman, bassist Berry Oakley, and drummers Jaimoe and Butch Trucks – in the zone and at the peak of their powers.
All one can hope for when buying a live record is to hear the self-conscious studio restraints vanish and the intangible elements of spirit and heart make their way to tape for the ages. At Fillmore East delivers in spades.
"In Memory of Elizabeth Reed," exemplifies the Allman Brothers' magic. This Dickey Betts-penned composition ebbs, flows, peaks and simmers, while the entire group melds into a musical army.
This track is a mystical journey that never leaves the high altitude of stellar. It starts seductively with the iconic Am9 - Am, Am9 - D changes, and with volume swells and cinematic unison harmonies that preface a boulder rolling down a hill. Dickey and Duane play great solos, and the band churns in support.
Other tracks, like "Statesboro Blues," still hold up 50 years after the fact as quintessential blues-rock tracks. Duane's Les Paul through a Marshall sounds like a flamethrower, while he exhibits a slide technique so exceptional, it's still the high bar for guitarists to aspire to.
Absolutely no one before Duane sounded like him, and his contributions to the Allman Brothers and Derek & the Dominos' Layla sessions – not to mention his contributions to Boz Scaggs, Herbie Mann and Wilson Pickett – are part of the significant legacy this young man left us before his untimely death at 24.
While the group is informed by Blind Lemon Jefferson, Muddy Waters, Blind Willie Johnson and the like, they take the next step of redefining the blues guitar as they hear and feel it. The listener gets to hear them innovate the genre.
"Done Somebody Wrong" features a great Gregg Allman vocal, to which Duane answers by making the guitar seem like another human voice, while Dickey digs in, never to be upstaged or diminished.
Speaking of which, Mr. Betts has a style we could all learn from. He plants himself with a pentatonic idea so thoroughly, he torturously depletes its every possibility before ascending to the next chapter.
His solos are like a slow walk up a dark stairway in a movie thriller.
Dickey's artistry blossomed on the post-Duane LP Brothers and Sisters, and his original gem "Jessica" shows him at the top of his game. Together, Duane and Dickey are the quintessential guitar duo, and they pioneered and defined the timeless marriage of harmony guitars.
It's safe to say At Fillmore East influenced and opened the door for Marshall Tucker, Lynyrd Skynyrd, Elvin Bishop, Dixie Dregs and other influential southern rock groups that followed.
The Allman Brothers' influence was so distilled and true, most of those groups couldn't help but retain the language and spirit of the southern rock genre the Allmans helped create.
Pick up a copy of At Fillmore East here.
All the latest guitar news, interviews, lessons, reviews, deals and more, direct to your inbox!
Jim Campilongo has 14 critically acclaimed instrumental records available on vinyl, CD and digital download here.