Five Killer Guitar Solos by Duane Allman
Five highlights from Skydog's brief but brilliant career as a session player and lead guitarist with the Allman Brothers Band.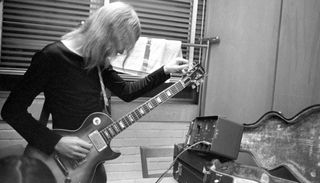 (Image credit: Michael Ochs Archives/Getty Images)
Slide guitar legend Duane Allman left behind such an amazing musical legacy that it's hard to believe he died when he was only 24. Described by his friend Eric Clapton as "the musical brother I'd never had but wished I did," "Skydog" slid a Coricidin glass pill bottle across the strings of a succession of Strats, Les Pauls, and a '61 Les Paul/SG to devastating effect.
Here are five killer cuts from Duane's brief but brilliant career as a session player and lead guitarist with the Allman Brothers Band.
"The Weight" – 'This Girl's in Love with You,' 1969
Duane was hired as a full-time session guitarist at Fame Studios in Muscle Shoals, Alabama in 1968. The studio's owner, Rick Hall, set him to work on sessions with the likes of Percy Sledge, Otis Rush, Wilson Pickett and Clarence Carter.
When Aretha Franklin came in to record the Band classic "The Weight," Duane kicked the track off with some incendiary slide playing. Apparently, he was using a CBS-era Strat at the time.
"Hey Jude" – 'Hey Jude,' 1969
While Wilson Pickett recorded hits like "Mustang Sally" and "Land of 1000 Dances" at Fame Studios, he only agreed to cut "Hey Jude" after some cheeky goading from Duane.
When Pickett commented that a Beatles tune wouldn't fit his style, Duane responded with the immortal line, "What's wrong, you don't got the balls to sing it?" Wilson took the bait, natch, and recorded a version that almost eclipses the original.
"Statesboro Blues" – 'At Fillmore East,' 1971
If you want to know why so many guitarists kneel at the altar of Duane Allman, this blistering run-through of Blind Willie McTell's 1928 classic blues will set you straight.
Duane's slide playing on the Allman Brothers Band's live At Fillmore East double album really is as good as it gets. The heartfelt introduction by Fillmore East owner Bill Graham says it all.
"Trouble No More" – 'The Allman Brothers Band,' 1969
Although The Allman Brothers Band's self-titled debut album wasn't a commercial success at the time of its release, it has subsequently become a classic.
The band's throbbing take on Muddy Waters's "Trouble No More" was the first track in the album's running order to feature Duane's slide guitar. Here's an interesting fact: the album, a classic example of southern rock, was recorded at Atlantic Recording Studios in New York.
"Layla" – 'Layla and Other Assorted Love Songs,' 1970
Duane's incendiary playing on Wilson Pickett's version of "Hey Jude" blew Eric Clapton's mind. "I had to know who that was immediately," Clapton said, and sure enough the two men would soon collaborate on the Layla... album.
Ok, the latter part of the title track could have stood some editing but the guitar duel between Eric and Duane is pretty damn cool.
All the latest guitar news, interviews, lessons, reviews, deals and more, direct to your inbox!