Watch Neil Young's Fiery Jam with Led Zeppelin at the Rock & Roll Hall of Fame
By Rod Brakes published
This rare moment captures Robert Plant also strapping on a Les Paul for "When the Levee Breaks."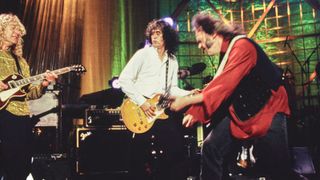 (Image credit: Rock and Roll Hall of Fame)
On this day, 50 years ago, Led Zeppelin released the "Rock and Roll" single with "Four Sticks" as its B-side. Both songs appeared on the band's best-selling untitled 1971 album widely known as Led Zeppelin IV (also dubbed 'the four symbols album'.)
Featuring a guest performance by Rolling Stones pianist Ian Stewart, "Rock and Roll" initially came together during a spontaneous jam while recording "Four Sticks."
"We'd just finished a take and John Bonham did the drum intro [from Little Richard's 'Keep A-Knockin' (But You Can't Come In)'] and we just followed on," Jimmy Page told an interviewer back in 2010.
"I started doing pretty much half of that riff you hear on 'Rock and Roll' and it was just so exciting that we thought, 'let's just work on this'… It was just so spur-of-the-moment the way that it just came together more or less out of nowhere."
Renowned for their spontaneity both on stage and in the studio, all four members of Led Zeppelin are credited as songwriters on "Rock and Roll." The only other song on the album to receive a four-way split is the band's interpretation of Kansas Joe McCoy and Memphis Minnie's "When the Levee Breaks."
This recording features one of the most sampled drum tracks in music history. Indeed, drummer John Bonham's standout sound inspired the band to explore the song further.
"I heard the drum sound in the hallway, that iconic drum sound," Page told the Ultimate Classic Rock Nights radio show. "The minute I heard that sound on these reflective surfaces, I said, 'We're gonna revisit that number.'"
In this 1995 clip from the Rock and Roll Hall of Fame Inductions (opens in new tab), Led Zeppelin can be seen and heard keeping the jams alive with a characteristically "tight but loose" rendition of "When the Levee Breaks."
With Neil Young toting his faithful Old Black modified Goldtop, this rare moment captures Robert Plant also strapping on an electric guitar, creating a rough and ready trio of Les Pauls.
Visit the Rock & Roll Hall of Fame (opens in new tab) for more information.
Rod Brakes is a music writer with an expertise in all things guitar-related. Having spent many years at the coalface as a guitar dealer and tech, Rod's more recent work as a journalist covering artists, industry pros and gear includes writing hundreds of articles and features for the likes of Guitarist, Total Guitar, Guitar World, Guitar Player and MusicRadar, as well as contributions for specialist books, blogs and social media. He is also a lifelong musician.
Get the latest news, reviews and product advice straight to your inbox.
Thank you for signing up to The Pick. You will receive a verification email shortly.
There was a problem. Please refresh the page and try again.