"Nobody Cares About Your Amazing Technique but You": These Brutally Honest Tips for Musicians From David Bowie and Iggy Pop Guitarist Kevin Armstrong Are Some of the Best We've Ever Heard
The "best least-known guitarist," solo artist, producer and songwriter shows us his rig and offers some hard-earned wisdom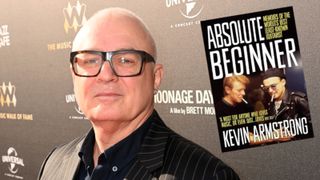 (Image credit: Getty Images)
"I'm not a rock star type; I'm a support musician," begins Kevin Armstrong. "It's about enjoying the whole thing and trying to bring something valuable to it. That's why I've managed to survive this long, I guess."
Kevin Armstrong may not be a household name, but the "sideman to rock royalty" has lent his talents to the likes of David Bowie and Iggy Pop whom he served as bandleader, not to mention Morrissey, Paul McCartney and Grace Jones.
Hailing from London's punk/pub-rock scene, the self-taught guitarist and solo artist signed to EMI in the early 1980s, although his musical career took an unexpected turn when he received a call from the firm's A&R man Hugh Stanley-Clarke asking him to attend a session at Abbey Road for a "mystery artist."
The unnamed musician turned out to be none other than David Bowie, and during that afternoon's session they developed a lasting rapport that saw Kevin later appear onstage at the historic 1985 Live Aid performance. Bowie then introduced Kevin to his friend Iggy Pop who promptly recruited the guitarist for his 1986 album Blah Blah Blah.
Beyond his association with David Bowie and Iggy Pop, Kevin has also had the pleasure of working with such legends as Sinéad O'Connor, Thomas Dolby and Brian Eno. Now, with over four decades' experience at the frontline of the music business, he is sharing some of his hard-earned wisdom about what it takes to survive in his new book, Absolute Beginner: Memoirs of the World's Best Least-Known Guitarist.
Guitar Player caught up with Kevin who gave us a rundown of his current rig before dishing out some essential advice for fellow guitarists.
How do you keep your chops up between gigs? Do you practice a lot?
"I just play free every day. I'm sure a lot of virtuosic musicians would say I waste my time, but it's about the connection with the instrument and keeping my chops up. As you get older, if you don't play for four or five weeks you can lose things physically. Or mentally, even. So I make sure I switch on an amp and play for a couple of hours a day. Even if I'm playing the same s**t I've always played, I just need to keep the connection going."
Is there such a thing as too much practice?
"I have an array of electric guitars, plus amps and a pedalboard always ready to go, but I don't think it's good to become so obsessed with practicing guitar that you're not relating to real life. But there's a big spectrum of guitar players. You've got Keith Richards at one end and guitarists like Yngwie Malmsteen at the other. All of it's valid. Whether you enjoy the sound of technical virtuosity or the sound of someone struggling manfully with one note, it says something if their whole life has gone into it."
Having instant, easy access to your gear can make things so much easier…
"I just need to be able to pick something up and plug in straight away. I also have mics and recording equipment set up at all times. I didn't always, however. And I would waste half a day hunting for a plectrum. But now I keep my gear to hand so I can always have an easy connection with it. If I wake up at two o'clock in the morning with an idea, I like to be able to noodle away immediately. Even if it's just a Strymon Iridium and headphones."
What amps do you prefer to use?
"The digital stuff is clever and convenient and a great way forward for some people, but I love my Hamstead Artist 60 tube amps. I met Peter Hamstead a long while back when he first started making amps and I've used them ever since. They also make nice pedals. I gave a Hamstead overdrive to Josh Homme."
What pedals do you currently use and has it changed much over the years?
"Effects pedals have been a labor of love. I used mostly Boss pedals with Bowie and Iggy as a session man in the '80s. I had one of those plastic molded [BCB-6] Boss pedalboards and used a Boss Digital Delay, an overdrive, a compressor and some others. I also like the green [Boss PN-2 Tremolo/Pan] which is a very good stereo and tremolo effect.
"It's only in the last 20 years that I've become a pedal geek. In fact, I've just had a new pedalboard built by Daniel Steinhardt's the GigRig. My old 'board was much bigger and heavier and the new one is about half the size in terms of real estate, which suits me better."
What's on your new pedalboard?
"It has a GigRig G3 Atom [switching system]. There's a Wampler Tumnus Deluxe which is a Klon-type pedal, an Xotic EP-Booster and a Fulltone OCD for a little more saturation. In my one-man shows, I also use a Boss OC-2 [Octave] (which is a very clean octave pedal and nice for making basslines) and a Boss RC-30 Loop Station." [Kevin's new GigRig pedalboard also features the MXR M109 Six Band EQ, plus Strymon's BigSky reverb, TimeLine delay and Mobius modulation units]
What guitars do you use?
"For most of the famous things I've been involved with I've used my 1954 Blackguard Fender Telecaster. It's player grade because it's got different tuners and the pickups are rewound, but it's just a very nice Tele.
"When it became more difficult to transport guitars on airplanes, I bought a mid '00s '52 RI Tele for about a thousand quid and spent another few hundred customizing it. It has a Seymour Duncan humbucker with a coil split switch (so you can switch between a single- and double-coil) and Trevor Wilkinson compensated saddles. That's a nice Tele too. It's starting to get some age and stank on it now because I play it a lot.
"I've also got a Gibson Custom Shop R8 [1958 Les Paul Standard reissue] which is nice. I've tried to make average ones into good ones in the past by swapping out pickups, but in the end, I wanted one with no weight relief and that had all the Custom Shop touches like hide glue and all that good stuff. These '58s can have chunky necks but I don't mind that at all as I have big hands.
"I also have an Ernie Ball Music Man [Armada MM90] which I've used with Iggy Pop a lot. That's a one-piece through-neck design with P-90s, which is pretty interesting. And I have an American Stratocaster that I've modded with Seymour Duncan pickups and a Trev Wilkinson bridge. I stripped the black finish off. It's just a good workhorse Strat that I can carry on modding if I need to."
Kevin Armstrong's Top Tips for Guitarists
Turn up on time reasonably sober and smelling good.
Communicate. Start a WhatsApp group and use it.
Learn the songs before you get to rehearsal. (I've actually met people who don't do that!)
Help others load and unload their gear. As opposed to the singer who says, "I'd like to help you with that but I've got a hole in my arse."
Make sure your gear works and bring all your own cables, picks, strings, batteries et cetera. I can't count the number of times I've turned up with professional guitarists who badger the soundman for a cable. You know, have one in your bag!
If you're the bandleader, listen. Also, if you're not the bandleader, listen. Sometimes, the best way you can contribute to the music is by shutting the f**k up.
Don't upstage or play louder than the singer. When it's your solo, turn it up! I've seen both of these things: guitarists who overpower the singer all the time, and guitarists who aren't loud enough when it's their solo.
Don't overplay. Nobody cares about your amazing technique but you.
Enjoy it – it's only music.
Keep some money in your pocket for some lunch and enough for the c**t who's forgotten.
Don't get fu**ed up until after the gig. I don't have any position to take about people getting fu**ed up, as long as it's not before the gig.
Roadies and techs are people. Love them and they will love you back.
Don't be a twat to other bands – give respect.
Dress sharp.
Read these tips and more in Kevin's new book, Absolute Beginner: Memoirs of the World's Best Least-Known Guitarist.
Order Kevin's 2019 solo album, Run, here.
Catch Kevin on the Lust For Life tour featuring fellow Iggy Pop band members Glen Matlock (the Sex Pistols) and Clem Burke (Blondie), plus Katie Puckrik (Pet Shop Boys, Sparks), Luis Correia (Earl Slick) and Florence Sabeva (Heaven 17).
Visit the Kevin Armstrong website for more information.
All the latest guitar news, interviews, lessons, reviews, deals and more, direct to your inbox!
Rod Brakes is a music journalist with an expertise in guitars. Having spent many years at the coalface as a guitar dealer and tech, Rod's more recent work as a writer covering artists, industry pros and gear includes contributions for leading publications and websites such as Guitarist, Total Guitar, Guitar World, Guitar Player and MusicRadar in addition to specialist music books, blogs and social media. He is also a lifelong musician.