Review Round-Up: 6 Stunning Semi-Hollow Electric Guitars
Get under the hood of six recommended semi-hollow guitars.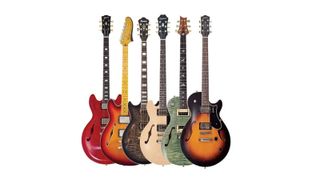 (Image credit: Gibson/Fender/Ibanez/Epiphone/PRS/Godin)
The evolution of the electric guitar has followed a fairly predictable path from pickup-equipped archtops of the '40s to the sleek solidbodies that Fender and Gibson introduced in the early 1950s. Obviously Gibson wanted to hang on to as much of its legendary status as a maker of acoustic archtops as possible, and like its competitor Gretsch, came up with designs that navigated the line to various degrees between hollow and solid. 
In the late '50s, Gibson president Ted McCarty was on a roll with futuristic designs such as the Explorer and Flying V, but apparently he also saw the need for a modern electric that would appeal to more conservative tastes – and what better way to corner that sector of the market than with a guitar that would coin the term "thinline." When Gibson's ES-335 debuted in 1958 there was nothing else like it. Basically an acoustic shell with a log inside it to which the neck and hardware were mounted, the ES-335 seemingly had it all with its ability to offer a good amount of acoustic resonance while providing the enhanced sustain and feedback resistance that a solidbody excelled at.
Even those who didn't appreciate the new wave of solidbody guitars could find plenty to like about the '335s slim, double cutaway body shape and its Les Paul-approved complement of humbucking pickups, Tune-o-matic bridge, and stud tailpiece. The ES-335 opened the door to subsequent semi-hollow offerings from Epiphone, Fender, and other makers, and the concept of a split personality guitar has inspired and intrigued builders ever since.
For this round-up we are featuring six semi-hollow guitars with dual humbuckers, which include, from the high end, an early '60s ES-335 reissue from Gibson, to Epiphone's ultra affordable ES-339 Pro. In between on the pricing scale are Fender's Starcaster reissue, Godin's new Montreal Premier, PRS's SE Zach Myers Signature, and the Ibanez Artcore Expressionist. We tested these guitars on gigs, rehearsals, and in our studios, using a variety of amplifiers that included a Dr. Z Remedy head and Z Wreck combo, a Fender Blues Junior and Deluxe Reverb, Little Walter 50-watt and Orange Tiny Terror heads, and a Mesa/Boogie DC-5.
EPIPHONE ES-339 PRO
Upon its introduction a few years back, Gibson's ES-339 became an instant hit, and a modern success story of sorts. Following in its footsteps, Epiphone's own ES-339 Pro is a scaled-down but otherwise fully-endowed rendition of the legendary ES-335, with all the same construction and appointments, only less – making it a more comfortable instrument for many players to handle, and perhaps better suited to a wider range of genres too. 
As such, this guitar is instantly familiar to anyone with even a remote awareness of the classics of electric guitar from the past 50-plus years, yet closer examination reveals how ingeniously this scaling down has been achieved. Compared to an ES-335's width of 16.5" across the lower bout, the ES-339 clocks in at 14.25", yet it retains the elegance of the original's lines, its rounded Micky Mouse-ears cutaways, and, with it all, its bold versatility. The ES-335 was always a guitar that could do anything – from jazz to blues to rock to country – and given its update of the format, the ES-339 Pro should be one to do even a little more than that.
Honey-I-shrunk-the-guitar antics aside, the ES-339 Pro is appointed like any traditional 335, with Epi's LockTone renditions of the Tune-o-matic bridge and stopbar tailpiece, Grover Deluxe vintage-style tuners, and the traditional Epiphone headstock and "E" pickguard logo. The rosewood fingerboard carries the late-'50s dot inlays, atop a three-piece mahogany neck carved in the familiar Gib/Epi SlimTaper profile – sort of a mid-'60s "slender D" in the hand. It all looks elegantly understated in a natural finish, with ebony, cherry, and vintage sunburst also available. 
Epiphone loads the ES-339 Pro with its Alnico Classic Pro humbuckers, units based roughly on Gibson's '57 Classics, with readings firmly in PAF territory at 8.12kΩ in the bridge position and 7.64kΩ in the neck. And, as a nifty bonus, you get individual coil splitting from the push-pull switching on each volume pot, which simply dumps one coil to give you half of each humbucker. Overall – from looks, to features, to construction and setup – it's all pretty darned impressive.
The ES-339 Pro had a tasty setup right out of its optional hardshell case, with an easy action, good playability up and down the neck, and a lively, somewhat snappy acoustic tone. Plugged into a Dr. Z Remedy head with 1x12 cab set for clean tones, the guitar displayed a slightly nasal, midrangey honk that predisposed it even more than expected toward raunchy blues in the neck position and gutsy rock'n'roll in the bridge. Clarity wasn't overabundant in any setting (other than the split-coil mode), although the neck pickup possessed just enough to help both clean and over-driven lead runs ring through, while also excelling at warm jazz tones. 
Kicking in a Tube Screamer queued beefy rhythm tones and creamy lead voicings so familiar from five decades of 335-wielding rockers, and added more liveliness to the ES-339 Pro's overall sonic feel, too, goosing its dynamics in a rather tasty way. An impressive performer for an attractive price, the ES-339 successfully captures the ES-335 magic in a more compact format.
Specifications
NUT Synthetic, 1 11/16" wide
NECK Three-piece mahogany, Slim- Taper D profile, 24.75" scale
FRETBOARD Rosewood, 12" radius
FRETS 22 medium-jumbo
TUNERS Grover Deluxe vintage-style tuners
BODY Laminated maple top, back and sides; semi-hollow with solid center block
BRIDGE LockTone Tune-o-matic bridge and stopbar tailpiece
PICKUPS Two Epiphone Alnico Classic Pro humbuckers
CONTROLS Individual Tone and Volume for each pickup with push-pull coilsplit switching on volume pots
FACTORY STRINGS D'Addario XL .010-.046
WEIGHT 7.9 lbs
BUILT China
KUDOS A clever re-imagining of the ES-335. Well put-together and impressively playable for its price. Delivers classic "semi" tone with split-coil options
CONCERNS None
PRICE $449 street
CONTACT epiphone.com
FENDER STARCASTER
Produced from 1974 to roughly 1982, the Starcaster wasn't the semi-hollow success that Fender had originally hoped for. Leo Nocentelli of the Meters could occasionally be seen playing the funk out of the distinctive looking guitar, but, like the Jazzmaster, it remained lost in the wilderness for some time after its release. Things change, though, and the popularity of this idiosyncratic axe among younger, alternative musicians such as Jonny Greenwood of Radiohead, Sammy James Jr. of Mooney Suzuki, Dave Keuning of The Killers, Arctic Monkeys guitarist Jamie Cook, and Chris Walla of Death Cab For Cutie, made it ripe for reissue.
The new Starcaster's offset waist body and curved headstock make it instantly recognizable as descended from the instrument of decades past. Fender has, however, made a few changes: the original three-bolt neck joint has been replaced with a more solid four-bolt variety, firmly anchoring the maple to a laminated maple body with a newly added alder center-block. The former string-through-body bridge has been updated to a pinned Adjusto-Matic with anchored tailpiece, and the f-holes now feature the same binding as the body. Gone too is the master volume, which is too bad.
I found the C-shaped neck quite comfortable. The 22 medium-jumbo frets and excellent setup allowed unfettered bends with a relatively low action – despite the traditional 9.5" radius. The semi-hollow design gives it plenty of acoustic ring, though the sound is not what you would describe as warm. Still, that is one thing that sets the Starcaster apart from other semi-hollows: the combination of a maple neck and maple body makes it significantly brighter than most instruments of its ilk, and less prone to muddying out, especially at high gain settings.
This clarity of tone carried over when plugged into Little Walter 50-watt and Orange Tiny Terror heads, or a Fender Blues Junior combo. Rolling off the Tone of the neck-position Wide Range humbucker allowed a serviceable jazz sound, but where the Starcaster shone was the extra presence available in the neck position, which afforded blues bite, funk snap, and pop jangle rarely heard from a semi-hollow. The bridge pickup produced plenty of twang through a clean amp setting, while retaining enough girth to play well with overdrive and distortion. Switching on both pickups revealed smoothly tapered Volume pots that let me achieve a wide variety of tones by merely adjusting the level of each pickup.
Semi-hollow guitars were invented to offer some of the acoustic properties of an archtop while reducing feedback issues. This makes them extremely versatile instruments that can work equally well for rock, country, funk, blues or jazz. While firmly in this tradition, the Fender Starcaster is not only unique in appearance, but has a sound of its own – providing a combination of fast attack, in your face presence, and hollowed out woodiness that's perfect for standing out in the band.
Specifications
NUT WIDTH 1.650"
NECK Maple bolt-on, 25.5" scale
FRETBOARD Maple
FRETS Medium jumbo
TUNERS Fender Standard die-cast
BODY Laminated maple with alder center block
BRIDGE Pinned Adjusto-Matic with Anchored Tailpiece
PICKUPS Two Fender Wide Range humbuckers
CONTROLS Dual Volume and Tone controls, 3-way toggle
FACTORY STRINGS Fender, .009-.042
WEIGHT 11 lbs
BUILT China
KUDOS Well made. A great sounding semi-hollow with its own look and voice.
CONCERNS Heavy. May be too bright for some
PRICE $699 Street
CONTACT fender.com
GIBSON HISTORIC 1963 ES-335 TDC
Introduced in 1958, the early "dot neck" ES-335 got its first update in 1963, which morphed it into the classic "block neck" model associated with Eric Clapton, Larry Carlton, Alvin Lee, and many other top-name players. The Gibson Memphis reissue of the 1963 ES-335 TDC nails all the key elements of the original model, including the laminated body construction with spruce bracing, cedar rim liners, and a maple center block with period-correct "window." In case you're wondering, "TDC" in the name stands for "Thinline, Double cutaway, Cherry finish."
The quartersawn mahogany neck is carved to a correct '63 profile – which is fairly slender by today's standards – and the original-style nylon nut is cut to perfection using very modern PLECK technology. The binding is nicely aged to replicate the yellowish appearance of 50 year old celluloid, and the nitro-lacquer finish on the body and neck is also treated to Gibson's VOS process to give it a lightly aged look. In concert with the dulled patina on the nickel-plated hardware and pickup covers, the overall effect is one of a guitar that has been lightly used for a half century by a non-smoking player who never wore a belt.
Other details include hot hide glue for the neck joint, a historically accurate trussrod (which is heavier than modern rods and doesn't have a plastic sleeve), Aniline dye grain filler (which exactly matches the original translucent color), single-line Kluson tuners with double ring "tulip" buttons, an ABR-1 Tune-o-matic bridge with nylon saddles, and an aluminum stop tailpiece that uses long, original-style anchor studs with the correct metallurgy, spline size, and "flat cut" slots.
On the pickup side are new Memphis Historic Spec (MHS) humbuckers, which are based on '50s-era models and designed to enhance the sound of semi-hollow guitars. These unpotted pickups feature asymmetrical coil winding using 42-gauge enameled wire, and they feature alnico 3 and alnico 2 magnets respectively for the neck and bridge. The Historic 1963 ES-335 also uses custom audio taper CTS 550kΩ pots – a value that ensures the pots will be at least 500kΩ, so as to keep the neck pickup from sounding muddy or the bridge pickup from being too bright.
Our review model arrived with an excellent setup that provided low action without any string buzz. The neck shape is very comfy, the frets are evenly crowned and lightly polished, and the intonation sounds sweet and tuneful. In all, we give it top marks for playability as this guitar has a very easy and accommodating feel that facilitates everything from string bending to flatpicking to fingering complex chords.
Played on gigs and rehearsals through a '65 Fender Deluxe Reverb reissue and a Dr. Z Wreck combo, the Historic 1963 ES-335 was an inspiring instrument. Its clean to lightly overdriven tones are juicy and sweet with a nice sense of acoustic openness, and when I turned it up to coax more sustain from the amp or pedal (an Alairex Halo in this case), the singing distortion tones gushed with harmonics and assumed a cool, vocal-like character that stood out compared to other guitars I've played though these amps. 
The touch responsiveness is excellent, and simply by adjusting my picking I could vary the distortion or nudge the 1963 ES-335 into controlled feedback. There were no problems with squeals from the unpotted pickups (that might be an issue if you play at really high volumes, however), and the dual Volume controls and well voiced Tone pots made it easy to dial in just the right texture for whatever the song called for. 
This guitar sounds badass for slide, it's great for finger-picking, and its do-it-all versatility makes it a fine candidate for blues, rock, country, fusion, funk, and probably anything else you care to throw its way. All considered, it's easy to see why early to mid '60s ES-335s have been popular over the years with so many different kinds of players, and the Historic 1963 ES-335 brings it all together in classic form to easily nab an Editors' Pick Award.
Specifications
NUT WIDTH 1.650"
NECK Mahogany, glued-in
FRETBOARD Rosewood
FRETS Medium jumbo
TUNERS Kluson Deluxe
BODY Laminated maple with maple center block
BRIDGE Tune-o-matic with stop tailpiece
PICKUPS Memphis Historic Spec humbuckers; alnico 3 neck, alnico 2 bridge
CONTROLS Dual Volume and Tone controls, 3-way selector
FACTORY STRINGS .010-.046
WEIGHT 7.5 lbs
BUILT USA
KUDOS A beautifully made reissue. Inspiring playability and tone.
CONCERNS None
PRICE $3,999 Street
CONTACT gibsonmemphis.com
GODIN MONTREAL PREMIERE
Canada's Godin has a solid track record as one of the most innovative makers of stringed instruments around. MIDI-equipped acoustic-electrics? Check. 11-string, oud-inspired fretless creations? Oui. State-of-the-art electric nylon-strings? Of course! Having expanded its offerings into the archtop and jazz guitar market in recent years, it's no surprise that Robert Godin and his crew didn't simply copy a classic design when creating the Montreal Premiere semi-hollowbody. 
With its elegant, 14 5/8"-wide single-cutaway body, floating pickguard, and curvy f-holes, the guitar gives off a sophisticated vibe that is enhanced by its beautiful sunburst finish. And while you might think the Montreal Premiere is based on an ES-335 (Gibson's iconic semi-hollowbody that uses laminated maple for its body construction), Godin chose laminated wild cherry wood for the body, which is paired with a lightweight spruce center block that's contoured to touch the guitar's back in just a few areas. This not only leads to the guitar being incredibly light, but it also creates an ability to resonate that gives the Godin much more true archtop character than is typical for most semi-hollows.
The Montreal Premiere features a medium-depth, half-round mahogany neck that wears an unbound rosewood fretboard with simple dot inlays. The fretwork is excellent and the intonation is tuneful in all positions. Topped off with a great factory setup, the playability was superb.
The Montreal Premiere is a very resonant guitar with an acoustic voice that is dynamic and complex. For example, when I covered the f-holes with my hand after strumming the strings, the guitar's tone and volume changed considerably. This can't be said of most "thinline" guitars, which are built more stiffly. Plugged into my Mesa/ Boogie DC-5, my immediate impression was that the Montreal Premiere sounded more like a traditional archtop – especially on the bass strings, which had that slightly dry timbre you typically get from a deep-bodied acoustic-electric. 
But the cool thing is that the Montreal Premiere offers those tonal qualities with the enhanced sustain and resistance to feedback that are gained by adding a center block. The guitar excelled at clean tones and could easily be dialed to sound fat and jazzy or bright and funky. Even though my AER Compact 60 acoustic amp it yielded a warm, burnished tone that would work well in a jazz trio.
Kicking in some overdrive gave me a great roots-rock sort of a sound, and while a completely hollow archtop wouldn't be likely to stay cohesive sounding with the Boogie's lead channel, the Montreal Premiere performed admiringly in this context too. A killer guitar that's bound to find a ton of fans among jazz cats and rockers alike, the Montreal Premiere receives an Editors' Pick Award.
Specifications
NUT WIDTH 1 11/16"
NECK Glued-in mahogany
FRETBOARD Rosewood, 24.75" scale
FRETS 22
TUNERS Vintage Kluson-style chrome
BODY Cherry top, back, and sides; solid spruce center-block (a.k.a. Breathe-Through Core)
BRIDGE GraphTech Resomax Tune-o-matic style
PICKUPS Two custom Godin humbuckers
CONTROLS Volume, Tone, 3-way selector
FACTORY STRINGS Godin High-Definition E-10 Nickel Regular Light, .010-.046
WEIGHT 6.2 lbs
BUILT Canada
KUDOS Highly resonant arch-top-like tone. Surprising versatility. Innovative design. Light weight.
CONCERNS None
PRICE $1,495 street
CONTACT godinguitars.com
IBANEZ ARTCORE EXPRESSIONIST AM93
The Art core series has brought a broad range of fully- and semi-hollow electrics to the Ibanez stable for several years – from jazz boxes to thinline rockers – and has won over a lot of fans, pro and amateur alike. The Artcore Expressionist AM93 combines a little something for players from both polarities, ultimately landing on what is likely to be a budget-conscious fusion player's dream. The quilt-maple laminated body with solid core is just enough smaller than the ES-335 template to feel a bit more speedy and manageable, and the AM93 also leans toward contemporary design with its deeper cutaways and sharper horns, although the headstock's broad top and decorative inlay give a nod to the company's many successful full-bodied archtop-electrics. 
Right out of the box it promises to be a versatile and value-packed semi-acoustic – and delivers soundly in the looks department, too, with a tasty transparent black sunburst finish over a beautifully figured top (trans yellow and red sunbursts also available), gold-plated hardware, acrylic pearloid block markers, and multi-ply-bound body, headstock, and pickguard.
The pickups are Ibanez's Super 58s, the same humbuckers that have appeared in higher-priced signature models for John Scofield, Pat Metheny, and George Benson. Hardware is also solid, time-tested Ibanez fare in an ART-1 Tune-o-matic style bridge, stud-mounted Quick Change III tailpiece (with the strings loading through slots in the bar, rather than running through from the rear like a traditional stopbar), and enclosed Ibanez tuners that are reminiscent of Grover "kidney beans," all gold plated.
The glued-in neck is a three-piece affair made from mahogany and maple, with a volute behind the nut. As with many Ibanez axes, the profile leans toward the thin side; it's a little shallower than I would normally prefer, and just a bit square-edged to my palm while playing. But it still feels good overall and should delight fans of what some makers like to call "shred" necks. The AM93 arrived with a decent factory setup, with action on the lower side of medium, and good overall intonation. My only issue concerned some sharp corners on the low- and high-E saddles where you rest the edge of your picking hand.
Through a Dr. Z Remedy and 1x12 cab set semi-clean, the Artcore Expressionist AM93 sounded a little underpowered compared to other humbucker-loaded semis, but the bonus was that it stayed crispy and well defined, with a cutting edge remaining in its attack even in the warmer neck-pickup settings. This kept jazz runs from getting mired in the mud, and even allowed a little semi-twang from the bridge pickup when called upon. With an Ibanez Tube Screamer TS-10 engaged, the overdrive tones were tight and focused, yet with plenty of sting in the tail – definitely no trouble rocking out on this thing. A confident and versatile performer overall, the AM93 is a welcome addition to the Artcore line.
Specifications
NUT Synthetic, 1 11/16" wide
NECK Three-piece mahogany/maple, slim C profile, 24.75" scale
FRETBOARD Rosewood, 12" radius
FRETS 22 jumbo
TUNERS Enclosed die-cast, gold plated
BODY Quilted laminated maple top, back and sides; semi-hollow with solid center block
BRIDGE Ibanez ART-1 Tune-o-matic-style bridge and Quick Change III stopbar tailpiece
PICKUPS Ibanez Super 58 Custom neck and bridge humbuckers
CONTROLS Individual Volume and Tone for each pickup, 3-way switch
FACTORY STRINGS D'Addario XL .010-.052
WEIGHT 8.1 lbs
BUILT China
KUDOS Upmarket looks. Great build quality for the price. Versatile tones.
CONCERNS Sharp bridge saddle corners
PRICE $600 street
CONTACT ibanez.com
PRS SE ZACH MYERS SIGNATURE
Unzip the Zack Myers Signature model's gig bag, and you'll immediately be wowed by the insane value that PRS is offering with its imported SE series. But let's zero in for a closer look. Based on PRS's Singlecut Hollowbody design, the Zach Myers features a chambered mahogany body with a maple top that's flat overall, but beveled around the edges. 
Rather than using a single piece of cosmetically attractive maple for the entire top, as would be customary for a more expensive guitar, PRS chose to use a highly flamed veneer to cap the actual top – a move that brings cost down and enhances the appearance. On the Zach Myers, the top features a lovely green stain, which offers a contrast to the lightly colored mahogany of the body. The guitar's single f-hole is located on the bass side of the lower bout.
The guitar's glued-in neck has what PRS calls its Wide Fat profile, a designation that basically denotes that the neck feels a bit thicker than a typical PRS design. I loved its satin finish, which lends a feel that is similar to unfinished wood. The unbound rosewood fretboard sports PRS's well-known Bird position markers, and the headstock is home to a set of Kluson-style tuning machines.
In the electronics department, the SE Zach Myers is fitted with a set of PRS SE 245 humbuckers, which are wired to a 3-way selector in the upper bout and individual Volume and Tone controls. Another hardware choice worth noting is PRS's original Stoptail bridge, which adds intonation adjustments to a wrap-around design.
Semi-hollow electrics can range in character from being not much different than a solidbody to leaning more in the direction of a fully hollow jazz box, and the SE Zach Myers leans firmly toward the former category. Plugged into a Mesa/Boogie DC-5 amplifier, the guitar immediately impressed me with a sparkly response and great sustain. Combined with low action and excellent fretwork, the guitar's somewhat shorter 24.5" scale facilitated stretched-out jazz chords, and I had fun laying down the changes to "Blue Bossa" into a looper pedal, rolling back the neck pickup's Tone control for a clean jazz sound, which then allowed me to solo using a variety of tones. 
Playing single-note lines, I found that while I sometimes wished for more fatness in the trebles when playing clean, the guitar excelled with overdriven tones, whether coming from a DigiTech iStomp pedal loaded with a "Screamer" overdrive patch, or my Boogie's lead channel. In this context, the PRS offered killer sustain, clarity, and note separation. Bottom line: The SE Zach Myers is an impressive axe that offers a ton of performance for a great price.
Specifications
NUT WIDTH 1 11/16"
NECK Glued-in mahogany
FRETBOARD Rosewood, 24.5" scale
FRETS 22
TUNERS Vintage Kluson-style chrome
BODY Chambered mahogany body with maple top and flamed maple veneer
BRIDGE PRS Adjustable Stoptail
PICKUPS PRS SE 245 Treble and PRS SE 245 Bass humbuckers
CONTROLS Two Volume, two Tone, 3-way switch
FACTORY STRINGS .010-.046
WEIGHT 6.5 lbs.
BUILT Korea
KUDOS Excellent playability. Great sustain. Happening overdriven tones.
CONCERNS Slightly thin treble with clean sounds
PRICE $679 Street
CONTACT prsguitars.com
Get the latest news, reviews and product advice straight to your inbox.
Thank you for signing up to GuitarPlayer. You will receive a verification email shortly.
There was a problem. Please refresh the page and try again.