The 40 Most Important Guitar Solos of the 20th Century
From bluesy beginnings to metallic peaks, we trace the evolution of the electric rock solo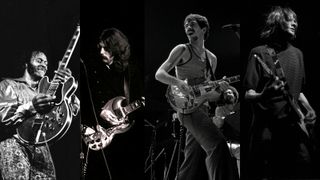 (Image credit: Ian Dickson/Redferns (Berry)/Jeff Hochberg/Getty Images (Clapton)/Sony Music Archive via Getty Images/Terry Lott (Santana)/Andrew Meares/The Sydney Morning Herald/Fairfax Media via Getty Images (Cobain))
***The following originally appeared in the June 2011 issue of Guitar Player***
Certain guitar solos are infused with magic. They may or may or may not be technically challenging, flashy, or otherwise virtuoso, but they have that special something that sets them apart from what came before, and they typically alert guitarists everywhere that their world has forever changed.
What's more, those magic solos tend to inspire legions of guitarists to attempt to unlock their technical and tonal mysteries, and permeate the six-string community's collective unconscious, re-emerging later as direct and indirect influences on individual players' styles. Somewhat paradoxically, however, there is no consensus on which solos have achieved this iconic status.
When we began working on this story, we came up with a lengthy list of solos to include. Our first task was to set up some guidelines. We decided to limit the list to electric rock solos, along with blues and jazz-rock fusion solos that influenced rock. We also set a limit of one solo per artist.
At that point, there were still many more than 40 solos on the list, so we had to make some hard choices. To start, guitarists who were hugely influential overall, but couldn't be tied to an ultra-influential solo – such as Tony Iommi and George Harrison – were cut.
We then had to narrow down our selections to just one for each artist, which was difficult for someone like Eric Clapton, whose entries at that point included "Crossroads," his cover of Freddie King's "Hideaway" on the Blues Breakers album, and his historic wah workout on "White Room." Once the smoke cleared, however, we had reached consensus.
The solos are organized chronologically – including those that fall within the same year – because we thought it would be instructive to see how they relate to each other historically.
We hope that you like we came up with and perhaps even discover an overlooked gem or two for yourself...
1. Elmore James "Dust My Broom" (1951)
Jimi Hendrix originally called himself Jimmy James and Maurice James in homage to Elmore, and every bluesman since the '50s – particularly slide players – owes something to the King of the Slide Guitar.
Played in an open-D tuning (D, A, D, F#, A, D, low to high), probably on a Kay flattop or Harmony Sovereign with a D'Armond pickup, the slide hook on this tune, and the solo based on it, reappear countless times throughout blues and rock music.
2. Les Paul "How High the Moon" (1951)
The super-syncopated, slap-back soaked runs, chukka-chukka doublestops with bluesy bends, plucky cascading figures, and idiosyncratic ornamentations in Paul's two solos helped propel this standard up the charts, and further established Paul as the most creative electric guitar player of his generation.
It was recorded with his "old Epiphone" – a.k.a. "the Clunker" and "the Breadwinner" – with custom-wound hot pickups and other major modifications.
3. Scotty Moore "That's Alright, Mama" (1954)
Armed with his Gibson ES-295 through a '52 Fender Deluxe, Scotty Moore, bassist Bill Black, and their bud Elvis, had no idea what a firestorm they were about to create with this early single.
Moore's simple, to the- point style covered the drummer-less bases quite easily with a fat tone and swinging musicality, giving this rather hillbilly ensemble some dangerous sonic heft.
His break on "That's Alright, Mama" inspired everyone from George Harrison to Keith Richards to Jimmy Page, as well as Danny Gatton, who never missed an opportunity to throw a Moore homage in the middle of one of his famed rockabilly rave ups.
Moore's barking double-stops and approximation of a tic-tac bass line on "Mama" are as hooky as it gets, making this solo one of the most important ever.
4. Eddie Cochran "Sittin' in the Balcony" (1957)
Slinging a 1955 Gretsch 6120 Chet Atkins Hollow Body 'G'-branded guitar with a Gibson P-90 in the neck slot, Cochran, with his iconic presence and echo-drenched tones, hugely impacted early rockers – such as Lennon and McCartney, who bonded over Cochran's "Twenty Flight Rock" upon meeting in 1957 – and innumerable players thereafter, particularly Brian Setzer.
The twangy solo on Cochran's first hit, "Sittin' In the Balcony," crackles with the influence of his heroes Chet Atkins, Joe Maphis, and Johnny Smith.
5. Chuck Berry "Johnny B. Goode" (1958)
While some people might not consider this song's intro a "solo," it might be the most important rock guitar part ever recorded.
The doublestops essentially usher in the post-Elvis rock era, and the tone and balls of this iconic part would echo in the playing of George Harrison, Keith Richards, Eddie Van Halen, and Angus Young... and that's just one tenth of one percent of the players who have copped these licks.
Listen to it again. You'll see.
6. Hank Marvin "Apache" (1960)
A primary influence on nearly every British guitarist of a certain age, Marvin created a dreamy, echo-y sound on this #1 U.K. hit that was achieved by playing his Stratocaster – the first in England – through a Meazzi Echomatic tape delay and a Vox AC30 tube amp.
Marvin mostly used the bridge pickup, but picked near the neck, and palmed the vibrato arm to impart his trademark twang.
7. Freddie King "Hideaway" (1960)
Freddie (a.k.a. Freddy) King cobbled "Hideaway" out of parts lifted from tunes by Hound Dog Taylor, Jimmy McCracklin, Robert Lockwood Jr., and even Henry Mancini.
Between the breaks where he recycled bits of "The Walk" and "Peter Gunn," King played stinging solos that he plucked on a P-90 equipped Les Paul using a plastic thumbpick and metal fingerpick.
Eric Clapton did his own version of the tune on John Mayall's 1966 album, Blues Breakers, and the success of "Hideaway" made it a launch pad for a number of other King instrumentals that would further his notoriety as one of the top blues guitarists of the '60s and '70s.
8. James Burton "Hello Mary Lou" (1961)
Having turned pro as a teenager on the Louisiana Hayride, Burton was a seasoned vet by the time he became the lead player in Ricky Nelson's band, which was featured regularly on the TV show The Adventures of Ozzie and Harriet.
Burton was a great rock and roll player, as evidenced by his Chuck Berry-style solo on "Believe What I Say," but he also inspired legions of pickers with his explosively twangy lead break on "Hello Mary Lou."
Burton's playing on Merle Haggard's early '60s hits like "Mama Tried" and "Swingin' Doors," inspired the late, great Roy Nichols, who said, "I learned a lot from Burton, and I copied some of his licks, but I couldn't copy him to a 'T'."
9. Jeff Beck "Over Under Sideways Down" (1966)
Along with the Rolling Stones, no band inspired more hard-edged guitar-wielding maniacs than the Yardbirds. Beck's playing on their classic garage rock anthem is, like much of his playing at this time, inspired by the groovy sounds of the sitar.
Equal parts spacey modal madness and meth-infused pentatonic fury, it still ranks as some of Beck's most inspired playing, and that says a lot.
And not only was Beck's otherworldly playing inspirational to a generation of guitarists, but his punky stage demeanor and nasty sonic streak (a '54 Fender Esquire into a Tone Bender fuzz and AC30), served notice to everyone that a new sheriff was in town, and he was kicking ass.
10. Albert King "Born Under a Bad Sign" (1967)
If Stevie Ray Vaughan, Eric Clapton, and Jimi Hendrix lift your licks lock, stock, and barrel, your influence has been spread very far and very wide. In fact, one can make the case that Albert King was the most influential King, just by virtue of the not-so-subtle tributes by his admirers.
King Albert's authoritative bends and economical phrasing are required study for anyone who wants to play blues-rock guitar. On this cut, the Velvet Bulldozer lives up to his nickname, making his Gibson Flying V moan, scream, and move mountains with sweeping bends and a stinging tone that delivers all of the nuances in his playing.
It also proves that, even though SRV and Clapton could "do" Albert, they were never really even close.
11. Eric Clapton "Crossroads" (1968)
This one is a giant among giants. Little did Slowhand know, after he walked off the Winterland stage in San Francisco, he had created a template setting the standard for expressive, lyrical, howling blues-rock guitar.
Armed with a '64 Gibson ES-335 and a couple of non-master volume 100-watt Marshall stacks, Clapton's first break is a textbook example of how to build a solo's intensity, while the second manages to kick it up one more notch for maximum climax.
Not a duff note in the bunch, impeccably phrased, and with a vibrato that's as classy as they come, Clapton could have never played another note and he'd still be one of the most influential players ever.
12. Jimi Hendrix "All Along the Watchtower" (1968)
One can only guess what sort of "light bulb" moment Jimi experienced when he first heard this tune from Bob Dylan's 1967 album John Wesley Harding. Maybe it was the biblical references in the lyrics, or the great melody – or perhaps just the wide-open space for improvising afforded by the four-chord progression.
Whatever it was, the version that appeared on Hendrix' Electric Ladyland album gave rise to one of Jimi's most memorable solo outings. Playing soulfully and inventively using a wah and fuzz, Hendrix reinvented "All Along the Watchtower" to such a degree that it's sometimes easy to forget who actually wrote the tune!
13. Peter Green "Black Magic Woman" (1968)
B.B. King once said of Green, "He has the sweetest tone I ever heard; he was the only one who gave me the cold sweats." After establishing himself as a masterful blues stylist in John Mayall's band, Green quickly evolved both as a player and a songwriter with Fleetwood Mac.
On his D minor tour-de-force "Black Magic Woman," Green pulls off an incredibly captivating melody, and his beautiful phrasing and soulful bending on a Les Paul with "magnetically out of phase" pickups was pure gold.
Carlos Santana made the song a huge hit on Abraxas, and Green was also influential on Irish blues rocker Gary Moore, who would own – and eventually sell – Green's famous Gibson.
14. Robert Fripp "21st Century Schizoid Man" (1969)
Fripp's serpentine solo on this alarmingly virtuosic track combines a supersaturated sustained tone with atypical intervallic movement, non-bluesy bends and trills, and note choices and phrasing that had more in common with Coltrane than Clapton.
Playing a three-pickup '59 Les Paul Custom through a Marshall stack and probably either a Burns Buzzaround or a Colorsound Tone Bender, he recorded the seminal progressive rock solo.
15. Jimmy Page "Heartbreaker" (1969)
Selecting the most influential Page solo led to a heated debate.
But the squawking tone of a '58 Les Paul into a Marshall SLP 1969 Super Lead, maniacal cluster picking, wicked hammer-ons and pull-offs, and behind-the-nut G-string bending in the first solo on "Heartbreaker" – not to mention the smoking second solo – explain why everyone from Brian May to Steve Vai to Steve Morse have hailed it as a definitive guitar solo.
16. B.B. King "The Thrill is Gone" (1969)
With a tone sweeter and thicker than molasses, B.B. King graced this song with one of his most emotive blues solos of all time. King knew what the tune called for in context of the highly produced album Completely Well (his first with strings), and it wasn't about showboating.
Far from it, judging by the way he grooves so succulently behind the beat. Besides being a big hit for B.B., "The Thrill is Gone" showed guitarists the power of playing slow and cool.
In an era when Johnny Winter was introducing blues-rock shredding, B.B. King's huge vibrato and deep soul defined what "playing from the heart" was all about.
17. Leslie West "Mississippi Queen" (1970)
Leslie West's massive and massively influential tone on Climbing! – which included "Mississippi Queen" – was created by playing through a Sunn Coliseum P.A. head and four 4x12 speaker cabinets.
"The head had four microphone inputs and a master volume control, huge transformers and gigantic KT88 tubes, and the cabinets were loaded with Eminence speakers, which never hurt your ears, even with the treble all the way up," West told GP in 2010.
He was playing Gibson Les Paul Juniors at the time, and used a single-cutaway 1956 Jr. with a single P-90, strung with La Bella Electric Guitar strings (with a .010 banjo string for the high E and the other strings moved down one to create a light-gauge set) on the track.
The song reached #21 on the Billboard charts, assuring that West's signature sound was heard across the country and around the world.
18. Duane Allman "Statesboro Blues" (1971)
By 1970 Duane Allman and Dickey Betts had forged one of the most iconic guitar sounds of all time with their harmonized melodies on songs like "Revival" and "In Memory of Elizabeth Reed."
But as far as slide players went, few at the time got more acclaim than Duane himself, after the 1971 release of The Allman Brothers Band at Fillmore East. Duane's slick phrasing and fat, singing tone on the opening track of the double live album was inspired by hearing Taj Mahal's rendition of the song with Jesse Ed Davis on slide.
Sonny Landreth, who remembers seeing the Allman Brothers at the time, recalls: "That huge tone that Duane got when he played slide on a Les Paul through a Marshall was a real game changer. I don't remember anyone else who had a sound like that back then."
19. John McLaughlin "Meeting of the Spirits" (1971)
Although he had already done revolutionary work with Tony Williams' Lifetime, Miles Davis, and as a solo artist, McLaughlin's combination of molten Gibson-through-cranked-Marshall distortion, impossibly fast and complex yet ultra-precise picking, and unique phrasing on The Inner Mounting Flame shattered all existing concepts of "electric guitarist" and lit the fuse of fusion.
20. Ritchie Blackmore "Highway Star" (1972)
Actually a harmonized pair of solos, the tasty bends, rapid-fire triplets, and whammy manipulations on this Strat-into-a-Marshall-amp (via a reel-to-reel tape recorder preamp) solo make it one of Blackmore's most memorable.
The Deep Purple guitarist's influence on legions of rock and metal shedders from Morse to Malmsteen to Mustaine is undisputable.
21. Billy Gibbons "La Grange" (1973)
Gibbons made his mark on this classic shuffle with two solos.
The first, done on a '55 Strat, enters screaming with that classic rear pickup Fender bite, before Gibbons flips to the front pickup for a swinging double-stop workout and some liquid pentatonic runs delivered with his impeccable sense of time and swing.
But it's the track's second solo that the guitarist is most famous for, and the one that every hard rock player would study, due to Gibbons' insane pinch harmonics. With his "Pearly Gates" '59 Les Paul, the Reverend squawks, grunts, and chokes out so many pinch harmonics that it would be laughable if it wasn't so damm bad ass.
22. Brian May "Bohemian Rhapsody" (1975)
Brian May's touch, tone, and orchestral instincts have proven impossible to imitate, but that hasn't stopped people from trying.
His majestic lines on this classic are quintessential May, with precise picking, impeccable phrasing, and a bold, loud sound.
The solo's placement in the mix was influential, informing how bands such as Boston and Styx featured their solos. You've got to assume Dr. May's harmonized lines at the end of the song got Tom Scholz's attention as well.
23. Larry Carlton "Kid Charlemagne" (1976)
Carlton was already a session legend known for his smooth-as-silk lines that were reminiscent of Wes, Pass, and Trane when he cut this Steely track.
But when Mr. 335 combined a rock dude's tone with a jazzer's harmonic sensibilities, he created the standard by which every jazz rocker would be judged.
Ask Steve Lukather, Robben Ford, or Mike Stern what impact this solo had on them.
Alright then.
24. Carlos Santana "Europa (Earth's Cry, Heaven's Smile)" (1976)
Santana masterfully caresses the tune's main melody with his trademark singing sustain and thick tone, never quite giving up the goods until the outro solo where he lets it all hang out in an outpouring of soulful yet wicked playing.
He displays a fluid, tactile control at all times, and his tone is more open-sounding and less compressed than in recent years.
And when he kicks the wah on, look out – he ratchets up the intensity tenfold, just when you think it can't go any higher. Simply put, "Europa" is a study in pace, melodicism, and space – as well as good, old fashion burning!
25. Al Di Meola "Race with Devil on Spanish Highway" (1977)
Sure, there were people who could play fast before Di Meola, but nobody had made it such a central part of their deal before Big Al came along.
Di Meola's picking ability coupled with his sick, self-described "mutola" technique raised the bar for audacious shred and players interested in pushing the limits of picking.
Far from being a pattern-minded monotone shredder, Di Meola's Latin influences and his compositional sense have always made his displays of virtuosity supremely musical.
And for all of the shred haters, Di Meola proved that the emotional impact of many notes is just as valid as a few well-placed ones.
26. Eddie Van Halen "Eruption" (1978)
What can you say about this cadenza from hell? Cut in 1978, this has to be one of the most influential pieces of guitar playing ever.
EVH took a Strat with a humbucker, an MXR Phase 90, and a plexi Marshall, and then played some supercharged Clapton licks that boggled just about every 6-stringer's mind in the world.
It was Van Halen's two-handed tapping that truly grabbed everyone's attention, however, and made this the most recognizable solo of the next two decades. "Eruption" made an impact on millions of rock dudes and seemingly every kid who set foot inside a Guitar Center.
27. Allan Holdsworth "In the Dead of Night" (1978)
As Bill Bruford put it, this solo was, "94 seconds of liquid passion married to a blinding technical facility that was to go down in the annals of rock guitar history.
"All the hallmarks of his brilliant playing were there in this solo: poise, pace, melody, the Slonimsky interval jumps, the whammy bar, and all over a killer groove."
28. Mark Knopfler "Sultans of Swing" (1978)
When Mark Knopfler released this fingerpicked two-pickup masterpiece, he showed guitarists that you don't need distortion or a plectrum to rock.
With a Strat on the bridge and middle pickups, a Fender Twin Reverb and a Roland JC-120, Knopfler played two deft, bouncy solos that referenced Chet Atkins with snappy popped notes, crying bends, and clever arpeggios.
Along the way he influenced just about every clean tone for the next 20 years. When people talk about an "out of phase" Strat tone, they're talking about this tune.

29. Michael Schenker "Rock Bottom" (1979)
The 1970s was a great time for live records, with classics from Frampton, Lizzy, and Ted Nugent, but one of the sweetest solos to grace a double LP came from UFO's Michael Schenker.
The extended break on this tune has everything great about Schenker: melody, dynamics, tone for days, and burning.
This lead would fascinate rockers all over the world, including George Lynch, Vinnie Moore, Akira Takahashi, and Kirk Hammett.
30. David Gilmour "Comfortably Numb" (1979)
Few solos can match the vibe of Gilmour's work on this iconic piece.
Playing a '79 black Stratocaster with a '62 neck and DiMarzios through Hiwatts and Yamaha RA-200 rotating speaker cabinets, Gilmour transformed what are essentially blues licks into a signature statement that affected the molecules in myriad musical minds.
This is arguably his crowning achievement as a soloist.
31. Angus Young "You Shook Me All Night Long" (1980)
It serves to reason that a song that is all about getting it on should have a solo that is sexy, right?
Damn straight.
Young's turn on this global hit finds him harnessing his kinetic blues tendencies into a steamy, attitude-laden solo that is actually kind of funky.
His tasteful major pentatonic flavorings as well as his gorgeous tone – thanks to a wound up old Marshall and a Gibson SG – are the icing on the cake of his impeccable groove, intonation, and phrasing.
32. Randy Rhoads "Crazy Train" (1980)
After Van Halen, it wasn't easy for an L.A. rocker to make a mark, but Randall Rhoads did so in a big way on his debut with Ozzy.
Rhoads took what he had gleaned from Mick Ronson, Gary Moore, and Bach, and synthesized it into this metal tour de force.
He wasn't the first guy to blend classical music and rock, but he was absolutely the gateway drug for players like Zakk Wylde and Tom Morello.
33. Stevie Ray Vaughan "Pride and Joy" (1983)
The second cut on SRV's debut album, Texas Flood, "Pride and Joy" blasted onto the airwaves courtesy of a great melody, catchy lyrics, and a gamechanging solo in which Vaughan threw down a barrage of killer licks with a gargantuan tone from his Fender/Dumble rig.
SRV's deft songwriting and his Albert King/Hendrix-influenced style succeeded in making what was fundamentally a classic "tay-hass" shuffle into a huge AOR hit that every classic rocker is expected to cover in perpetuity.
Bottom line is, after SRV came along, anyone who thought they could play blues with fire and passion got a schoolin' the size of Texas.
34. Yngwie Malmsteen "Black Star" (1984)
Mike Varney's rep as a finder of great guitarists was already solid when he wrote about a kid from Sweden with a funny name in 1983.
Many players' first exposure to Malmsteen was on this shred fest. With his blinding speed, dazzling classical arpeggios, gorgeous Strat-into-Marshall tone, and larger than life vibrato, he didn't raise the bar for rock technique – he obliterated it.
Yngwie changed the game forever with this one, just ask any rocker who has swept an arpeggio since then.
35. George Lynch "The Hunter" (1985)
Dokken's George Lynch has inspired countless rock and metal players for nearly 30 years with his perfect blend of structured melodicism and off-the-rails fury – all in the space of a 16-bar solo.
This solo is a perfect example, as he eases into it with memorable, understated melodic motifs that are helped along with some thick-ass tone and sick vibrato.
Halfway through, however, Lynch begins to turn up the jets. Alternate picking, sweep picking, and legato playing become one within a single winding phrase, giving him a sound and style that are difficult to ape.
However, Lynch did show the way for shred-obsessed guitarists on how to structure a meaningful statement in the middle of a tune and leave an everlasting mark. In fact, his solos are the only thing that don't sound dated about Dokken.
36. Kirk Hammett "Master of Puppets" (1986)
Kirk Hammett's influences include his teacher Joe Satriani, Michael Schenker, and Thin Lizzy. And nowhere are those influences more prominent than on this tune.
Hammett's whammy bar work and speed picking would inspire countless kids to notch their mids, cram their theory, and play blazing solos over chugging grooves.
37. Joe Satriani "Always with Me, Always with You" (1987)
Satriani is obviously known as a master technician, but it's his melodic side that has left the biggest imprint on guitardom.
This sweet ballad showcases Satch's singing tone, skillful ornamentation, and ability to blend the tasty with the jaw dropping.
The reach of this solo is apparent in hundreds of instrumental guitar records, country ballads, movie soundtracks, and car commercials.
38. Kurt Cobain "Come As You Are" (1991)
Although he took about as many solos and Johnny Ramone, the late Nirvana guitar anti-hero played a memorable one in this song from 1991.
Presumably using a Boss DS-1 for dirt and an Electro-Harmonix Small Clone chorus for the warbly modulation, Cobain simply quoted the vocal melody in a snotty, vibey way, and the kids went crazy.
Suddenly, young players – many with a sanctimonious disdain for '80s-style wanking – were taking a break from strumming through songs and trying their hands at playing single-note lines.
39. Zakk Wylde "No More Tears" (1991)
Logic dictates that Zakk Wylde was doomed to failure when he got the gig with Ozzy.
A blond kid with a Les Paul? Really?
But then people got a taste of his huge tone, squealing harmonics, and rapid-fire pentatonics and a new star was born.
On this tune Zakk channeled Rhoads, Billy Gibbons, and Frank Marino into a solo that was emblematic of the new generation of metalheads.
40. Dimebag Darrell "The Great Southern Trendkill" (1996)
The post-Van Halen, post-Randy Rhoads world was in dire need of a champion when Darrell Abbott came on the scene.
He took the styles of those guys, mixed in some Ace Frehley, some Lynyrd Skynyrd, and a heapin' helpin' of moonshine and created the ass-kicking solo here.
Dime made it cool to love Holdsworth, EVH, and Billy Gibbons all in the same song.
All the latest guitar news, interviews, lessons, reviews, deals and more, direct to your inbox!
Guitar Player is the world's most comprehensive, trusted and insightful guitar publication for passionate guitarists and active musicians of all ages. Guitar Player magazine is published 13 times a year in print and digital formats. The magazine was established in 1967 and is the world's oldest guitar magazine.
When "Guitar Player Staff" is credited as the author, it's usually because more than one author on the team has created the story.