"Put the Microphone Over There On the Other Side of the Room Because I'm Going to Play Loud": How Eric Clapton Took Volume to 11
Armed with a Marshall and a Les Paul, Slowhand pushed the envelope of guitar tone in 1966.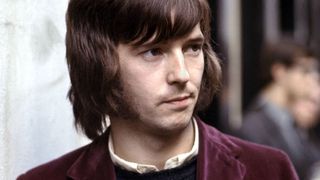 (Image credit: David Redfern/Redferns)
Rock was rapidly shedding its roll in the mid-1960s, but if we had to name the first electric guitar player to prominently define rock-guitar tone, it would have to be Eric Clapton.
Slowhand was a devotee of the blues and had left the Yardbirds in early 1965 when they adopted a poppier sound.
He hitched up with John Mayall's Blues Breakers for some live dates before heading across Europe in a pickup band, but the best part of a year later, he was ready to put some real hair on that blues guitar tone, enforcing new demands on standard studio practices in the process.
In May 1966, Clapton, Mayall, bassist John McVie (later of Fleetwood Mac) and drummer Hughie Flint entered Decca Studios in West Hampstead, London to record their first studio album, Blues Breakers With Eric Clapton.
The featured guitarist brought with him a Marshall model 1962 2x12 tube amp combo and a sunburst Gibson Les Paul Standard, and declared that he was "going to play loud."
One of the best accounts of the session has Clapton quoting the engineer's recollection, rather than probing his own. As Clapton told Dan Forte for Guitar Player in 1985, "I remember reading an interview with [engineer] Gus Dudgeon where he said that I put my amp in a certain place, and he went over and put a mic in front of it, and I said, 'No, put the microphone over there on the other side of the room because I'm going to play loud.' I think that sounds like it would be true."
And Clapton did play loud, pushing his 45-watt Marshall combo – forever after known as a Bluesbreaker – into juicy, trenchant overdrive, made all the thicker and creamier by his PAF-loaded Les Paul.
Almost overnight, this became the sound burgeoning rockers were chasing the world over. For more than 50 years since, "that tone" has never looked back.
Buy the Beano album here.
All the latest guitar news, interviews, lessons, reviews, deals and more, direct to your inbox!
Dave Hunter is a writer and consulting editor for Guitar Player magazine. His prolific output as author includes Fender 75 Years, The Guitar Amp Handbook, The British Amp Invasion, Ultimate Star Guitars, Guitar Effects Pedals, The Guitar Pickup Handbook, The Fender Telecaster and several other titles. Hunter is a former editor of The Guitar Magazine (UK), and a contributor to Vintage Guitar, Premier Guitar, The Connoisseur and other publications. A contributing essayist to the United States Library of Congress National Recording Preservation Board's Permanent Archive, he lives in Kittery, ME, with his wife and their two children and fronts the bands A Different Engine and The Stereo Field.