Best Acoustic Guitar Mics 2023: The Finest Microphones For Recording Or Live Performance
Capture every nuance of your playing with the best acoustic guitar microphones from Shure, AKG, Neumann, Fishman and more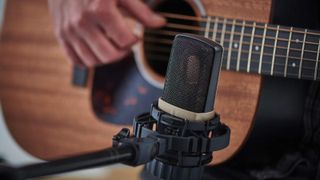 (Image credit: Future)
Most of us start playing the guitar for ourselves but before long we're eager to share our musical endeavours with others, whether that's via live performance or recording. Either way, you're going to need one of the best acoustic guitar mics around to capture your finest work.
The acoustic guitar can be a tricky instrument to record in all its glory, so the key is to buy not just the most expensive microphone that your budget will allow but the most suitable - whether that be a ribbon, a dynamic or a condenser mic.
Not all microphones are born the same, and the acoustic guitar has some unique and very particular sonic characteristics that respond better to some mics than others. Don't worry, that's why we're here to help. The good news is that with a little forethought, you can make superb-quality recordings even if you're on a tight budget.
Best acoustic guitar mics: Guitar Player's Choice
The Shure SM81 ticks so many boxes. It's a dedicated, small diaphragm condenser instrument microphone that's effortless to position, has a rapid transient response and boasts a broad, flat frequency response for uncoloured, authentic tones.
Despite its reasonable price, Shure hasn't held back on the spec. There's a lockable pad, a three-position low-cut filter and it's been ruggedised for life on the road. There's a whole lot to love about this mic.
After decades left collecting dust at the back of the microphone cupboard, ribbon microphones are well and truly back. The resurgence is partly because they sound so darned good, and partly down to a new breed of active ribbons, of which the sE Electronics Voodoo VR2 is a front runner. It's highly detailed, wonderfully smooth and doesn't require a hefty high-gain, high impedance preamp.
Finally, if your budget is really tight, then you can't go wrong with the evergreen Shure SM57, one of the most iconic mics of all time. And one of the least expensive.
Best acoustic guitar mics: Product Guide
The small mic loaded with mighty features
Reasons to buy
+
Ultra-flat frequency response
+
Pad and low-cut filter
+
Robust enough for stage
Reasons to avoid
-
Design might not be to everyone's taste
It's hard to fault the SM81 as an acoustic guitar mic. Its slim body makes it easy to both position and aim, plus it's a joy to stack with others in a multi-microphone setup. The cardioid pattern readily rejects off-axis noise, it boasts a wide 20Hz to 20kHz frequency response and a flat-as-a-pancake response curve for full, colourless, detailed recordings.
Transient response is high, output is high, self-noise is low and it has negligible RF susceptibility. Come on, what more could you want?
OK. There's a 10dB lockable pad and a three-switch high pass filter. In line with all SM series mics, but unusually for a small diaphragm condenser, it's also 'field usable'. This means it's rugged with a robust vinyl-coated steel casing and fitted with components that have been developed to handle sudden changes in temperature and humidity. It's just as at home on the stage as it is in the studio.
The SM81 won't break the bank either, which means that you may be fortunate enough to be able to afford a pair. What a great introduction to multi-mic recording.
2. sE Electronics Voodoo VR2 Active Ribbon Microphone
What kind of dark magic is this? An active ribbon mic with extended high end
Reasons to buy
+
Frequency response that's flat and wide
+
Transparent, life-like sound that's so smooth
+
Active circuitry brings low noise, high output
+
No need for a preamp
Reasons to avoid
-
Not cheap, but good ribbons never are
-
Overkill for newbies
This microphone was originally a pet project for Siwei Zou, sE's founder, well-respected classical musician, conductor and composer. He loved the tones he could achieve recording with a ribbon microphone but accepted they had some shortcomings, including lack of top-end response and the requirement for a high-gain, high-impedance preamp.
What Siwei came up with was the Voodoo VR2, an active ribbon mic with an extended high-end response. Some ribbons can sound a little dark because the top-end is rolled off, but not the Voodoo VR2. Its frequency response is broad, from 20Hz up to 20kHz, and its response curve is flatter than Florida.
The result is a ribbon mic that has the highly detailed, extended range of a condenser but sounds totally open and natural. Its active circuitry means there's no need for a high-spec preamp either. It's not cheap but it offers the kind of transparent authenticity that we'd happily pay good money for.
If the Voodoo's price tag doesn't scare you off, take a look at its big sister the RNRI, which was designed in collaboration with recording tech legend Rupert Neve.
Iconic dynamic mic for live performance and spirited strummers
Reasons to buy
+
Legendary SM57 tone
+
Incredibly sturdy
+
As simple as it gets
+
Astounding value
Reasons to avoid
-
Not detailed enough for delicate players or styles
If you're looking for a tough, no-nonsense performance mic that doesn't cost a fortune then lucky you, your prayers have been answered. The SM57 is one of the best-selling microphones period. Why? Because it offers the perfect balance between price vs performance. Oh, and its bombproof build means it'll never let you down.
As a dynamic mic it's not well-suited to nuanced playing, stage work is much more its forte. That said, because it's built to cope with high sound pressure levels and exhibits a slight presence lift – which helps the top end – it is a good choice in the studio for thunderous strummers.
Despite being developed and marketed by Shure as an instrument mic, the SM57 has found favour with many vocalists over the years, due to that presence lift and its smooth unmuddied relationship with the proximity effect. So, if you're on a budget and just want the one mic that can be called on for instrument and vocal duties (not at the same time mind, unless you're a singer/songwriter/contortionist) then the SM57 fits the bill perfectly.
High end shimmer to die for
Reasons to buy
+
Easy to aim
+
Superb transient response
+
That high-end shimmer
+
Surprisingly robust
Reasons to avoid
-
Quite a bright sounding mic
The AKG C451 excels at capturing transients and high-end detail, which makes it perfect for recording acoustic guitar. There's clarity aplenty, and while nobody can deny that this is a bright sounding mic, it's never brash, tinny or fizzy. Instead, there's a glorious shimmer that quickly proves seductive.
There are several good reasons why few mics can lift dark-sounding mahogany guitars or mellow cedar-topped instruments better than the C451. It has an ultra-fine diaphragm to catch those fast transients, and the pronounced presence bump after 5KHz goes a long way to explain that characteristic shimmer.
In addition, it has a switchable low-cut filter that rolls off the bass at 75Hz or 150Hz. This mollifies the proximity effect when close miking, so you get all the clarity and sparkle in the world, with none of the muddiness. There's also a -20dB pad should you need it for particularly loud performances.
The C451 is a conveniently small microphone that's easy to aim precisely and, according to AKG, it is robust enough to take out on the road with you. It's also a favourite with drummers for all the same reasons, so don't be concerned if you see it marketed as such.
Large diaphragm condenser that's particularly good for acoustic guitar
Specifications
Pickup pattern:
Omnidirectional, wide cardioid, cardioid, supercardioid, Figure 8
Reasons to buy
+
Versatility
+
Flat frequency response
+
Fast transient response
+
Like five mics in one
Reasons to avoid
-
This professional mic may be lost on beginners
Yes, we know. That price tag. Still, it's a Neumann, so quality and workmanship is unquestionable, plus this is an exceedingly versatile mic that can be put to many other uses when you're not using it for acoustic guitar.
Neumann's engineers have developed the TLM 107 to be a studio workhorse, a bit of an all-rounder that's as capable of handling vocals as it is percussion and everything else in between. As such, it's a large diaphragm condenser that, in a few respects, goes against the grain.
It's equipped with five polar patterns, and although only a couple are truly useful for capturing acoustic guitar, it's nice to know that the TLM 107 is so refined that switching between them will barely affect the sound balance. Frequency response is characteristically wide, so no surprises there, but other than a presence boost at around 8kHz, the curve is remarkably flat. It also has outstanding transient response and can handle high sound pressure levels.
The capacity to record transparently and authentically, while having a capsule that's reactive enough to capture the fastest transients are all qualities that we usually associate with small diaphragm condenser microphones. Similarly, its variable pad and ability to cope with high SPL figures puts it on a level with some dynamic mics. It's like having a whole handful of mics in one.
These slightly out-of-character qualities make the TLM 107 a wonderful choice for acoustic guitar. In fact, it's a superb choice for almost any studio scenario. Yes, it's pricey but it's so versatile you're bound to get your money's worth.
6. Fishman Matrix Infinity Mic Blend Acoustic Pickup
A harmonious blend of piezo pup and condenser mic
Specifications
Mic Type:
Piezo pickup plus condenser
Reasons to buy
+
Natural, authentic tone
+
Convenient and versatile
+
Loads of tonal options at your fingertips
+
Covert presence
+
Works well with both nylon and steel
+
Inexpensive
Reasons to avoid
-
Installation requires some skill
Having an onboard pickup and preamp installed in the body of your acoustic guitar is such a convenient solution for gigging musicians. Quite literally 'plug'n'play', you don't have to mess with external mic stands, mic position and a tangle of cables.
The most common solution, and often the least expensive, is to fit a piezo undersaddle pickup. They're unobtrusive, responsive, provide great clarity, feedback resistance and offer great value for money.
The problem is, they tend to sound overly thin, bright and don't let the full character of your guitar shine through. A common complaint is that they have an unnatural 'quacky' quality.
Fishman's Matrix Infinity Mic Blend Acoustic Pickup overcomes these shortcomings by pairing a Matrix piezo pup with a small cardioid condenser microphone that's mounted internally near the sound hole. On their own, onboard mics sound more realistic but, because of their location, they can be overly warm/muddy and are prone to feedback.
Having both, with the ability to blend the two, is a match made in heaven. You can dial in as much richness as you need with the mic, while retaining the response and articulation of the piezo pup.
It's a very intuitive system to use. Peeping from just beneath the edge of the sound hole are three controls for tone, blend and volume. The tone control is there to scoop the mids, for bass and treble emphasis, while the blend control behaves exactly how you'd expect, with the central position providing an equal mix of piezo and mic. Additionally, there's a pre-amp voice switch that can be used to boost the low end.
If you own a power drill and a steady hand you'll find installation easy enough, but if basic DIY brings you out in a cold sweat then it's a job best left to your friendly local luthier. Positioning the mic takes a little trial and error because it's location will influence the warmth or brightness of the sound quite considerably. Still, it's a one-time only job and the mic's swivel mount will enable you to fine-tune the final tone even after the initial installation is complete. It is compatible with both nylon and steel acoustics.
This kind of system has been developed for stage use, but there's nothing stopping you experimenting in the studio too.
Shining a light on precise acoustic tone
Reasons to buy
+
It's got a laser!
+
It's a solid performer, even without the laser
+
Three separate voicings
+
Consistent recording between takes
+
Great value
Reasons to avoid
-
Design is a bit sterile looking
Wow, this thing is laser guided. How cool is that? Yes we thought it was a gimmick too, until we used it a few times. It then began to make more sense.
First, let's take a look at the mic. Aston is a relatively new British company that has quickly garnered a reputation for developing microphones of sterling quality at a reasonable price point. The Starlight 'pencil mic' is no different.
It's a small diaphragm cardioid condenser instrument microphone, designed to be used on a variety of sound sources from drums to strings and everything in between. Other than the laser, it boasts a couple of other interesting innovations. The sintered head is virtually indestructible and provides a perfectly linear off axis response, which means there's no coloration or high frequency roll-off even towards the extreme edges of the pickup pattern.
Sintering is the process of bonding metal – usually grains – with heat and pressure. In the case of this Aston mic, tiny spheres are bonded into a thin shell that retains the optimum amount of porosity (gaps) to perform well acoustically. The shell is thin but tough enough to provide the capsule with a protective cap too. Clever.
The Starlight also has a three-way voice switch – vintage, modern and hybrid – modes that Aston is at pains to point out are not simply EQ presets. Instead, these voicings are three, separate non-destructive signal paths that alter the character of the Starlight to the point where arguably it's three mics in one.
On to the exciting bit, the Class 2 laser. What's the, ahem, point? Surely, it's not that hard to point a mic in the right direction is it? Well, on a drum kit or piano maybe, but we've never found a guitar that challenging. Until, that is, it's time to do it again.
It takes time to find the sweet spot or spots when miking up an acoustic and, because every guitar is different, that spot will never be consistent from one guitar to the next. However, accurately record that spot with a laser, and the next time you want to replicate the same tone you'll be able to find it almost immediately.
The Starlight is also available as a stereo pair.
Taking the performance out of performing with your acoustic
Specifications
Pickup pattern:
Supercardioid
Reasons to buy
+
Showcases the genuine sound of your guitar
+
Moves with your guitar
+
Can be installed on more than one guitar
+
Premium quality, and no drilling required
Reasons to avoid
-
Mic positioning takes time and practice
-
Requires phantom power
What if you're a gigging guitarist who doesn't want the hassle of a separate microphone and mic stand? One who owns an expensive acoustic that you really don't want to take a drill bit to? How can you amplify your sound?
The answer is a clip-on mic, which sounds, quite literally, a bit makeshift – but in this case works very well. The 4099 CORE is a tiny, premium quality condenser mic on a gooseneck, that can be clipped to pretty much anything, including an acoustic guitar.
The mic is available in two versions, a Loud SPL variant for normal sound pressure levels and an Extreme SPL model, which is designed for drums and some brass instruments. For guitar, the Loud SPL version should be fine for most playing styles, just be sure to order the correct clip/mount too.
Set-up is as easy as. It's just a case of gently adjusting the mount until it securely grips the top and back of the guitar, and then plugging in the Microdot extension cable. Most guitarists will probably run this cable into a mixer or PA via the included XLR adapter, but if you plan to use it with your acoustic amp make sure it has a mic input and can supply phantom power.
Finding the correct position for the mic will take time, so experiment with some likely locations well before your first gig. The DPA 4099 CORE is a supercardioid, which makes it easy to focus in on specific areas of the guitar's body and, in addition, the length of the gooseneck means that close-miking is the only option. That tight pattern, combined with close-miking, is excellent for noise rejection and, thankfully, DPA has voiced the 4099 CORE so that the proximity effect isn't overbearing.
The mount feels solid enough to take a few knocks before the whole kit (as well as your performance) unravels, but if you're an energetic player then work out where your hands are likely to be before finalizing its placement.
Set up correctly, this will give you a much more airy, detailed and authentic sound than any on-board piezo system ever can. Admittedly, a high-end standalone mic on a stand may sound even better but the 4099 CORE moves with your guitar, so you'll never step or sway out of range or too far off-axis. It's also a practical solution for guitarists who own more than one guitar (that's all of us then) but can't afford to install an onboard system in each one.
Acoustic Guitar Mics: Buyer's Advice
We're sure you'll agree that the acoustic guitar is easily the most tactile and expressive musical instrument you can play. For a start, it covers such a broad range of frequencies and tones, from shimmering, transient-rich highs to rich, complex bass notes. What's more, as guitarists, we can actually feel the vibrations coursing through our bodies.
Communicating this extraordinary timbre, complex sonic texture, and broad range and palpable feel in a live setting or a recording can be challenging. So, what follows is a brief primer on the different microphone types you're likely to encounter, and where to place them for the very best results.
Should I buy a condenser mic?
Condenser microphones are the go-to mics for recording acoustic guitar, not just because they have a wide frequency response that can easily capture an acoustic's frequency range but because they excel at highly detailed recordings.
Typically, a guitar's rich, sonorous bass starts at about 100Hz, while the shimmering highs peak at around 10KHz, which is well within the scope of most mics. The challenge is capturing enough high-end detail, in particular high-frequency transients, which are the short bursts of sonic energy heard when a note is first sounded (in this case plucked or hammered).
Fortunately, all condenser mics have highly sensitive active capsules, so they're more than up to the job. The trick is whether to go large or small.
Condenser mics come in two flavours: large diaphragm and small diaphragm. Large diaphragm microphones are a favourite with vocalists because they flatter the voice with a touch of warmth, particularly the low end. They sound 'big', lush and complex – absolutely gorgeous!
Unsurprisingly, to house a sizable diaphragm, which is often about an inch across, large diaphragm mics are usually quite big lumps and, more often than not, side-address (ie its primary axis is pointing out from its side). As you can probably imagine, they're fantastic for capturing and subtly warming up the rich bass of an acoustic guitar.
Small diaphragm condenser mics, on the other hand, are simply superb at capturing a neutral, very highly detailed account of any sound source, including the acoustic guitar. Their transient response is off the charts, and because they're small, and usually end-address, they are easy to position with accuracy. This pointability is a quality that's absolutely vital when recording an acoustic guitar, something we'll touch on later.
Our advice is to invest in a good small diaphragm condenser mic if you're planning to record your guitar using a single-mic mono set-up. If you have the budget, and don't mind the additional complexity that a multi-mic set-up requires, then consider a large condenser for your second mic.
What about dynamic microphones?
Dynamic mics lack the sensitivity of condenser microphones, yet they still have a role to play. Their inherent toughness makes them the natural choice for live performance and their ability to reject noise means they're often the best choice for recording in busy and/or untreated rooms. Most can easily cope with a guitar's frequency range, but they do struggle with detail and transients.
In some circumstances, this lack of high end can be an advantage. Because dynamic mics also shrug off high sound pressure levels (SPL) they're great for recording exuberant strummers or players who include a lot of loud high frequency percussive playing, or who just suffer from handling squeaks and squeals. A good dynamic mic can handle the levels while rejecting much of the unwanted noise.
Are ribbon mics worth it?
Ribbon microphones date back to the 1920s and for decades were the de facto mics for broadcast and for recording instruments, including guitars. Then, when transistor technology took a hold in the 1950s, condenser mics surged in popularity and ribbon mics fell out of fashion.
Which is a shame, because ribbon mics are unparalleled for capturing highly detailed, transparent, authentic recordings with a smoothness that no other mic can match. Part of the reason for their historic downfall was that the ultra-thin foil ribbon they use in place of a diaphragm and coil is susceptible to damage if mishandled. More significantly, they are passive microphones that need a high impedance preamp capable of supplying a very large dollop of gain, which made them impractical for many users.
The good news is that ribbon mics are now back and rising in popularity. Many of the newest versions have active circuitry that does away with the need for a high-impedance, high-gain preamp and, to some extent, protects the foil ribbon from failure.
Are Onboard Mic/Pickup Systems worth a look?
Finally, many gigging musicians will be drawn to mic/pickup systems that can be installed directly into the body of the guitar. These will often use a piezo pickup and condenser mic combination that can be retrofitted with relative ease.
Frankly, though they can sound great, they're no match for a separate, good quality condenser or ribbon mic. However, they come into their own for touring, ease-of-use and versatility. Just plug in and go.
Miking Up Your Guitar
You can trust Guitar Player. Our expert reviewers spend hours testing and comparing guitar products so you can choose the best for you. Find out more about how we test.
Unlike your voice, or to some extent an electric guitar speaker, where it's easy to pinpoint exactly where the sound is coming from, an acoustic guitar is more perplexing. Yep, it looks like the sound should be focused around the sound hole but that's only half the story. In fact, the whole body and the strings are alive with a wide variety of frequencies, and there's handling noise to account for too.
The following set-ups will work well both in the studio and live on stage.
Where to place a single mic set-up?
Aim the mic at the obvious place – directly at the sound hole – and it'll be overwhelmed by a build-up of bass resonance, making for a boomy recording or performance. Instead, to find the sweet spot for both warmth and clarity, move it east a bit, so it's pointing at the junction between the guitar's body and neck. This will typically be around the 12th – 14th frets.
If it still sounds too muddy, move it up the neck slightly – gently does it, just small increments at a time – but if you're beginning to hear too much treble and annoying finger noise bring it back down towards the body again. All guitars and all mics behave differently, so it's a matter of trial and error. Of course, as previously mentioned, small diaphragm condensers are a natural for this, because they can be aimed with great accuracy.
If the results are consistently boomy or thin, then play about with the distance between the mic and the guitar. Generally speaking, when recording you'll want to get the best signal to noise ratio possible, which means bringing the mic right up close to the sound source. However, there are potentially two issues with this. Firstly, position the mic too close and it may interfere with your fretting hand. Second, the proximity effect will come into play, which manifests as a boost in bass frequencies.
Some microphones are much more prone to the proximity effect than others, and while some do add a pleasing warmth many just suffer a thick layer of muddiness. So, final placement will depend on your guitar, your mic and your playing style, but 6" to 12" should do the trick. Another good reason for placing the mic away from the guitar is so that you can pick up room ambience and natural reverb, which may be desirable. Or not. It's your choice.
Is a multi-mic set-up worth it?
As you can probably imagine, multi-mic rigs can quickly become horribly time-consuming to set up successfully, and you must consider lots of additional issues such as phase. That said, there are a couple of established dual mic configurations that aren't too much of a burden and sound fantastic.
Spaced pair (A/B) uses two mics in separate positions, often a small diaphragm condenser at the 12th fret and a large diaphragm condenser at the bridge. The small diaphragm condenser will pick up a clear, transparent rendition, while the large diaphragm is there to add body, ambience and warmth. Done right, the result will sound huge.
Just make sure you set up each mic individually first before playing with the stereo mix or you risk losing yourself in hours of sonic befuddlement.
A coincidental pair looks to achieve similar results but this time the mics are stacked one on top of the other, aimed 90 degrees apart in a V formation. The 12th fret is a good place to start, so that one is picking up clarity from the neck while the other is finding richness from the body. Adjust left/right and back/forth until you find the sweet spot. The advantage of a coincidental pair over a spaced pair is that you're far less likely to suffer phase cancellation issues.
Finally, before you press the big red record button, or pick your first notes in front of a live audience, make sure your guitar is in tune. It's so common to spend hours on setting up sophisticated mic placements, only to forget the basics.
How we selected the best acoustic guitar mics
At Guitar Player, our team of passionate guitarists understands the power and creative possibilities the right microphone offers. With our deep appreciation of home and studio recording, we have extensively tested and analyzed numerous microphones to identify the best options available.
To compile our list of the best acoustic guitar mics, we combine our practical expertise, meticulous research and insightful discussions with our editorial team. We consider factors such as sound quality, functionality, ease of use, durability, and value for money, ensuring that we showcase the finest mics on the market.
Read more on how we test gear and service at Guitar Player.
Related buyer's guides
All the latest guitar news, interviews, lessons, reviews, deals and more, direct to your inbox!