Dark Horse: The Top 10 George Harrison Albums
Despite the diversity of George Harrison's many pursuits during his 58 years on earth — racing, gardening, Indian religion and culture, film making and anything remotely associated with ukeleles, Mel Brooks or Monty Python — he'll go down in history as one fourth of the Beatles.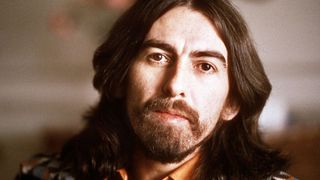 (Image credit: Getty/Michael Putland )
Despite the diversity of George Harrison's many pursuits during his 58 years on earth — racing, gardening, Indian religion and culture, film making and anything remotely associated with ukeleles, Mel Brooks or Monty Python — he'll go down in history as one fourth of the Beatles.
But, notwithstanding his contributions to the most commercially successful and critically acclaimed act in the history of popular music, Harrison had a successful solo career that proved he was more than just a silent partner to John Lennon and Paul McCartney.
The guitarist released 10 studio albums between 1970 and 2002, an experimental electronic album, a soundtrack album and two live albums (including The Concert for Bangladesh), plus some non-album singles, like the very awesome "Cheer Down" (1989).
This list doesn't include his two "while the Beatles were still together" albums, 1968's Wonderwall Music and 1969's Electronic Sound. (Although, even if we were to include them, they'd wind up as No. 12 — Electronic Sound — and 11 — Wonderwall Music anyway. So there!)
10. Dark Horse (1974)
To put it mildly, the public didn't like this album. Rolling Stone called it "disastrous," and it earned crappy reviews across the board, plus the nickname "Dark Hoarse" (Harrison had laryngitis when recording the album; it's a shame he couldn't have given Apple Records a doctor's note and waited, say, a year to let his voice heal and write some stronger material). GUITAR HIGH POINT: "Maya Love"
09. Extra Texture (Read All About It) (1975)
Although not terrible, it wasn't the strong comeback album Harrison needed after the "Dark Hoarse" debacle. It had a catchy single ("You"), plus what could be considered the followup to "While My Guitar Gently Weeps" — "This Guitar (Can't Keep from Crying)," this time with Jesse Ed Davis on lead. In fact, Harrison takes a break from slide guitar on Extra Texture, and that's no fun. GUITAR HIGH POINT: None.
08. Gone Troppo (1982)
Harrison released the mega-obscure Gone Troppo without promoting it, touring or caring about the outcome. Despite its status as Harrison's worst-selling studio album, it's got a fun vibe, lots of slide guitar, some strong songs ("Dream Away," "Mystical One," "That's the Way It Goes") and a Beatles-era throwaway, "Circles," featuring Deep Purple's Jon Lord on synthesizer. GUITAR HIGH POINT: "Greece"
07. Somewhere In England (1981)
This album is best remembered for "All Those Years Ago," Harrison's ode to the recently murdered John Lennon. The song gave the world something akin to a Beatles reunion: Lennon was the subject matter, Harrison sang and played guitar, Paul McCartney sang backup and Ringo Starr played drums. Beyond that, the disc offers a collection of harmless, catchy tunes. GUITAR HIGH POINT: "That Which I Have Lost"
06. Thirty Three & 1/3 (1976)
This album marked a new beginning for the former Beatle; it was his first release on his own label, Dark Horse Records. It spawned two hits — "This Song" and "Crackerbox Palace" — and featured top-notch compositions ("Dear One," "Beautiful Girl," "It's What You Value") and a 1967 castaway ("See Yourself"). GUITAR HIGH POINTS: "Woman Don't You Cry for Me," "Learning How to Love You"
05. Living in the Material World (1973)
All four Beatles topped the charts in '73, spawning a new version of Beatlemania. Harrison's contribution was "Give Me Love (Give Me Peace on Earth)" and the rest of this lush album. While the preachy subject matter can be a downer, there are some fun moments and great guitar work. It's also the last offering of the Beatles' London era, having been partially recorded at Apple Studios. GUITAR HIGH POINT: "Give Me Love"
04. George Harrison (1979)
Harrison's 1979 self-titled disc might be the dark horse (no pun intended) on this list, but it's difficult to knock an album with 10 tracks as strong as these. From the powerful single, "Blow Away," to the engaging "White Album" leftover ("Not Guilty") to the spacy "Here Comes the Sun" followup ("Here Comes the Moon"), Harrison picked the right album to share his name. GUITAR HIGH POINT: "Dark Sweet Lady"
03. Cloud Nine (1987)
Harrison's ninth serious studio album was a big one for the semi-retired guitarist. Its success, plus Harrison's new friendship with co-producer Jeff Lynne, got him back on rock's radar, led to the formation of the Traveling Wilburys, got him back in the studio as a sought-after guitarist (He even recorded with Belinda Carlisle) and back on tour. The album features a healthy dose of Eric Clapton and Ringo Starr. GUITAR HIGH POINT: "Cloud Nine"
02. Brainwashed (2002)
Brainwashed was hailed as Harrison's best album since All Things Must Pass. Both albums share the same back story: They were made up of songs Harrison had stockpiled over the course of a decade-plus. Although you'll hear the heavy lyrical themes that weighed down some of his earlier work, Brainwashed is mainly an acoustic- and slide-guitar-filled breath of fresh air. GUITAR HIGH POINT: "Any Road"
01. All Things Must Pass (1970)
ATMP caused a sonic boom in '70. The "junior partner" to Lennon/McCartney had emerged from his band mates' shadows with a masterpiece. The album, considered the strongest release in the 43 years of solo-Beatles history, was written over several years as Harrison stockpiled songs that didn't make the Beatles' cut. Winners abound at every turn, from the title track to "Run of the Mill." GUITAR HIGH POINT: The "Apple Jam" disc
All the latest guitar news, interviews, lessons, reviews, deals and more, direct to your inbox!