Five Rare British Vintage Fuzzboxes (That Aren't Tone Benders or Fuzz Faces!)
These lesser-known vintage rarities from the mid '60s made a noise all their own.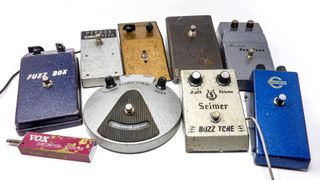 (Image credit: Nick Sternberg/fuzzboxes.org)
Fuzz pedals really began to take off in the mid '60s following the release of the Gibson/Maestro FZ-1 Fuzz-Tone in 1962. After hearing hits like The Rolling Stones' "(I Can't Get No) Satisfaction" demand among electric guitar players suddenly boomed and the effects pedal market began to flourish.
Many readers will already be familiar with those perennially popular giants of the fuzz world – the Tone Bender and Fuzz Face – but there is a lot more to the story. During this first giant wave of fuzz pedals, many other transistorized gizmos surfaced. And while some quickly faded into obscurity, others somehow found their way onto recordings, leaving their indelible mark on music.
GP spoke to Nick Sternberg – creator of the British Invasion fuzz pedal website fuzzboxes.org – to find out more about this lesser-known chapter in guitar history…
1. WEM-Rush Pep Box
Between 1965 and 1967, there were lots of different makes and models of fuzz pedals. In fact, a lot of old-timers describe how they were often put together by people they knew. "[Pep Box designer] Pepe Rush initially sold pedals directly to musicians from his workshop in Soho, but it is not known when the Pep Box was invented.
By August 1965, however, WEM were involved, and the WEM-Rush Pep Box was a product. I really like the mid '60s Pep Boxes. The circuit is loosely based on the [three-transistor] Maestro Fuzz-Tone but it only has two transistors. The sound is pretty terrible (in a good way!) It's unforgiving. Gnarly. Challenging, even. But all of these boxes are different in their own way.
They changed over from germanium to silicon transistors early on. By 1966, they'd brought in the red elongated enclosures (these were used by The Animals around this time) but some of the earlier units with wedge-shaped enclosures also had silicon transistors.
2. Carlsbro Fuzz-Tone
Unlike a lot of these London-centric fuzz pedals, Carlsbro originated in the Midlands. They are one of the oldest British guitar amplifier/pedal companies going. Their Fuzz-Tone is shaped like a Maestro Fuzz-Tone and is part of this first generation of pedals but it has its own circuit altogether. Even internally, you may be fooled into thinking it's based on a Maestro, but it sounds nothing like one (it actually sounds alright!)
It's a three-transistor fuzz pedal that runs off nine volts. It was used by the guitar player in The Sorrows (a cult freakbeat band from the Midlands) on the track "Pink, Purple, Yellow & Red." The guitarist in Skip Bifferty from Northern England also used it to record the track "On Love." Carlsbro pedals seemed to be used more in the Midlands and North of England. It has a smoother, more balanced sound compared to a lot of the pedals from the era.
3. Selmer Buzz Tone
In the '60s, Selmer had a famous shop in Charing Cross Road, London. They were Gibson dealers and the Gibson/Maestro Fuzz-Tone was being imported by them. The Selmer Buzz Tone is a rare pedal, and there's a reason so few of them have survived: they sound terrible!
My example came with a 90-degree molded jack on the hardwired [input] cable which doesn't fit into my Telecaster. There are some myths surrounding this pedal. People always associate it with Pink Floyd and Syd Barrett. We know they used Selmer guitar amps early on, but we don't actually know if they used this pedal because nobody's been able to substantiate that yet. Plus, Syd would never have been able to plug that weird jack into his Esquire!
The Buzz Tone may have run off 3 volts, but an early advert from August 1966 talks about it running off 1.5 volts. My pedal came with a clip shaped for a 9-volt battery, however.
4. Vox Distortion Booster
This is a curious one, partly because it's not a pedal at all, rather you plug it into the amp. The red versions were made in England and the chromed versions were made by Thomas Organ in America. We don't exactly know when they came out as there were delays in production, but they were announced in August 1965. It's part of that very first wave of fuzz in England.
The earliest models we know of are based on the Maestro Fuzz-Tone but have two transistors rather than three (much like the Pep Box.) Brian May is known for using a Vox Distortion Booster, and we know he used a germanium one. So, the early Brian May fuzz sound on the Smile records might very well be a germanium Vox Distortion Booster. The silicon versions sounds really smooth and are my favorite, whereas the germanium versions are a little looser and darker sounding.
5. Baldwin-Burns Buzzaround
Buzzarounds appeared in 1966. As far as we know, this three-transistor fuzz pedal is another unique design; it's not a copy of any other pedal. It has three controls which is unusual. The controls are: Sustain, Balance, and Timbre. It's the model that inspired the three-knob Mark III Sola Sound Tone Bender.
Unusually, some of the early Buzzarounds have momentary/non-latching footswitches ( meaning you've got to hold your foot down to sustain the fuzz sound.) They quickly changed over when they realized it wasn't very practical.
It has a really loud, angry, explosive sound. People always talk about Robert Fripp using this pedal on [David Bowie's] "Heroes" but that's been refuted by Fripp himself. Fripp did own two, however, and he says he used the pedal on the early Giles, Giles and Fripp recordings. He also used the Buzzaround early on with King Crimson. Famously, the guitar solo on "21st Century Schizoid Man," and on "Pictures of a City."
All the latest guitar news, interviews, lessons, reviews, deals and more, direct to your inbox!
Rod Brakes is a music journalist with an expertise in guitars. Having spent many years at the coalface as a guitar dealer and tech, Rod's more recent work as a writer covering artists, industry pros and gear includes contributions for leading publications and websites such as Guitarist, Total Guitar, Guitar World, Guitar Player and MusicRadar in addition to specialist music books, blogs and social media. He is also a lifelong musician.