Fender Play is Still 50% Off For Cyber Monday, So What's Your Excuse?
By Guitar Player Staff published
You know you should try Fender's brilliant guitar lessons platform – now's your chance.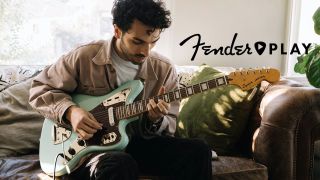 (Image credit: Fender)
If you're planning on teaching yourself guitar, or simply want to brush-up on some areas of your playing – and if you hanging around the Guitar Player website, the chances are you do – then Fender's got a Cyber Monday guitar deal for you: A year's Fender Play subscription for just $44.99 (opens in new tab) – 50% off.
Online guitar lessons have grown in popularity over the last few years, offering access to famous tutors, or lessons that are endlessly repeatable, unlike the hour you just spent with your local tutor Hairy Jake, the man-who-won't-shut-up.
Fender Play (opens in new tab) is a relative newcomer, launching in 2017 and growing quickly ever since. It's aimed at the beginner-intermediate level, so great for beginners, guitar players who want to learn bass or ukelele, or anyone wiuth a few blind spots in their playing. Want to improve your finger picking? Then Fender Play is a really great way to develop new techniques.
Fender Play: 50% off a one-year subscription (opens in new tab)
Bagged a free Fender Play trial and like what you see? For this Black Friday/Cyber Monday you can bag a 50% discount on a 12 month subscription, slashing the usual price of $89.99 down to just $44.99. Just add the code friday50 at checkout.
If Fender Play sounds too beginner-orientated for you, then online guitar tuition company Truefire also have a great Cyber Weekend deal. (opens in new tab)
With over 50,000 hours of guitar lessons available from some of the world's greatest player, from Grammy Award winners to top session players, you can buy courses individually or an all-you-can-eat package. Either way, Truefire have added some serious discounts to fight for their share of the Black Friday weekend action. And that means good deal for you, if you're in the market for pro-shot lessons from the likes of Robben Ford, Larry Carlton, Matt Schofield, Andy Wood, Oz Noy, Tyler Grant, Josh Smith et al.
All Truefire's video guitar lessons include tab, notation, practice jam tracks, slo-mo, looping, and more. And at 60% off (opens in new tab), it's a steal.
Truefire All-Access: was $249, now $99 (opens in new tab)
Truefire's Black Friday Blitz has several time-limited deals, but perhaps the greatest is the annual all-access deal. $99 for access to all the guitar tuition you can manage for a year? I don't know how much you're paying for real-life guitar lessons, but this is going to put our guitar tutor out of a job. (Sorry Jake.)
If you're looking for more great deals like this then check out our Cyber Monday Guitar Deals page where you can browse hot bargains on all kinds of guitar-related products.
Get the latest news, reviews and product advice straight to your inbox.
Thank you for signing up to The Pick. You will receive a verification email shortly.
There was a problem. Please refresh the page and try again.