$50 Pawnshop Guitar? Not Anymore. This '60s Teisco Del Ray ET-460 Commands a Four-Figure Sum on the Vintage Market
Fancier Teiscos like this and the Spectrum 5 are a comparative king's ransom these days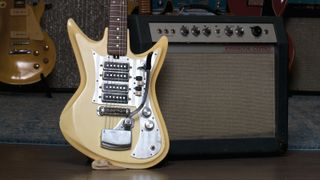 (Image credit: Drew Gansz)
If you came of guitar-playing age in the 1960s and couldn't afford a Gibson or Fender, chances are one of the offerings from the Japanese company Teisco captured your attention – and your budget.
In fact, if you came of guitar-playing age in the '70s, there's a strong possibility that you started on a used Teisco, a guitar that would have been cheap enough for your parents to write off if your interest in guitar failed to take hold.
Despite their budget prices, many of Teisco's offerings were entirely playable and sounded cool, too.
Take the circa-1966 Teisco Del Ray ET-460 featured here. It had enough body points, pickups and switches to excite any starry-eyed adolescent. It's also among Teisco's guitars that have attracted something of a cult following in recent years, and for good reason, as we shall see.
Teisco's origins date back to 1946, when renowned Spanish and Hawaiian guitarist Atswo Kaneko and engineer Doryu Matsuda formed Aoi Onpa Kenkyujo in Tokyo in 1946.
The company name transitioned to Nippon Onpa Kogyo Co. Ltd. before changing to Teisco String Instrument Corporation in 1961.
The Teisco name itself had appeared on instruments since 1948, and on the rudimentary solid-body guitars the company was manufacturing as early as 1954.
Teisco made in-roads in the North American market starting in 1961.
Although some of these guitars appear to have been issued with the brand's name, it seems that most initial offerings were rebranded as Kent, Kingston, Norma, Encore, Duke and occasionally Kay and Silvertone.
Teisco's big breakthrough came when it secured major distribution in North America via Weiss Musical Instruments in Chicago.
WMI renamed the brand Teisco Del Rey – "of the king" – giving the guitars a name that was both regal and surfy sounding, although many of these guitars (including the one shown here) were still branded simply Teisco.
By any name, they sold in significant numbers to young aspiring players, thanks to their flashy looks and very affordable prices.
While Fender's price list of the time shows the Stratocaster selling for $289 and the top-of-the-heap Jaguar going for a whopping $379 (both in standard finish, with tremolo), Teisco had a raft of models – including a deluxe three-pickup solidbody, a slimline semi-hollow and a bass – priced at $39.97 each, roughly one-tenth the cost of a Jaguar.
Image 1 of 2
The ET-460 (also seen with the model names Super Deluxe and K4-L) would soon be top of the heap, selling for $59 to $79, depending on the seller and the era.
The model represented Teisco's effort to go all out and do Fender one better – well, two if you're counting pickups.
As seen on the featured guitar, the ET-460 carried four of Teisco's unique single-coil pickups, with metal shields around the coils and distinctive square pole pieces.
It has individual on-off switches for each pickup, a three-way tone selector that goes from bassy to bright, and master rotary volume and tone controls.
At least some of the guitars were wired so that the two different pairs of pickups nearer the neck and the bridge worked in unison as humbuckers when selected together.
The guitar's simple vibrato is some amalgam of a Bigsby and Fender's Jaguar/Jazzmaster tremolo, with a bridge that looks much like those on the latter models.
Also distinctive is the ET-460's aluminum pickguard, with alternating stripes of gloss and buffed-satin finish, an appointment that featured on many guitars of the 1965-'69 era, when this model was made.
Although the luscious antique-white finish of the featured ET-460 hides any hint to its timber, the bodies of sunburst ET-460s reveal a wood that can occasionally appear to be alder or mahogany but is most likely one of the more generic species used in many budget Japanese guitars of the era.
The bolt-on necks of some were carved from planks made with several thin laminates of wood, although some examples had a three-piece maple neck.
Unlike some Teisco models, the ET-460 had a truss rod, with adjustment accessed at the body end, and many had a zero fret.
The fingerboards were rosewood, by appearance, but could be something else.
Alongside the guitars' gizmo-fied electronics, the overall styling makes them strangely lustworthy in the eyes of many retro-minded players.
Often dubbed the "shark's-fin models" for obvious reasons, the pointy body horns trace lines that seem to be uniquely shared by Italian and Japanese designs of the era.
They also sport a distinctive four-plus-two headstock that enables a nearly straight string pull from nut to tuner posts.
Sound-wise, the ET-460 is perhaps best described as "funky yet characterful."
It can lean toward thin and bright when played clean, depending on pickup and tone settings, but the pickups on earlier examples can be fairly hot for single-coils and will sound effectively gnarly and edgy with a good distortion pedal applied, or into a cranked amp going at it old-school.
Given their budget origins, you'd expect pro sightings to be rather few and far between, but a surprising number of notable guitarists have taken an ET-460 or one of its siblings in hand.
David Lindley owns and plays several Teisco models, including an ET-460, as does his brother in slide, Ry Cooder.
Mark Knopfler owns at least a pair of fancy Spectrum 5s, which were used in the studio on "True Love Will Never Fade" and "Postcards From Paraguay."
Image 1 of 2
A young Edward Van Halen found his first electric guitar in an earlier Spectrum 5 model, and during his session days studio ace Glen Campbell often played a Teisco T-60.
Fans of the brand sometimes point to James Iha of Smashing Pumpkins using an ET-460 in the video for "Rocket," but the similarly styled guitar is actually the two-pickup ET-230.
Japanese instrument maker Kawai bought Teisco in 1967 and made changes to the model names, but the ET-460/Super Deluxe remained in the U.S. catalog until around 1970, about the time the brand name was discontinued on guitars shipped to this country.
Long the $50 pawnshop specials, fancier Teiscos like this ET-460 and the Spectrum 5 are fetching prices into the four figures these days, and it's hard to deny the major dose of cool they bring with them for the player who digs the styling of the era.
Essential Ingredients
Bolt-on neck with rosewood (or similar) fingerboard
Unique double-horned "shark's-fin" styling
Four single-coil pickups
Individual on/off switches and three-way tone switch
Striped aluminum pickguard
All the latest guitar news, interviews, lessons, reviews, deals and more, direct to your inbox!
Dave Hunter is a writer and consulting editor for Guitar Player magazine. His prolific output as author includes Fender 75 Years, The Guitar Amp Handbook, The British Amp Invasion, Ultimate Star Guitars, Guitar Effects Pedals, The Guitar Pickup Handbook, The Fender Telecaster and several other titles. Hunter is a former editor of The Guitar Magazine (UK), and a contributor to Vintage Guitar, Premier Guitar, The Connoisseur and other publications. A contributing essayist to the United States Library of Congress National Recording Preservation Board's Permanent Archive, he lives in Kittery, ME, with his wife and their two children and fronts the bands A Different Engine and The Stereo Field.