Why Teisco's 1960s TRG-1 Guitar Rules
Besides having a body shaped like a lopsided pear and a headstock like a hitchhiker's thumb, this guitar has a friggin' amp built into it!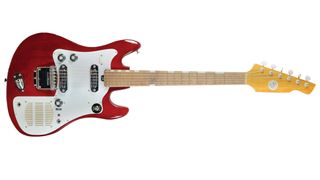 (Image credit: Future / May Yam)
The arrival of the transistor ushered in a new age of miniaturized electronics in the early 1960s. Everything, from radios to calculators, began to shrink in size, to the point where, today, you can fit a computer that's also a phone, record player and TV set in your pocket.
Teisco wasn't the first guitar company to take advantage of miniaturization by sticking a battery-powered amp in a guitar (Hofner and Wandré are among those who did it earlier).
However, its low price point and major distribution network let the company place this 1964 TRG-1, complete with its own built-in one-watt amp, in the hands of budding rock and roll guitarists.
Unfortunately for me, when I purchased my TRG-1 a few years ago, its amp was dead. Enter my longtime friend Ronni Dinette, the underground luthier. At the Amigo Show guitar convention in Marin, California, a couple of years back, Ronni was displaying and selling guitars, including a sunburst Teisco TRG-1.
Ronni had brought the axe back from the dead by installing a brand-new battery-operated two-and-a-half-watt amp made by C.B. Gitty, and visitors to the booth just couldn't put it down. With the help of Ronni, my TRG-1 was soon singing once again.
Weirdo Factor
Besides having a body shaped like a lopsided pear and a headstock like a hitchhiker's thumb, this guitar has a friggin' amp built into it!
Playability & Sound
The neck is chunky, like an old Fender U shape, but the action is low and surprisingly playable. Also surprising is the fact that this guitar has 22 frets on a rosewood fingerboard adorned with cool art deco–style markers. The dual pickups are similar to gold foils and sound chimey, jangly and very musical.
Played clean, they're super-nice for rhythm tones ranging from surf to soul. They sound terrific with distortion as well, and seem to emphasize just the tones you'd want to hear feed back.
Note, however, that the TRG-1 has only one pickup (Teisco's TRG-2 was the two-pickup version). Ronni just happened to have a pickup that matched the original, and since we were installing the new amp, we figured we'd add it, along with a pickup switch, located in the lower cutaway.
In addition to the original global tone and volume knobs, we added a gain control with an LED indicator, and the original tone-bypass rocker is now a phase-reverse switch.
As for that new amp, not only is it two and a half times louder than the original but it also offers extra routing choices: the unpowered output, a headphone output that bypasses the speaker and an output from the internal amp so you can use it as a preamp or fuzz box in your signal chain. Nice!
Value
The TRG-1 cost just $69 back in the day, and it still isn't valued very highly by collectors, possibly because most of these old guitars don't have functioning amps. Street prices vary from $300 to $1,200.
Why it Rules
With its C.B. Gitty amp, the TRG-1 is loud, aggressive and easy to coax feedback from. Better still, with this guitar you can practice in your dressing room, waltz onstage and plug into your Sunn Coliseum for nonstop rocking!
Thanks to Ronni Dinette for breathing new life into this pawnshop prize.
All the latest guitar news, interviews, lessons, reviews, deals and more, direct to your inbox!