Whack Job: 1965 Teisco Del Rey EP-10T
As one of the more collectible Teiscos this oddball ax could easily set you back a thousand bucks.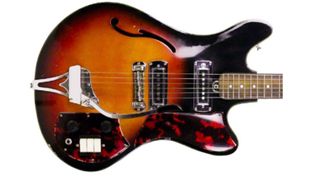 (Image credit: Future/May Yam)
Most people don't give Teisco guitars a second look, or if they do it's only because the instruments have such an unusual appearance. One could argue that most of the Japanese company's guitars don't play well or sound that great. But while many of them were built to be mediocre starter guitars, there are a couple that deserve another glance, such as the Spectrum series and its fabled Spectrum V, a monument to electric guitar building.
This time around, let us introduce to you another praiseworthy model: the Teisco Del Rey EP-10T.
Weirdo Factor
In terms of its body design, the Del Rey EP-10T isn't so odd. Its offset horns bring to mind popular '60s solidbody models from the likes of Fender and Mosrite. Unlike those guitars, however, the Del Rey is hollow-bodied and sports a stylish f-hole.
Playability & Sounds
This is a strikingly beautiful guitar. The 4+2 headstock is endlessly cool and something of an innovation by the standards of the early '60s. The thinline body is appointed with double cream binding, and the rich tobacco-burst finish is nicely complemented by the stunning deep-red pearl pickguards.
But as cool as this example looks, it didn't play very well at first. Mike Fox at the Starving Musician in Santa Clara, California, helped us shim the neck with a thin piece of mahogany, which made a big difference. Once the neck was set properly, the bridge lowered, the truss rod adjusted and the pickups raised, it was time to put the Teisco to the test.
A quick inspection revealed a mahogany neck with 22 thin frets and a feel like a pleasingly slim Fender. The bridge has six independent rollerballs that allow for precise intonation and help the Bigbsy-esque vibrato work smoothly. There are two single-coil pickups, with a global volume knob and a reverse-wired master tone knob. The three organ-style buttons let you choose either pickup or both.
You never know what you're going to get with a 50-plus-year-old guitar, and the Del Rey EP-10T was no exception to the rule. Once the guitar was plugged in, the bridge pickup setting proved to be bright and garagey, while the neck setting was rather muted and almost too bassy. With both pickups on, however, we were rewarded with a full-bodied "macho acoustic guitar" rhythm sound that was a blast to play.
As for using distortion, forget it. The pickups are so microphonic that they squeal even at low volumes. And either due to the headstock angle or the absence of tall frets, there isn't much sustain, a common issue with many vintage budget guitars.
Value
The Del Rey EP-10T is one of the more collectible Teiscos. When new, it listed for about $70, or roughly a quarter of what a Fender Stratocaster was going for in the early '60s. If you find one that's stock, in great cosmetic condition and set up nicely, it could easily set you back about a thousand bucks. Suffice to say, the Del Rey EP-10T hasn't quite appreciated in value the same way an early '60s Strat has. But while it may seem a bargain, just remember that you'll undoubtedly have to take it to a good luthier to make it play as good as it looks.
Why it Rules
Measuring about a half foot longer than a Stratocaster, this tall drink of water weighs just over five pounds! One could easily do an entire gig on this guitar. Just don't overdo the overdrive.
(Thanks to Mike Fox, Leslie Hampton and Doug Agnew.)
All the latest guitar news, interviews, lessons, reviews, deals and more, direct to your inbox!