Mark Knopfler's Favorite Studio Guitars
6 of the Dire Straits legend's axes of choice.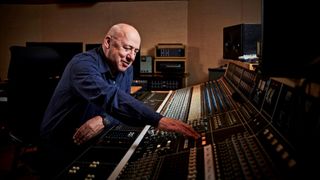 (Image credit: Future)
Mark Knopfler's incredible collection of studio guitars – comprising go-to vintage instruments as well as some lesser-used models for more specific sounds – is hard to beat.
Here we take a look at six of the Dire Straits man's favorites…
1. 1937 National Style O Resonator
The guitar that graced the cover of Dire Straits' Brothers in Arms is still used extensively today for studio and live work. It dates to around 1936 or '37 and has a few details that might not be obvious at first glance, such as the right-hand f-hole, which hides a jack socket for an instrument cable so the guitar's internal pickup can be used. Due to its position, only right-angle jacks can be used, for obvious reasons.
National's Style O resonator debuted in 1930 and continued in production until 1942, when demand for resonators was waning during the war years. The Style O came in several cosmetically different variations. Knopfler's is a Variation 7 model, most of which were issued with a tortoiseshell-style Lucite pickguard, which, as here, was often removed.
2. 1958 Gibson Les Paul Standard
Knopfler has two 'Bursts that get used frequently on recordings and live dates: a 1959 example and this beautiful '58 that he says is remarkable not only for its tone but also for its rock-solid tuning stability. This '58 formed the basis for a Gibson Custom replica model that was issued with a long neck tenon, PAF-style custom humbuckers and hide-glue neck construction. Knopfler has recorded using examples from the original run of 100 hand-aged and 150 VOS (Vintage Original Spec) replicas along with the original '58.
3. 1937 D'Angelico Excel
John D'Angelico, one of history's most influential archtop guitar makers, built only 1,164 guitars in his lifetime, starting out in a Kenmare Street, New York City, workshop. Earlier pre-war examples of the Excel tend to have less ornamentation than the ones that followed later, so this example does not feature the stair-step tailpiece that became a D'Angelico hallmark from around 1940, nor other art deco–style appointments. The body measures 17 inches across the lower bout. The headstock is topped by classic "pineapple and pediment" D'Angelico ornamentation and sits atop a seriously chunky neck.
4. 2008 Monteleone Isabella
This stunning example of the luthier's art was custom-built for Knopfler by John Monteleone in 2008 and was subsequently used on a song in tribute to the maker's skills titled "Monteleone," from Knopfler's 2009 album, Get Lucky. The body is built from dramatically quilted, big-leaf Oregon maple, while the top is Adirondack red spruce.
5. 1935 Martin D-18
This vintage Martin is one of Knopfler's most often used acoustic guitars and was built just three years after the company began making the D-18. An earlier version of this classic mahogany-bodied model had been built as the D-1 beginning in 1931.
6. 2011 "Blue" Pensa Custom
Rudy Pensa has been building custom electric guitars for Knopfler for many years, and this P-90-equipped model with a carved double-cut body is the latest in an evolving series. Knopfler says a thinline double-cut electric by Pensa is on its way to him next.
Browse Mark Knopfler albums here.
All the latest guitar news, interviews, lessons, reviews, deals and more, direct to your inbox!