Cool Vintage Guitars Don't Need To Be Expensive
With a few mods, this budget 1967 Teisco K2L lab rat became a great playing – and priceless – custom build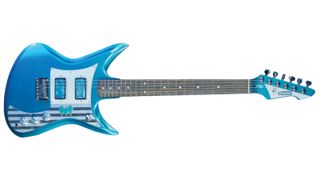 (Image credit: May Yam)
In the mid-sixties, Teisco used this very stylish body shape for about five years. Known colloquially as the Sharkfin, it was offered in two-, three- and four-pickup variations, as well as with a few different color options.
This particular Teisco started its life as a Sears Silvertone K2L, which came with two single coil pickups and a vibrato.
Back in the groovy days of nearly 60 years ago, Teisco was a Japanese manufacturing juggernaut that specialized in making affordable beginner guitars to the tune of about 100,000 per year.
As time went by, the company started to put out some fairly decent electric guitars that sported professional features, like truss rods, multiple pickups, carved tops, fancy finishes (including a Candy Apple Red) and hip striped pickguards.
But compared to their American and European counterparts, they were still quite affordable. For this reason, these higher quality Teiscos frequently became lab rats for the DIY-ers who wanted to experiment by changing out pickups, pots, tuners, bridges and the like.
This guitar suffered that very fate until my friend Ardy brought it back to its former glory, and beyond!
Weirdo Factor
The color scheme is what stands out most in this rebuild. Many shades of blue were employed, starting with the blue Croco finish on the body and headstock. Notice the reshaped headstock and plastic overlays, which further the whole Teisco vibe.
The pickguard had to be partially refabricated, not only to accommodate the two new humbuckers, which are covered by thin pieces of lenticular blue satin flame, but also to cover up what had turned out to be an unfortunate routing job by the previous DIY-er.
Playability and Sound
As the owner of two original K2Ls, I will venture to say this is the best-playing and best-sounding example I've ever encountered.
Ardy replaced the original trashed neck with a 21-fret Mighty Mite maple neck with rosewood fingerboard. Simply put, it plays more like a modern guitar. It's very Stratocaster-like and has a wonderful familiarity about it.
The top two slider buttons – which appear to be in the strum path but don't actually get in my way – are kill switches for each pickup; the third slider is a global non-active lead boost.
The controls include dedicated volume knobs for each pickup and a global tone.
Situated just to the right of the neck pickup, the three-way switch selects coil-tap and phase options.
Also of note, this custom job utilizes a hardtail bridge set-up with strings through the body, an option that the K2L didn't offer. As such, the sustain and intonation are solid.
The sound of this guitar falls somewhere between Gibson and Fender, but with the different tonal options, it really stretches out to being an extremely versatile and modern guitar, worthy of just about any musical style.
Value
The original K2L sold new for just over $50. It can fetch up to $1,500 in stock condition, but plenty of beat-up examples sell for $100 to $200.
As for this one, it's a total player, with a kind of future-primitive vibe. It's hard to put a monetary value on it, but even with all the mods and new parts, I spent less than I would have for a vintage one.
Why It Rules
It's got the look. This body shape remains one of Teisco's more popular, but in the larger sense, it is still underground.
Plus, it's lightweight, comfortable to play and sounds great!
Huge kudos going out to Ardy for such a cool build.
Got a whack job guitar like this? Feel free to get in touch with me at rtcarleton@gmail.com.
Who knows? Maybe I'll write about it.
All the latest guitar news, interviews, lessons, reviews, deals and more, direct to your inbox!