Cool, Quirky and Collectible: the Teisco Spectrum 5
With its innovative features this oddball Holy Grailer is interesting enough to push anyone's buttons.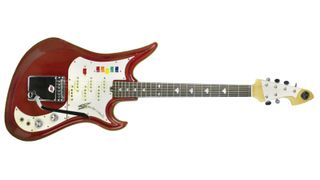 (Image credit: May Yam)
Many collectible oddball electric guitars are dubbed Holy Grailer. This time, I'm going to revisit one of the best by Teisco and share the journey I've been on for the past 15 years or so that I've owned it.
The Spectrum 5 was different from Teisco's typical 1960s output. As is well known, the Japanese company was among the Asian and European guitar makers that brought odd shapes and innovative electronics to the U.S. market during that decade. But while Teisco and its late-'60s parent company, Kawai, were saturating department stores with entry-level guitars under a myriad of nameplates, they came to believe their newfound market share might put them in a position to compete with the Gibsons and Fenders of the day. That's where the Spectrum 5 comes in.
Weirdo Factor
As the Teisco catalog explained, the Spectrum 5 moniker refers to the five basic color tones that are produced by its five self-canceling switches, whose sounds range from bass to treble. Any combination of switches can be pressed, allowing a wide range of tonal colors. On top of that, the guitar has a true stereo output courtesy of the split pickup design and two separate output jacks. The surface-mount vibrato unit is singularly unique, as it attaches to the bridge with two strips of tensile-strength metal that allow them to move as one, eliminating friction over the saddles.
Playability & Sound
It took years for me to learn just how great this model plays and sounds. When I got my 1967 model Spectrum, the tuners, knobs, logos and bridge cover were missing. My 10-year hunt turned up the absent parts and, after getting the neck steamed, straightened and refretted, the guitar is now as amazing as the day it came from the factory.
The only drawback to the Spectrum's vast variety of tones is remembering what combo of buttons produced them. Some sound super bright and sparkly when used clean, while others sound amazing with distortion. And you'll have a hard time matching them with any other guitar. Kawai made perfect reissues in the early '90s, but they're as hard to find as the originals. Other reissues by Ikebe in the '90s and, most recently, Eastwood look like the originals but don't offer the variety of tones.
The 22-fret neck has a zero fret and feels downright sexy. It's thin, tapered and super fast. Its slender dimensions forced Teisco to build it from five plies of super-dense ebony to prevent warping. The fingerboard is also made from ebony and features groovy markers. As for the body, it's made from one piece of solid mahogany sculpted into a German-style carved top, and treated to seven coats of lacquer. The binding is a sort of herringbone affair with four thin parallel lines in black and white.
Value
I bought my Spectrum 5 for a whopping 600 bucks, a princely sum, considering that it had been essentially stripped. Today, '60s models are fetching up to $5,000, and '90s reissues are going for about half that; the 2015 Ikebe reissues, though almost identical to the originals in shape and function, don't offer quite the same tonal range as the originals. The Eastwood Spectrum 5 PRO, available for around $1,500, is super cool, but the pickups sound more Fender-y to me, while the bridge and tremolo are more like what you'd see on a Fender Jaguar.
Why It Rules
The Teisco Spectrum 5 sounds unique, plays tremendously well, looks cool look and has all the tones you need to get through a gig. Better still, it will never bore you.
Thanks to Paul Connet, Mike Fox and EZPZ Mike.
All the latest guitar news, interviews, lessons, reviews, deals and more, direct to your inbox!