The Kent Model 834: One of Japan's Most Underrated Vintage Rarities
Light but solid, this groovy oddball is one of the many stand-out guitars from the Kent-Guyatone era.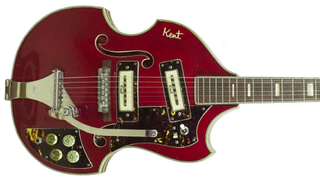 (Image credit: May Yam)
As the electric guitar boom of the 1960s progressed, so too did guitar technology and quality. Guitar manufacturers like Teisco and Danelectro, who produced thousands of stripped-down entry-level guitars, slowly started to offer guitars that had some if not all of the features professionals sought.
Conversely, a lot of popular pro-guitar manufacturers, like Gibson and Fender, started to emphasize their student or entry-level designs, perhaps in an effort to compete with the flood of imported guitars. As a result, consumers had a veritable international smorgasbord of guitars from which to choose, including models by Kent.
The Kent nameplate was actually used by two different Japanese companies. Manufactured in the early 1960s, Teisco's Kent guitars were very low-level stuff, but around 1967, Guyatone took over and produced a wonderful, high-end line.
This groovy offset violin-shaped Kent Model 834 is one of the many stand-out guitars from the Kent-Guyatone era. While it didn't get the press it may have deserved back then, it has withstood the tests of time and trendiness.
Weirdo Factor
The Model 834 features distinctive triple binding, a feature as uncommon then as it is now. But the body shape is what grabs most people about this guitar. It looks like the love child of surrealist Salvador Dali and Italian luthier Antonio Wandrè Pioli. Those eccentricities aside, everything else about the guitar is absolutely solid.
Playability & Sound
Weighing in at roughly six pounds, the Model 834 is on the light side. It has a very slender and fast 22-fret bolt-on maple neck with a truss-rod adjuster that's easily accessible at the heel of the neck. The rosewood fingerboard has trapezoid mother-of-pearl inlays and cream binding with a tight black-and-white pinstripe that wraps around the headstock as well.
As for the hardware, the Bigsby-style vibrato is smooth and drops down about a half step, and the enclosed tuners do a good job of keeping the guitar in tune. The two single-coil pickups are loud and versatile, and each has its own volume and tone knob. There is a three-way selector and a rhythm/solo switch that acts as a boost. (Why don't more guitars have that?)
The bridge pickup is bright and aggressive, making it great for funk rhythm or pronounced soloing with overdrive, while the neck pickup is warm and woody. Used together, the two pickups produce a super-full sound in which you can really hear the semi-hollow wood body resonating. A cautious approach is recommend if using overdrive, however, as the pickups are a bit more microphonic than most.
Value
Believe it or not, this guitar retailed for $110 new. Today, they are fetching from $700 to $1,000, if you can even find one! They are well worth the hunt and appear to be very consistent from one instrument to the next.
Why it Rules
It's light, easy to play, sounds terrific and looks beautiful. And in case you forget the maker of this guitar, it actually says Kent in six different places, including on the headstock body and pickups.
Thanks to Dave Stein of the Starving Musician in Santa Clara, California, for the set-up and for fixing some wiring issues.
All the latest guitar news, interviews, lessons, reviews, deals and more, direct to your inbox!