How Jeff Beck Threw Down the Gauntlet in 1968 With 'Truth'
His debut studio album set benchmarks for guitar heroes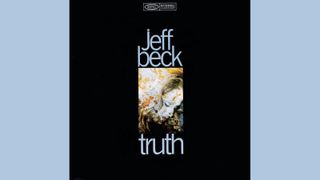 (Image credit: EMI Columbia/Epic)
I grew up with Jeff Beck as a primary guitar hero, along with Jimi Hendrix, Eric Clapton, Frank Zappa and Johnny Winter.
They all represented my bridge into jazz, making it somewhat easier to absorb the more advanced expressions of John McLaughlin, Wes Montgomery, Joe Pass, Pat Martino and others who came later in my musical appreciation.
Beck's 1968 debut as a leader, Truth, was the second album I bought with my own money.
His psychedelic, wah-wah/echo-inflected renditions of Howlin' Wolf's "I Ain't Superstitious" and Willie Dixon's "You Shook Me" on that landmark recording blew my 14-year-old mind (though I had already been primed the year before by Hendrix's Are You Experienced, the first album I ever bought with my own money).
Of course, I had actually heard Beck before buying Truth, though I didn't realize it.
AM radio was saturated with the Yardbirds' hit single "Over Under Sideways Down" during the summer of 1966, when I was a precocious 12-year-old still under the spell of the Beatles.
And the snaky, Middle Eastern guitar line on that catchy song always stood out to me, even though I didn't know the player's name at the time.
I also remember hearing "Shapes of Things," the Yardbirds' hit single that had come out earlier the same year, but it didn't register with me the same way "Over Under Sideways Down" had.
I regarded "Shapes" as catchy but no more adventurous than Paul Revere & the Raiders fare like "Just Like Me," "Kicks" or "Good Thing," which had all come out around the same time.
Nothing in the Yardbirds' discography had prepared me for Beck's radically reimagined, totally psychedelicized rendition of "Shapes of Things" that appeared on Truth when it was released in July 1968.
When Brian May, who called Beck's loss "incalculable," weighed in with this eulogy, I knew precisely what he felt: "Jeff was completely and utterly unique. And I was absolutely in awe of him. He was doing things which I kind of dreamed of doing. He brought an amazing voice to rock music which will never, ever be emulated or equaled.
"He was wild, he was unquantifiable and extraordinarily difficult to understand, but one of the greatest guitar geniuses the world has ever seen and will ever see."
That sentiment was evident from the outset with Truth, was reaffirmed with 1975's Blow by Blow – his headfirst dive into the fusion pool – and remained crystal clear to me with the 1989 release of Jeff Beck's Guitar Shop, a power trio outing with keyboardist Tony Hymas and former Zappa drummer Terry Bozzio.
Guitar Shop ranges from blistering blues-rock performances like the hard-hitting title track and the throbbing "Big Block," to the masterful harmonics showcase "Two Rivers" and the sublimely lyrical "Where Were You," which ranks right alongside Hendrix's "Little Wing" for sheer ethereal beauty.
But it was Truth that lit the fuse of my fascination with this British guitar god who would later ditch the pick in favor of attaining independence with his five right hand fingers on the strings.
Flesh on steel, he was able to realize richer chord voicings, more fluid phrasing and otherworldly tones.
Playing a '59 Gibson Les Paul Standard through a Vox AC30 amplifier (love that tone!) and most definitely utilizing a pick, Beck opens Truth with the earthshattering "Shapes of Things."
He then moves into the heavy metal blues "Let Me Love You," showcasing Rod Stewart's classic raunch and roll vocals and a tight call-and-response toward the end featuring Beck's urgent bent-string proclamations.
"Morning Dew," a contemporary folk song by Canadian singer-songwriter Bonnie Dobson, reprises the nasty, wah-and-echo-drenched radical panning that Beck introduced on the opener, "Shapes of Things."
"You Shook Me," a Willie Dixon number previously recorded by Mississippi-born Chicago blues guitarist J.B. Lenoir, features some old school roadhouse piano pounding by Nicky Hopkins.
In his synopses of the songs on the back cover of Truth, Beck wrote of this rendition: "Probably the rudest sounds ever recorded, intended for listening to whilst angry or stoned. Last note of song is my guitar being sick. Well, so would you be if I smashed your guts for 2:28."
His rendition of "Ol' Man River," the Jerome Kern/Oscar Hammerstein II-penned tune from the Broadway musical Showboat, always struck me as a bit corny (particularly Keith Moon's use of tympani) but it features some rare and noteworthy use of slide guitar by Beck.
His reverent, solo acoustic reading of the traditional "Greensleeves," which kicks off side two of the vinyl, is nice but nothing to write home about.
"Rock My Plimsoul" is another excursion into blues-soaked proto-heavy metal, with Stewart delivering a classic gravelly-voiced performance.
Beck's solo here is at once nasty and tasty, and his call-and-response with Stewart toward the end of the tune is a veritable masterclass of six-string vocal expression.
The album's instrumental single, "Beck's Bolero," penned by his Yardbirds bandmate Jimmy Page, was revelatory in 1968.
Epic in scope and positively anthemic in retrospect, this adrenalized number features Page strumming on a Fender XII 12-string electric guitar while Beck wails with thick tones courtesy of his fuzzed-up Les Paul.
His answer to Ravel's "Bolero," "Beck's Bolero" would become a staple in the guitarist's concerts for years to come.
And with bassist John Paul Jones joining Page and Moon on this track, it was essentially the first attempt at what became Led Zeppelin, which formed later that year.
Beck's use of slide guitar to emulate a pedal steel on this track was also incredibly forward-thinking. (In 1970, Joe Walsh adapted the slide guitar section of "Beck's Bolero" for a James Gang song, "The Bomber," on the band's James Gang Rides Again album).
Truth continues with the slow blues "Blues Deluxe," featuring another earthy vocal performance by Stewart, some nice piano tinkling by Hopkins, and some decidedly down-home string bending and edgy speed licks by Beck.
This groundbreaking 1968 album concludes with a futuristic take on Willie Dixon's "I Ain't Superstitious" that includes some audacious wah-wah rivaled only at the time by Hendrix.
In the era of the '60s Rock Guitar Hero, Beck threw down the gauntlet with Truth.
Order Jeff Beck's groundbreaking 1968 debut album, Truth, here.
All the latest guitar news, interviews, lessons, reviews, deals and more, direct to your inbox!