Remembering Jeff Beck With This Insightful Interview From the 'Guitar Player' Vault
During the 1960s' "all-time high" of electric guitar playing, the legend spoke to 'GP' and shared his unique perspective on the Yardbirds, Clapton and Hendrix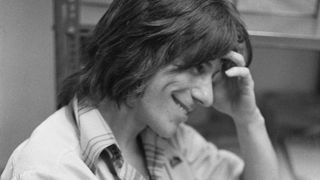 (Image credit: Michael Putland/Getty Images)
It was with great sorrow we learned of Jeff Beck's passing yesterday. He was 78 years old.
The official message from his PR reads, "On behalf of his family, it is with deep and profound sadness that we share the news of Jeff Beck's passing. After suddenly contracting bacterial meningitis, he peacefully passed away yesterday. His family ask for privacy while they process this tremendous loss."
While our deepest sympathies go out to loved ones and fans, we would like to fondly remember one of the greatest and most influential electric guitar players there ever was with an interview from our archive.
Originally published back in 1968, here Beck talks about his early days as a guitarist and "rags to riches" success with the Yardbirds.
During his chat with Guitar Player, Beck shares his unique perspective on a period of rock history that he considers to be "at its all-time high" with respect to guitar playing.
The following appeared in the October 1968 issue of Guitar Player...
Will you give us a little background on your early years?
I was born in 1944, and educated in a private school in England until I was 11 years old. Then, I went on to a junior art school.
It seems that a lot of English guitarists started in art school. Is this the thing to do now?
It wasn't normal to go to art school when I went, but since Mick Jagger and Eric Clapton went, everyone is becoming an instant art student. I used to go there because they had good meals, and then I dropped out at 18, and took up the guitar, earning about $9 a night.
Did you have any musical training?

Yes, I did have some. My mother used to force me to play piano about two hours a day, but that was good, because it made me realize that I was musically sound, and that I was playing material not my own.
My other training consisted of stretching rubber bands over tobacco cans and making horrible noises.
Who do you think influenced your guitar playing the most?

I think the biggest influence was rock and roll records.
How did you happen to join up with the Yardbirds?

Well, George Gomolski appeared on the scene when I was playing at a club, and, after the set, we talked about a job he had for me with a new group. I said, "No, go away you nasty little man."
After that, I joined the group, and George became my manager. The group turned out to be the Yardbirds. I thought, "Well, this is interesting," because I had heard so much about them. I did my first job with them at the Marquee Club, and about blew the place apart.
I decided to stay on, and about two weeks later, we had a number one record. But that first night with them was something else. I had four days to learn their tunes. They gave me their album. After that, it was like rags to riches.
What were your feelings about the Yardbirds?
Well, when I joined the Yardbirds, I got the impression they just wanted my playing to enhance their group as much as possible. Right, so I just worked on the whole act until we got it down so great that we started bringing in bits of destruction to illustrate a point. Like an action painting – we all sort of threw our guitars at it.
How long were you with the Yardbirds?
I stayed with them about two years.
As one of the first to ever use feedback, fuzz and the destruction routine, what do you think will be the next thing for you?
I think I contributed my fair share to the business, right? So move on and make way for Eric, Jimi, and the rest. The next album is going to be much further ahead, but not too far, because the Yardbirds were too far ahead of their times.
Like now, groups all over the country are playing like the Yardbirds were playing. Maybe a bit better, more articulate and musically more sound, but it is still the same formula.
In general, how do you think groups are going – like the Mothers of Invention, for instance?
People are hip to material and general construction of the group and the whole thing. Then, it was just, Wow, there's a rock and roll group on stage – he is doing this, and he is doing that. It was all dazzling. But now, people have gotten hip to everybody, and they just enjoy the music.
What do you think about a group like the Mothers?
They are all right. There are so many different things you can get from their concerts. If you are a musician, you can sit and ignore all the rest of it. If you are a freak, you can dig the appearance. But I think they are putting down the American way too much.
What do you think is happening musically?
I think the quality of music is going up constantly. Guitar playing is at its all-time high.
What kind of instruments do you have, and what do you think of them?
I've got a Telecaster and I like it. I use super-light gauge Ernie Ball strings and a 200-watt Marshall amp with four cabinets. But this instrument thing is out of hand. If Eric Clapton sold his guitar and bought a $10 guitar, the kids would do the same.
Do you feel the number of people in your group is right?
Yes, I have a lead guitarist - myself - a bass, a drummer and a lead singer – four in all – and it works out fine.
What do you think of the classical thing?
I actually studied it, but I wouldn't dare interfere with it now, because it would louse up my own style at the moment.
How are your records coming along?
Well, the first album was the most difficult stumbling block for the group. In that one, we decided not to use the fuzz tone so much. But this second album will be the one to show the excellence of the group.
Do you record loud, through the board, or what?
We record as naturally as possible. You can only be as good as the engineer that is doing it. We recorded this last album in three days with EMI in England. We had a good engineer, and I feel we got the sound we wanted.
Do you listen to other guitar players?
I listen to them all. I like to hear all I can, but [John Lee] Hooker is my favorite. He plays so fast you think he is playing with his fingers. He is really unbelievable.
With your own playing, what do you feel will be your greatest change?
Well, I've been in a stage of stagnation waiting to see what direction guitarists are going to take. Eric has made a name for himself in England, and so has Jimi Hendrix, so my addition only seems to make things worse.
I sort of stayed at a level – this semi-blues bit. Now, I know exactly what this thing is, and I am about ready to develop my new thing.
Jeff Beck (June 24, 1944 – January 10, 2023)
All the latest guitar news, interviews, lessons, reviews, deals and more, direct to your inbox!