Here's Why Pat Martino's 'Joyous Lake' Remains an Essential Listen from the Golden Age of Fusion
The late, great guitarist took a stirring voyage on fusion's treacherous waters with this classic album.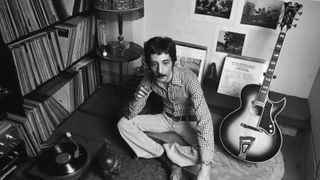 (Image credit: Leonard M. DeLessio/Corbis via Getty Images)
Pat Martino's Joyous Lake was released on Warner Bros. Records in 1977. Along with Pat, its alumni includes Delmar Brown on electric piano, Mark Leonard on bass and Kenwood Dennard on drums and percussion, and it's a terrific lineup.
I first heard the album on KRE, the Bay Area AM radio jazz station that exposed me to hundreds of artists and their works, including Julian Priester's Love, Love, Bobby Hutcherson's "Houston St. Thursday Afternoon" and Pat Martino's Joyous Lake.
The opening track, "Line Games," basically says it all: athletic impassioned playing, almost impossible unison lines, and yes, one could use the F word – fusion – to describe it accurately.
Pat always had a unique sound that wasn't really jazz guitar or rock guitar; it was simply Pat Martino. He always fused together something that was exciting and original. He tears it up on "Line Games," my favorite track on the LP.
The Delmar Brown composition "Pyramidal Vision" follows with a sound like a stormy wind, before a lovely melody played by Pat brings us indoors. While Kenwood Dennard borders on unhinged, he never comes close to derailing but instead righteously energizes the music.
Side one closes with "Mardi Gras," a track that reminds me of a pre-Jaco Weather Report tune. It begins with fusion funk but enters a thoroughfare of melody that is timeless. Pat's electric guitar solo sound on this track is the most "plugged into an amp" of all the album's songs, and of course he plays masterfully. I love when he does his 16th-note triplets thing. I can't get enough.
Side two opens with the Dennard composition "M'Wandishi," and while it might be pushing my fusion calorie limit, it's sincere and trippy. His composition "Song Bird" follows, delivering more impossible ensemble parts before settling into a vamp where Pat's guitar testifies successfully.
The "Song Bird" MVP award goes to keyboardist Brown, whose comping is sublime. The LP's closer, "Joyous Lake," slams into us gently and revisits some of the territory discovered on "Line Games."
There was a fusion "golden age" (at least for my generation) that included Allan Holdsworth with the New Tony Williams Lifetime, Return to Forever, Bill Connors' solo LPs, John Abercrombie, Jon-Luc Ponty, John McLaughlin, Weather Report, Miles Davis, Stanley Clarke with Jeff Beck, and Billy Cobham with Tommy Bolin, to name a few.
I always revisit this era of fusion. I don't think I took it for granted back then, but the music is almost more impressive to me today. All these artists were knocking down walls. Their music strikes me as more ambitious than what anyone expected, displaying an almost impossible athleticism that required a loving, focused dedication. They were stretching boundaries without the distractions of commerciality.
Pat Martino delivered all that, and his artistry is captured in spades on Joyous Lake.
Browse Pat Martino's catalog here.
Jim Campilongo has 14 critically acclaimed instrumental records available on vinyl, CD and digital download here.
All the latest guitar news, interviews, lessons, reviews, deals and more, direct to your inbox!
Jim Campilongo has 14 critically acclaimed instrumental records available on vinyl, CD and digital download here.