Three of Frank Zappa's Timeless Guitar Playing Tips
Cop some straight up wisdom from the late, great guitar genius.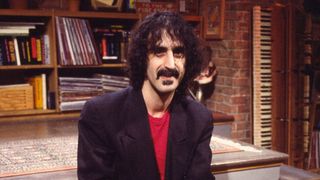 (Image credit: Gary Gershoff/Getty Images)
Without Frank Zappa, where would the guitar world be? His approach to music – complex, unpredictable, and often cynical – never quite fitted in with the pre-programmed mainstream.
Elements of all types of music, including classical, jazz, disco, heavy metal, and practically every other recognizable form, are employed with equal stature in Zappa's work.
Hailed as an electric guitar hero for generations, Guitar Player spoke to the man himself back in the early '80s and gleaned some pearls of wisdom that still apply all these years later.
Here are just a few extracts from the mammoth interview that originally appeared in the February 1983 issue of Guitar Player…
1. One More Time with Feeling
"To say that a person has to start with Elmore James before he graduates up to fire-breathing guitar-playing status is stupid, because you really don't need to. If you don't have any feelings for that type of [blues] music, why involve yourself with it?
"I would rather see a guitar player totally ignore that realm of music in an honest way – saying, 'That's just not my stuff' – than get a cursory glance of it and say, 'Now I understand it,' because they'll just do a parody of it."
2. Take Me, I'm Yours
"If you pick up a guitar and it says, 'Take me I'm yours,' then that's the one for you. You don't go into a guitar store and say, 'Hey, what a great paint job.' You have to put it in your hand, because a real guitar that's going to be something you make music on – as opposed to a piece of machinery that makes you look good onstage – is going to have some relationship to your hand and body.
"It feels right when you pick it up. And that's the way I felt when I got the first SG that I had. It felt right in my hand, so I got it. Same thing with the Gibson Les Paul."
3. Choose Your Weapon
"Each guitar has its own character and its own sounds that it likes to make, that come naturally to that instrument. So, I'm going to choose an instrument that matches the character of the song.
"I also have a Telecaster – one of the copies of the originals that Fender put out about a year ago. It's a real good blues guitar.
"The fifth guitar would be the SG copy that I got from this guy in Phoenix, Arizona. It says 'Gibson' on it, but it's handmade, and it's got an ebony fretboard with 23 frets on it; it goes one fret higher than a normal SG. I play that a lot."
Pick up the Zappa movie here.
All the latest guitar news, interviews, lessons, reviews, deals and more, direct to your inbox!
Rod Brakes is a music journalist with an expertise in guitars. Having spent many years at the coalface as a guitar dealer and tech, Rod's more recent work as a writer covering artists, industry pros and gear includes contributions for leading publications and websites such as Guitarist, Total Guitar, Guitar World, Guitar Player and MusicRadar in addition to specialist music books, blogs and social media. He is also a lifelong musician.