Vinyl Treasures: The Yardbirds' 'Having a Rave Up With the Yardbirds'
Two sides of the Yardbirds' unique personality come to the fore with a Clapton and Beck guitar tag team.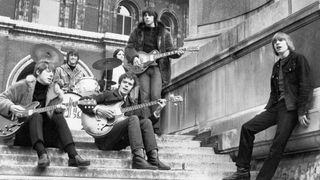 (Image credit: Michael Ochs Archives/Getty Images)
Sometime around 1966, my mother turned me on to the Yardbirds. After hearing them on the radio, she bought an LP on her way home from work and played it on our family console stereo.
As the music bled into my bedroom, I knew this wasn't from the typical Campilongo family playlist of Andy Williams, John Gary, and Herb Alpert. I heard a sound that called my name. I liked the band name, too. I was eight years old.
Having a Rave Up With the Yardbirds was released on the Epic label in 1965. It's an underrated record and well worth revisiting or discovering. The Yardbirds are rarely mentioned in the template of musical discussions concerning rock history, and then only for the Mount Rushmore guitar chair of Clapton, Beck, and Page.
To my ears, it's amazing how sophisticated this young group sounded and how original they were. In 1965, most groups couldn't help but be influenced by the Beatles, but the Yardbirds had their own thing, in particular, long, dynamic one-chord vamps that could build an audience to a frenzy.
On Rave Up, these tracks are paired with catchy pop songs that sound cinematic and – certainly – ambitious. Side one is a studio record with Jeff Beck on guitar, Keith Relf on vocals and harmonica, Chris Dreja on rhythm guitar, Paul Samwell-Smith on bass, and Jim McCarty on drums.
Side two contains all live tracks, with Eric Clapton replacing Jeff Beck in the guitar chair. Interestingly, the album has "I'm a Man" represented twice – side one with Jeff Beck, and side two with Clapton.
Side one opens with "You're a Better Man Than I." It's hooky and nice enough, but not necessarily my favorite song on the LP. "Evil Hearted You" follows with a memorable melody and some wonderful thrashing guitar work by Beck.
The record really gets in gear on "I'm a Man." Recorded in 1965 at Chess Studios in Chicago, this track exhibits the Yardbirds' one-chord-vamp excursions that combine a driving gospel aesthetic, along with 21-year-old Beck's aggressive psychedelia.
Beck was always great, and to my ears he just keeps getting better. This kind of dynamic performance had to be developed organically, in the community of late-night teen erotica, in a nightclub with a crowd manipulated by band dynamics.
The track is super-eventful, too, with ascending progressions, guitar mania, and jarring, but successful, tempo changes. It's followed by the album's only original band composition, "Still I'm Sad," a unique recording that combines Gregorian chant-style backing vocals, an Ennio Morricone–like musical arrangement, and a terrific lead-vocal performance.
Side two has my favorite track, "Smokestack Lightning," where the Yardbirds again play a hypnotic, frenzy-inducing vamp. I'm very familiar with Clapton's history, but this track is particularly impressive.
Clapton is totally in the pocket, and bends and grinds the theme lick for all it's worth. He makes this vamp as addictive as potato chips, and every two bars this listener wants more. Despite being a bit musically schizophrenic, Having a Rave Up With the Yardbirds has many high points. Sure, the music alternates between radio hits and blues explorations, and yet it all hangs together.
Yin and yang seemed to be more accepted back in the day, with groups like Cream, Zappa, the Beatles, and others presenting dual personalities, and with no explanation needed. That said, Having a Rave Up With the Yardbirds never feels herky-jerky.
Realizing how young these guys were at the time, I'm impressed by how evolved the Yardbirds sounded. I would bet these performances against the 1966 Rolling Stones and many blues groups of that era, because the Yardbirds rose above reverence and mimicry and explored their own thing. Thanks, Mom!
Jim Campilongo and Luca Benedetti's new release, Two Guitars, is out now via City Hall Records on CD and vinyl
All the latest guitar news, interviews, lessons, reviews, deals and more, direct to your inbox!
Jim Campilongo has 14 critically acclaimed instrumental records available on vinyl, CD and digital download here.