"He's the Best Guitar-Playing Mechanic You'll Ever Hear": Roger Mayer Looks Back On Jeff Beck's Formative Years in the Surrey Delta
From leafy England to the streets of New York and back, the gear innovator shares some heart-warming stories about his unique relationship with the late guitar hero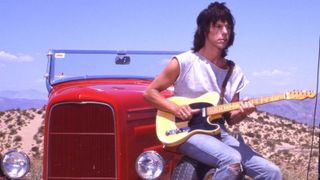 (Image credit: Robert Knight Archive/Redferns)
It's hard to talk about Roger Mayer without mentioning he was the "secret studio weapon" of Jimi Hendrix. Having invented the Octavia pedal he helped the guitarist achieve the standout tones heard on some of his greatest tracks such as "Purple Haze" and "Fire."
Before Hendrix stepped foot on British soil, however, Roger was already lending his expertise to two other guitar legends by the name of Jimmy Page and Jeff Beck.
During the early '60s, the trio lived in an area of South West London that has since been dubbed the Surrey Delta. Packed with gig venues and fed on a diet of rare American records, the local music scene was a breeding ground for exceptional guitar talent.
Guitar Player recently caught up with Roger who shared some fond memories of his old pals.
How did you meet Jeff Beck?
I met Jeff Beck and Jimmy Page at the same time when I first started going to local music venues where they played around here – what we called the "Surrey Delta" – in '62/'63 when I was a teenager. Jeff Beck and Jimmy Page started out playing what you might call youth clubs, where kids used to get together.
Plus there were loads of venues around at the time. There was Eel Pie Island, Epsom Baths, The Toby Jug (where David Bowie started), The Crawdaddy Club where the Rolling Stones played – all kinds of venues where you could see bands. That's where it started for me.
I just met Jeff and started talking about music. We started to get together at Jimmy Page's house on a Sunday where we'd go and listen to records. Jimmy lived in Epsom just down the road from me. And Jeff was from Wallington, which is near where I lived in Surbiton. We all lived in the same area.
Did it feel like you were part of an alternative music scene?
Very much so. It was a scene that was happening here in South West London. The Essex and East London scene felt different to the Surrey scene. I think we had more venues per square mile than anywhere else in England.
Also, Kingston and Epsom had art schools. And wherever there was an art school there was often interesting music happening. My sister went to art school and she used to play me rare blues records and turn me on to stuff I'd never heard before.
What records did you listen to with Jeff Beck and Jimmy Page?
We listened more to the American records – the same stuff the cutting edge bands were listening to. Music that was coming out of California, New York, and Chicago like the Chess Records stuff. Most people had never heard of Freddie King and there was no way to buy his records. People had never heard of James Brown in 1962. It was all very cutting edge to us. You had to be in with the in-crowd to have access to that music.
So Jeff Beck was picking up ideas from listening to these records?
Yeah. And we were listening to other good guitar players who backed up singers. Guitarists like Scotty Moore who played with Elvis Presley, James Burton who played on Rick Nelson's records, and Cliff Gallup who played with Gene Vincent. Then, of course, there was Les Paul and Mary Ford. I mean Les Paul was the innovator of multitrack recording and used a lot of echo.
So, we were keeping our ears open to what was going on there and also what was being recorded in Chicago – the electric blues scene over there.
Why did you start custom-building effects for Jeff Beck and Jimmy Page?
"The 2000 Pound Bee" record by the Ventures was very influential. We sat there listening to it and Jimmy said, "Can we do this?" I think they went up to a music shop in Shaftsbury Avenue to have a look at a Maestro [FZ-1 Fuzz-Tone] but it didn't have enough sustain. I said, "I can improve it," so Jimmy said, "Okay, Rog. See what you can do."
How did you modify the circuit?
I started from square one, really. As a scientist, I could come up with an alternative solution – one that's better. I made more than one pedal. Jimmy Page gave one to Big Jim Sullivan. There were a few people who had them, but not many. They're as rare as rocking horse shit.
What other custom-built effects did you make around that time?
There was actually a treble booster I made before the fuzzes in '62. I think that got copied and made into a very famous treble booster.
Yeah, that's it. It was all the same. It's a copy of one of my original circuits.
How did these effects impact Jeff Beck's approach to playing guitar?
It was like giving a painter a new pigment. The boundaries changed. Even recently, when him and I were playing around in his home studio, I showed him my 615 compressor and he was coming up with some really interesting stuff. He thought it was fantastic. Without the box, you can't have the sound. And without the sound you can't play the same thing, or it might not even occur to you.
From your point of view, how did Jeff Beck and Jimmy Page compare as guitarists?
Their personalities were quite different. Jeff was very quiet and an introvert. You wouldn't say he was particularly gregarious. He had a different connection to the audience on stage that Jimmy has. Of course, Jimmy went on to produce a very, very powerful sounding band.
What do you recall about Jeff Beck's guitar playing before the Yardbirds?
Before the Yardbirds, Jeff played with a few other bands like the Nightshift and the Tridents that gigged in various venues around London. The thing about the Yardbirds is they had a really strong singer, Keith Relf.
Before the Yardbirds, the songs weren't structured with longer solos. And to be honest, around that time, most younger kids didn't have enough chops in their repertoire as a guitarist to not burn out after about four songs.
How did Jeff Beck develop his incredible technique?
I would say a lot of Jeff's advanced technique came from Nashville – country stuff like Chet Atkins – and rockabilly. You can't play certain things with a pick. But at the same time, there are a lot of things you can only do with a pick.
We all listened to Chet Atkins. Back in the early '60s, Chet Atkins was the de facto guitar hero. You might not like all the music, but he was a great guitar player. He was the guitar hero's guitar hero. The rockabilly style developed from Chet Atkins and some of the other country pickers.
How does recording in the '60s compare to now?
Back in the '60s, you had to rock up at the studio with a new sound and put that new sound onto tape within a few hours. Because no one could afford to spend much more than that amount of time.
Back then, you didn't have the opportunity to record at home like you do now. So you had to make sure that your chops were together before you actually went into the studio. And that you were bringing something fresh!
What did Jimi Hendrix think of Jeff Beck?
To be honest, I never heard Jimi talking about Jeff. He was aware of his records but I don't think he was on his radar much, really.
How was Jeff Beck perceived among his peers?
Jeff Beck often relied on having a very good contact or synergy with a singer. He did some great records with Rod Stewart singing. But the point is, because Jeff didn't sing and play at the same time, he was a different guitar player to say B.B. King or Jimi Hendrix.
B.B. King tended to stop playing when he sang. But the thing about Hendrix is, he sang and played at the same time, but there was no discernible difference in energy – I mean he never took his foot off the gas. His guitar playing sounded just as intense when he sang.
When the Jeff Beck Group formed with Rod Stewart in '67, do you think they were trying to capture some of that magic?
Yeah. Rod needed to have the best possible band behind him to tap into the American market. There were great guitarists playing in the States, but you still needed a great song.
When you were living in the States in the '70s, did you stay in touch with Jeff Beck?
Funnily enough, that's how I met my wife, Connie. I met up with Jeff at a Flo & Eddie gig at The Bottom Line in New York and I met my wife there the same evening.
Jeff and I always remained very friendly. I mean, our paths didn't crossed that much, but I'd get a phone call from him from time to time.
The last time I saw him, I went to his house as he wanted to interview me about something he was writing. We got chatting about the old days and spent a couple of hours playing in the studio.
Later on he had his birthday party and a private show on his estate. He'd been working with Rosie Bones and Carmen Vandenberg of the band Bones UK. (I've also been helping Carmen Vandenberg – she's a fantastic guitarist.)
Jeff always needed something to keep him inspired about guitar playing. You can be the best guitar player in the world, but if you haven't got people around you to get inspired then it can become lonely. You need that multiple DNA input. You need a team.
What do you think Jeff Beck's legacy is?
I think he's the best guitar-playing mechanic you'll ever hear. [laughs] He loved his hot rods. He'd invite me over and I'd say, "I'll come over on one condition: you have to show me your cars. But don't show me any guitars! I've seen enough of them."
All the latest guitar news, interviews, lessons, reviews, deals and more, direct to your inbox!
Rod Brakes is a music journalist with an expertise in guitars. Having spent many years at the coalface as a guitar dealer and tech, Rod's more recent work as a writer covering artists, industry pros and gear includes contributions for leading publications and websites such as Guitarist, Total Guitar, Guitar World, Guitar Player and MusicRadar in addition to specialist music books, blogs and social media. He is also a lifelong musician.