Watch Jimmy Page's Epic 1970 Solo Acoustic Television Performance
This vintage BBC clip shows the guitar legend playing the same Gibson model he used to record Led Zeppelin's debut album.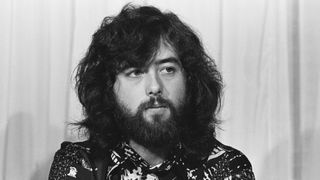 (Image credit: Michael Ochs Archives/Getty Images)
"My next guest this evening is a member of certainly the most successful group to come out of Britain in the last couple of years," begins "Britain's First Lady of Folk" Julie Felix (1938-2020) as she introduces Jimmy Page onto her BBC TV show in 1970.
"The Led Zeppelin LP topped both the British and the American charts. And the lead guitarist in that group is definitely a very talented and special musician."
This classic clip, though visually askew, captures a brilliant rendition of the guitarist's beloved "White Summer/Black Mountain Side" solo acoustic guitar highlight played on a Gibson J-200.
While Page also played Martin guitars and is undoubtedly the best-known endorser of the Harmony H-1260 Sovereign flat-top, the acoustic tracks on Led Zeppelin's self-titled 1969 debut album were all recorded using a borrowed Gibson J-200.
"The J-200 used on Led Zeppelin I belonged to Mickie Most, the producer of the Yardbirds," Page told Guitar World in 2014.
"It was an amazing-sounding instrument. He graciously let me use it for the first album but didn't let me use it for the second album, because, I think, by then he knew he wasn't going to be the producer." [laughs]
Many moons ago, Guitar Player also spoke to Page about his use of this fabled Gibson J-200 on 1969's Led Zeppelin. The following interview extract originally appeared in the July 1977 issue of Guitar Player…
What kind of acoustic guitar are you using on "Black Mountain Side" and "Babe I'm Gonna Leave You?"
That was a Gibson J-200, which wasn't mine; I borrowed it. It was a beautiful guitar, really great. I've never found a guitar of that quality anywhere since. I could play so easily on it, get a really thick sound; it had heavy-gauge acoustic strings on it, but it just didn't seem to feel like it.
Do you just use your fingers when you play acoustic?
Yes. I used fingerpicks once, but I find them too spiky; they're too sharp. You can't get the tone or response that you would get, say, the way classical players approach gut-string instruments. The way they pick, the whole thing is the tonal response of the string. It seems important.
Can you describe your picking style?
I don't know, really; it's a cross between fingerstyle and flatpicking. There's a guy in England called Davey Graham, and he never used any fingerpicks or anything. He used a thumbpick every now and again, but I prefer just a flatpick and fingers because then it's easier to get around from guitar to guitar. Well, it is for me, anyway. But apparently he's got calouses on the left hand and all over the right as well; he can get so much attack on his strings, and he's really good.
Get Led Zeppelin on vinyl here.
All the latest guitar news, interviews, lessons, reviews, deals and more, direct to your inbox!
Rod Brakes is a music journalist with an expertise in guitars. Having spent many years at the coalface as a guitar dealer and tech, Rod's more recent work as a writer covering artists, industry pros and gear includes contributions for leading publications and websites such as Guitarist, Total Guitar, Guitar World, Guitar Player and MusicRadar in addition to specialist music books, blogs and social media. He is also a lifelong musician.