"The Anteroom of Paradise, Or Is It Hell?" Watch this Incredible Mini Doc on London's Mysterious Rock 'n' Roll Island
By Rod Brakes published
Home of the Rolling Stones and a playground for budding guitar heroes, Eel Pie Island was a musical hub of the '60s.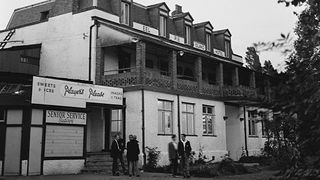 (Image credit: Peter Hall/Keystone Features/Hulton Archive/Getty Images)
Once described as, "an oasis of chaos in a desert of suburban calm," Eel Pie Island in the River Thames at Twickenham in the London Borough of Richmond upon Thames was a musical hotbed of the '60s and a mecca for the most talented blues-rock guitarists of the era.
Started by promotor Arthur Chisnall in the mid-'50s, by the following decade the club had become one of the most important venues in the history of rock 'n' roll.
Known for its weekend jazz nights, the Eel Pie Island Hotel was also famous for hosting concerts by American blues guitar players including Howlin' Wolf, Buddy Guy and John Lee Hooker – all of which were attended by a young Jeff Beck.
Other guitar heroes of the British blues boom such as Peter Green and Eric Clapton are also known to have frequented Eel Pie Island, as did the Rolling Stones who were offered a residency there in the early '60s.
"There was a bit of a scene in the late '50s and early '60s in Richmond," said British space rock veteran and Hawkwind founder Dave Brock. "That's where I met Eric [Clapton] and a load of other people who used to hang out in the L'Auberge coffee bar. We always used to hang out there before going over to Eel Pie Island. That was where it all happened in our era.
"I loved going over there and listening to jazz. Later on, they had blues artists playing there… Arthur Chisnall, was an innovator because he'd book all these different blues artists in. Arthur Chisnall got so many people into blues and jazz – Eric Clapton, the Yardbirds and Jeff Beck."
"The dressing room at Eel Pie was behind the stage, up one flight of stairs," recalled the late Terry Clemson of British blues rockers Downliners Sect. "The walls were covered in graffiti, mainly written by the Rolling Stones. That wall would be worth thousands of pounds if it existed today!"
While American blues-influenced bands like the Rolling Stones and John Mayall's Bluesbreakers trod the notoriously rickety boards of Eel Pie Island early on, by the mid-'60s, the British Isles – let alone Eel Pie Island – could not contain the blues boom it had so lovingly nurtured.
And as this wave of new music swept beyond U.K. shores towards the U.S., the British Invasion began to kick off, ultimately bringing blues back to its land of origin.
Rod Brakes is a music writer with an expertise in all things guitar-related. Having spent many years at the coalface as a guitar dealer and tech, Rod's more recent work as a journalist covering artists, industry pros and gear includes writing hundreds of articles and features for the likes of Guitarist, Total Guitar, Guitar World, Guitar Player and MusicRadar, as well as contributions for specialist books, blogs and social media. He is also a lifelong musician.
Get the latest news, reviews and product advice straight to your inbox.
Thank you for signing up to The Pick. You will receive a verification email shortly.
There was a problem. Please refresh the page and try again.