Watch Jeff Beck Play Jimi Hendrix's "Little Wing" and Blow TV Host's Mind
The audience is left stunned while the presenter is rendered speechless by this awesome display of guitar-playing talent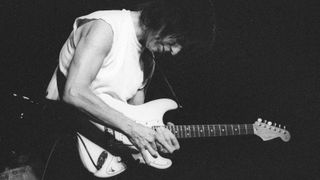 (Image credit: Jim Steinfeldt/Michael Ochs Archives/Getty Images)
'Awesome' is an everyday word. But to see someone struck with genuine awe by something out of the ordinary is different.
That's exactly what happens in this video clip when Jeff Beck gives TV host Malcolm Gerrie a taster of what the Fender Stratocaster is capable of doing in the right hands.
Up close and personal, Beck unleashes a sequence of mind-blowing techniques while demonstrating the Strat's expansive tonal range – from mellow jazz to searing leads – before launching into a rendition of Jimi Hendrix's "Little Wing".
The Sky Arts presenter is left dumbfounded.
Rather than just being a display of guitar gymnastics, Beck's matchless style is equalled by an impassioned delivery that appears to leave the entire studio audience in a state of reverence and wonder. Indeed, 'awesome' is the word.
Beck himself was similarly humbled by the outrageous talent of fellow Strat-wielding guitarist Hendrix. Recalling Hendrix's pioneering days of the late '60s, Beck told Guitar Player, "He swept us all aside and put us in a bin. I think that was more the case for us than for the public at large, who were happy to have us all. But I know how it felt having a girl ring up and ask, "Did you hear Jimi Hendrix?"
Despite feeling somewhat challenged by the extraordinary musicianship of Hendrix, Beck felt a certain warmth for him and attempted to befriend the guitarist. Unfortunately, however, whatever friendship they struck up was cut brutally short due to Hendrix's untimely death at the age of 27 in September 1970.
"I wanted to be friends with Jimi on a less flippant level, which was difficult to do," recalled Beck. "We had the perfect opportunity while driving to a jam in upstate New York.
"The real Jimi was coming out as he was driving, and I thought, This is probably the greatest moment of my life. And then – lo and behold – just as I had become friends with him, the guy went and died."
All the latest guitar news, interviews, lessons, reviews, deals and more, direct to your inbox!
Rod Brakes is a music journalist with an expertise in guitars. Having spent many years at the coalface as a guitar dealer and tech, Rod's more recent work as a writer covering artists, industry pros and gear includes contributions for leading publications and websites such as Guitarist, Total Guitar, Guitar World, Guitar Player and MusicRadar in addition to specialist music books, blogs and social media. He is also a lifelong musician.