How to Play Guitar Like Jeff Beck
Learn the signature techniques of the electric guitar master in this comprehensive tribute lesson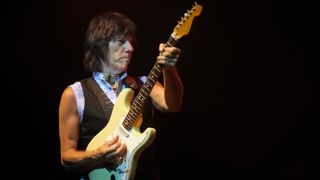 (Image credit: Martin Philbey/Redferns)
There are many guitar heroes but few who can express a simple melody in so many different ways.
Jeff Beck was a master of his craft who had the power to move musicians and non-musicians alike.
In this lesson, we'll look at elements of Beck's signature style to help you listen to him with fresh ears and to guide you on your own journey to self expression.
1. FRETBOARD KNOWLEDGE
Many guitarists know lots of scale patterns and chord shapes but are lacking in their overall fretboard awareness.
To instantly transfer your musical thoughts to the guitar, as Jeff Beck did so effectively, you need to know where all 12 notes of our tonal system are located, in every octave, and how they relate to each other in any given situation.
Ex. 1a is a musical etude that touches upon every possible C note on the neck and captures the adventurous spirit of the master, sliding dramatically in call-and-response fashion from octave to octave.
Apply this process as a warm-up exercise (slowly and methodically) every time you get ready to play, choosing a different note each session, and it should greatly increase your overall fretboard mastery.
Ex. 1b is a more advanced version of the sliding exercise. The object here is to spell out the tones of a C major triad (C, E, G) on the way up the neck, echoing each note in the same octave on the adjacent lower string as you go. (Major triads serve as the primary foundation of many of JB's musical phrases. Listen to the slide section in "Beck's Bolero" for an early reference.)
The slippery descension hits the chord tones in order, but with a smooth legato sound.
Exercises such as this can help provide a fresh outlook on how intervals can be laid out across the fretboard.
2. STRING ATTACK
Arguably, what sets Beck apart from most other electric guitar players is his nearly exclusive use of the fingerstyle technique.
While he started out using a pick, over the years he gravitated more and more toward hybrid picking (pick-and-fingers technique) to full-on fingerstyle.
Here are some fingerstyle exercises to help encourage you to take the "flesh on the string" plunge.
Examples 2a–d demonstrate the dynamic diversity of the fingerstyle approach. Melodically, all four are identical: a straightforward run up the G minor pentatonic scale (G, Bb, C, D F) in 3rd position, ending on the 4th of the scale (C), which, by the way, is a trademark JB scale tone.
The fingerstyle approaches and resulting rhythmic variations are what set them apart.
Ex. 2a is played with the thumb, using all downstrokes and palm muting. The sonic result is dark and thumpy.
For the optimum pick-hand posture here, straighten the thumb joint so that it's parallel to the string being attacked and pointed straight toward the headstock.
Ex. 2b is played with a downstroke thumb attack too, but without palm muting, bringing forth a brighter, more aggressive articulation.
Here you can bend the thumb joint and possibly get the thumbnail involved for an even brighter attack.
Eighth-note triplet rhythms and hammer-ons enhance the energy in Ex. 2c.
Here, the index (i) and middle (m) fingers come into play. Pick upward with a quick, snapping motion.
Ex. 2d adds the ring finger (a) and is based on the "string-roll" techniques employed by bluegrass banjo fingerpickers.
Combined with hammer-ons, this move is custom-built for energetic bursts of speed.
Keeping with our G minor pentatonic theme, Examples 2e and 2f apply the master's fingerstyle moves to some blues-rock phrases reminiscent of his playing in the Jeff Beck Group era and with Beck, Bogert & Appice.
3. BENDS AND BEYOND
Legato phrasing has been a hallmark of Jeff's style. Hammer-ons, pull-offs, slides, finger vibratos… you name it, he employed it all, but string bending has always been a chief element of the master's vocabulary.
And when it comes to dead-on pitch accuracy, no one else comes close.
Ex. 3a is a pitch-bending exercise that keeps you in 8th position while playing two octaves of the C natural minor scale (C, D, Eb, F, G, Ab, Bb).
You don't have to use hammer-ons, but definitely go for all the bends. For maximum benefit, practice the bends on the A, D, and G string bends in both a downward and upward motion (pulling versus pushing).
Ex. 3b presents our featured string bending example. Set to a slow blues in C minor, the bending ploys and "call-and-response" phrasing employed here are inspired by Beck's brilliantly emotive playing in "Cause We've Ended as Lovers," from 1975's Blow by Blow.
Feel free to perform this example fingerstyle, with hybrid picking, or with a pick. Also, notice the chord-tone conscious melodic phrasing, which exemplifies another hallmark of the great master's style.
Ex. 3c is a fun little mashup of licks derived from the Yardbirds' "Heart Full of Soul" and "Over Under Sideways Down."
Fuzz-drenched and cast along the G string, the example features the use of hammer-ons, pull-offs, slides and bends.
Strive to keep the open D string ringing as you sustain the final G-string bend with vibrato. You will, of course, need to bend the string downward, and the vibrato is the real objective here.
Ex. 3d emulates Jeff's unique take on note targeting. Set against a section of a slow blues in C minor, where an altered V7 chord, G7#5 (G, B, D#, F) resolves to the i7, Cm7 (C, Eb, G, Bb).
The underlying factor here is a fundamental jazz and blues principal: using chromatic passing tones to connect chord tones, in this case moving from the 3rd of the G7#5 chord, B, down to the 5th of Cm7, G.
It's the quirky, trill-like ways Beck gets there that makes his phrase uniquely his. (You'll hear a similar move at 4:14 in "Cause We've Ended As Lovers.")
4. DYNAMICS: VOLUME SWELLS AND GAIN CONTROL
Beck's uncanny ability to express a melody with heart-wrenching emotion is a singular achievement.
Much of his mood-provoking inventions were achieved by manipulating his Fender Stratocaster's volume knob. He used it in conventional ways – quiet to loud – and also as a way to control the amount of overdrive and sustain in his tone.
One of Beck's go-to amp setups was full-on overdrive with feedback capabilities if his guitar's volume knob was set to maximum; therefore, by lowering the volume knob (and picking gently) he was able to smoothly traverse the full sonic sound spectrum.
Jeff would often swell into a note by picking the string with the volume knob at zero and quickly or slowly fade in the volume for a vocal- or violin-like effect.
Manipulating the volume knob while playing is a challenging technique to master. A technically easier alternative is to use a volume pedal.
Ex. 4 is a take on a well-known Beck classic played with a rubato (free-time) feel and enhanced with volume swells.
Be sure the volume control is completely off before attacking each note. Then bring up the volume but roll it back to zero before attacking the next note.
A touch of delay and/or reverb (after the volume pedal, if using one) can enhance the sound of this technique.
5. HARMONICS
Not only did Beck know how to instantly locate every note available on the fretboard, he could seemingly grab any pitch out of "thin air" using natural harmonics, which we'll refer to simply as harmonics.
Let's begin with an exercise that helps organize where some of the readily accessible harmonics are located.
Ex. 5a covers the harmonics at the 12th fret, by far the easiest to play clearly.
It's crucial to use a light fret-hand touch, with either the tip or side of the finger touching the string directly above the fret wire, without pushing the string down to contact it.
Pick the string, then remove the finger to allow the harmonic to ring.
These 12th-fret harmonics sound the same pitches as their fretted counterparts (low to high, E, B, D, G, B, E).
The 7th-fret harmonics in Ex. 5b are also quite accessible and sound an octave above their fretted counterparts: B, E, A, D, F#, B.
Things start to get a little tricky with Ex. 5c. Sounding these harmonics clearly requires more precise execution, plus they don't match up with their fretted counterparts.
Instead, they generate pitches an octave above those at the 12th fret, or an octave plus a perfect 5th above the 5th-fret notes, if you prefer to think that way: E, A, D, G, B, E.
If you've been keeping track, we are up to a total of six pitches (A, B, D, E, G and F#).
Many intriguing melodies and chords can be played using these three sets of harmonics, but for the more adventurous, there are other options.
The 9th-fret harmonics in Ex. 5d will give you pitches an octave and a 5th above each fretted note, or a major 3rd plus two octaves above the open string: G#, C#, F#, B, D#, G#. (These same harmonics can also be produced at the 4th fret.)
Examples 5e and 5f are a little off-center and are best memorized for the high-pitch notes they produce.
The indication "3.1" represents a point 1/10th the distance from the 3rd fret to the 4th. This gives you the same note as the 9th- or 4th-fret harmonic, only an octave higher (B, E, A, D, F#, A).
The "2.7" point produces a pitch roughly two octaves above the note at the 10th fret. Across all six strings that's D, G, C, F, A, D.
Experimentation is key to discovering creative ways to utilize these harmonics.
Examples 5g and 5h show some useful descending scale patterns…
…And Examples 5i and 5j are familiar melodies crafted from note location tactics.
Listen to "Two Rivers" from Beck's 1989 album Guitar Shop for a master lesson in the creative use of harmonics.
6. WHAMMY BAR
What set Beck apart was his absolute mastery of his Strat's tremolo for melody playing.
Arguably the most stunning example of this is featured on the Guitar Shop track "Where Were You."
There's also a fantastic live performance video of the tune on the DVD Live at Ronnie Scott's.
To realize the whammy bar's full melodic potential takes patience, practice, and a keen sense of pitch.
Ex. 6a will help you acquire a feel for performing half-and whole-step pitch dips, or downward "bends," for which the bar is depressed to slacken the string tension.
The passage is played entirely on the G string and follows the notes of the A Mixolydian mode (A, B, C#, D, E, F#, G). (Many of Beck's most celebrated recordings feature melodies and themes based on the Mixolydian mode, including "You Know What I Mean," "Freeway Jam," "Led Boots," "The Pump" and "Shapes of Things.")
Proceed slowly, listen intently and remember the feel of the bar tension in your hand as you perform each dip.
Ex. 6b ascends the same scale but uses pull-up maneuvers on the bar, which raise the pitches in half- and whole-step intervals, akin to string bends. (Be aware that some tremolo bridges must be set up to allow raising a note's pitch beyond a half step, while some are locked to prevent upward pitch bending.)
Notice that each bar raise is preceded by a hammer-on to the subsequent target note, which allows you to hear it in advance.
Once you get the feel for this, perform these moves on other strings.
Examples 6c and 6d are JB-style whammy licks that are kicked off by a solitary harmonic.
Like the multiple-bend licks of many aggressive blues-rock guitarists, these also require a keen pitch awareness but also a highly developed control of the whammy bar.
Ex 6e is a double-stop-fueled, JB-style blues-rock phrase that's actually quite accessible if you follow the notations carefully.
In closing, here's a heartfelt send-off phrase that incorporates several of the techniques covered in this lesson (Ex. 7).
You'll probably recognize the melody it's derived from.
Thank you, Mr. Beck, for all the musical joy you created!
All the latest guitar news, interviews, lessons, reviews, deals and more, direct to your inbox!