"I Spent So Much Time Trying Not to Be Seen as a Female Guitarist": Carmen Vandenberg Talks Identity, Role Models and the Rollercoaster Life of a Musician
GP speaks to the Jeff Beck and Bones UK guitarist as she prepares to be honored at this year's She Rocks Awards.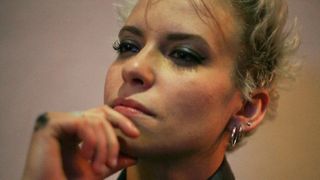 (Image credit: Jim Steinfeldt/Michael Ochs Archives/Getty Images)
Grammy-nominated Bones UK guitarist Carmen Vandenberg has just arrived back home in Los Angeles and is in good spirits after finishing a touring stint with multi-Platinum alt-rock icons Smashing Pumpkins.
"I loved it," she tells Guitar Player. "The gigs were amazing. Smashing Pumpkins are insane. It was so nice to be back out on stage!"
Like many guitar players in the post-lockdown era, Vandenberg suddenly found herself back in the thick of live music after a long period of inactivity.
"I put down the guitar during the beginning of the pandemic and started doing woodwork," she recalls. "It was really cool, but I put the guitar down for too long. It was the first time I'd stopped playing since I was six years old, and when I picked it up again it was like I couldn't play anymore!
"Then I went into a spiral, like what have I done?! Have I lost it? It was all combined with the pandemic."
What followed was a period of intense soul-searching as she questioned her identity as a guitarist.
"It was a process, and it was a healthy thing," she reasons. "I had to ask myself: if I don't play guitar then who am I? It was as simple as that. It's kind of what defines me."
Helping to empower others through identification, female and non-binary guitarists have increasingly stepped into the limelight in recent years.
Too many guitarists grew up without the luxury of visible role models – those people we look up to as young, aspiring guitar players in our formative years – but Vandenberg is now leading by doing.
"I grew up with all my role models being men," she explains. "I listened to Hendrix and Stevie Ray Vaughan, but it was only later in life that I learned about female guitarists like Jennifer Batten. It wasn't a thing that I had easy access to when I was younger.
"I spent so much time trying not to be seen as a female guitarist. You know, when somebody would say, 'You're a good guitarist for a female,' I would think, 'Shut up. I'm just a good guitar player!'
"It was like I didn't want being female to be part of the picture. But now I've grown up, I pride myself on being a woman. I'm not trying to escape it to fit in."
Recalling her early school years, Vandenberg says she identified as a guitar player first and foremost.
"I remember being in school walking around with a guitar on my back. That was who my character was. You know, most kids would just have backpacks, but I would be recognized by carrying a guitar around. It really does define you."
Later, the young guitarist experienced a significant amount of unfair criticism, though she maintains it ultimately served to strengthen her resolve.
"There was definitely a lot more bullying and misogyny when I was at college," she points out. "As soon I started getting jobs, boys that felt threatened would say things like, 'You only got it because you're a girl.' There was always something. But going through that shit can give you a thicker skin."
Right now, the music industry is undergoing change with a swing towards female guitar players – a fact attested to and demonstrated by market leaders Fender and Gibson.
"I think it's great for girls to see that there actually are more of us doing it," says Vandenberg. "That reality needs to be recognized so that others are able to be inspired that it is a possibility. It's going in the right direction. It just needs to keep going in this direction.
"It's really cool to be able help inspire people who don't have that many role models. At first, I was really afraid of being a role model, like I didn't deserve to inspire people.
"And then I had a shift in my mentality; I just accepted that these people really care and that I needed to do something positive. You know – let's do something good instead of just whining in the corner."
Though she humbly accepts being a role model Vandenberg's artistic pursuits remain her driving force.
"It's a lot easier to be comfortable in your own skin when you've attained a certain amount of respect," she concedes. "But being a musician is like being on a rollercoaster; there can be many highs and lows.
"Playing with Jeff Beck changed my career and the way I was portrayed as a guitarist. As did getting a Grammy nomination. Those things can shift the way you think about things, but then it's a case of buckling back down.
"Sometimes you can get so into your own head as an artist. But you should never get too sad if you think things are going down. Just ride it out. I mean, I just see it like a rollercoaster – it's going to go back up again at some point."
As one of the more prominent players in the guitar world, Vandenberg is set to be honored at tomorrow's prestigious She Rocks Awards.
Hosted by Lzzy Hale and celebrating its 10th anniversary this year, the event seeks to recognize those trailblazing women in the industry who have made a real impact.
"I'm really excited about it," enthuses Vandenberg. "I didn't expect it at all. It's overwhelming and amazing. I love what they're doing to support women in the music industry. I think it's an incredible thing overall.
"As musicians we sometimes doubt ourselves. Something like this is a reminder that you're doing okay – like you're going the right way. It's nice to be reminded that you're going in the right direction.
"I'm thrilled to get the chance to meet all of the incredible women who are being honored at the She Rocks Awards. I can't wait to feel the camaraderie and energy."
For more information on the She Rocks Awards head on over to their website.
Order Bones UK's debut album here.
All the latest guitar news, interviews, lessons, reviews, deals and more, direct to your inbox!
Rod Brakes is a music journalist with an expertise in guitars. Having spent many years at the coalface as a guitar dealer and tech, Rod's more recent work as a writer covering artists, industry pros and gear includes contributions for leading publications and websites such as Guitarist, Total Guitar, Guitar World, Guitar Player and MusicRadar in addition to specialist music books, blogs and social media. He is also a lifelong musician.