50 Sensational Female Guitarists
The greatest female guitarists of all time.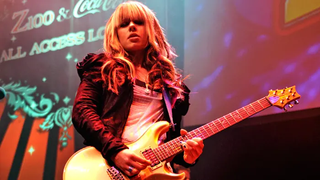 (Image credit: Getty/Rob Loud)
We promised at the beginning of this auspicious and celebratory 50th-anniversary year of Guitar Player that the staff would use the magazine's "elder statesperson" role to dream about the possible future of the guitar and to honor its past. As part of that mission, we are recognizing 50 female guitarists who have made—or who are making—tremendous contributions to guitarcraft and guitar culture.
Our initial list expanded to more than 100 players—all of them excellent and worthy—and the editorial crew of myself, Art Thompson, Kevin Owens, Jude Gold, Jimmy Leslie, Michael Ross, and Dave Hunter (with some consulting from Women's International Music Network founder Laura Whitmore) were thrown into "Heavy Debate Mode" to reduce the number to 50. (We've had the same slugfests of subjective opinions with similar issues in the past, such as "The 50 Greatest Guitar Tones of All Time," "The 40 Most Influential Rock Solos Ever," and "50 Rhythm Guitar Gods.")
BELOW: The May 2017 cover of GUITAR PLAYER with Sister Rosetta Tharpe.
These discussions are always fraught with danger. Favorites get left out. Readers get cranky. And yet, arguing with the editors over their choices is part of the fun, and we all learn even more valuable information from the shared discourse. (Please send your criticisms and comments about this special cover feature to mmolenda@nbmedia.com.)
Well, the staff arguments are now over, and the artists have been selected, so let's salute 50 truly remarkable guitar players.
Muriel Anderson
Anderson weaves fantastic spells with her evocative phrasing, stunning technique, and melodic sensibility, and everything is wrapped in a style that almost simultaneously embraces classical, country, flamenco, jazz, and world music. Even more amazing, she's not just focused on her own career and music. She gives back to the guitar community with her Music for Life Alliance charity, as well as her annual hosting of the exhilarating Muriel Anderson's All-Star Guitar Night at NAMM, which has helped showcase legions of talented players throughout the years. —MM
Notable Gear: Morris Muriel Anderson Signature; Camps and Tierra Negra flamenco guitars; Paris Banchetti classical; David Taylor, Mike Doolin, and Mike Brittain harp guitars.
Badi Assad
The Brazilian-born Assad—who is the sister of classical guitarists Sérgio and Odair—has won Guitar Player awards and commendations for her albums and fingerstyle playing since 1995. Fearlessly creative and ambitious, she was robbed of her technical talents by focal dystonia from 1998 to 2001, but worked towards a full recovery. In 2003, Assad proved she was back in form by making Three Guitars with Larry Coryell and John Abercrombie. She hasn't stopped thrilling and astounding audiences since. —MM
Notable Gear: Paul Fischer nylon-string, Frameworks "Angel Wings" guitar, Takamine acoustics, Luna ukulele.
Jennifer Batten
When players talk about Batten's fiery talents and creativity, it's like one of those Marvel Comics' "Nuff said" moments. After all, she was profiled early on in GP's Spotlight column, expanded two-hand-tapping techniques while at Musicians Institute, went on to burn up stages for the pop powerhouse Michael Jackson, and then played guitar with the ever-evolving genius, Jeff Beck. Seeking compelling ways to get her own instrumentals in front of a larger audience, Batten pioneered a solo-multimedia show integrating film clips, career stories, and, obviously, her jaw-dropping music. Somehow, she also finds time to "play it forward" with seminars and Skype lessons. —MM
Notable Gear: Washburn JB100 Signature, Fishman TriplePlay, Batten String Damper.
Liona Boyd
Boyd graced our cover in July 1987, and won Classical Guitarist of the Year honors in our Reader's Poll so many times that she was selected for the magazine's Gallery of the Greats. Even the maestro, Andrés Segovia, voiced his approval of her talents—though he may have frowned on her mission to expand classical guitar's reach by performing with non-classical players such as Eric Clapton, David Gilmour, Chet Atkins, Alex Lifeson, and Steve Morse. Like Badi Assad, Boyd has also struggled with focal dystonia, and, in 2002, had to reorient her performance technique. —MM
Notable Gear: German Vazquez Rubio nylon-string.
Nili Brosh
One of the youngest teachers on the faculty of Berklee College of Music's summer programs, Brosh celebrated her own 2009 graduation from the esteemed music school by releasing her first solo album (Through the Looking Glass) in 2010. The release showcased her graceful melodies, articulate tone, and tasteful shredding, and she was almost immediately asked to join some pretty formidable bands—most notably solo projects by Tony MacAlpine and her brother Ethan—as well as to perform with Guthrie Govan, Andy Timmons, and Stuart Hamm. —MM
Notable Gear: Ibanez RG Prestige 7-string, EMG pickups, Peavey JSX amp.
Nori Bucci
Bucci is a force of nature. Slightly hunched over her Strat, eyes closed, oblivious to all but the music in her head, she would unleash whirlwinds of melodies, licks, riffs, and single-note lines—often within the same solo section. Her intense yet beautiful work in the band Gamalon is fairly well documented on YouTube, and she also released three solo albums. These days, Bucci appears to be more interested in her other talents—drawing, sculpting, and writing—than blowing minds with her guitar. Great for her—a loss for us. —MM
Notable Gear: '96 Fender Stratocaster, Fender Jazzmaster Ultralight head and 1x12 cab, Boss GT-6, Martin 00C-MAE, Line 6 Variax 700 acoustic.
Maybelle Carter
"Mother" Maybelle invented a revolutionary fingerstyle-picking technique so musically valuable that it's still used today ("Carter Stratch;" sometimes called "Carter Family Picking" or "Thumb Brush"). In fact, the guitar she famously used that approach on with the Carter Family and her solo work—a Gibson L-5—has become so legendary that it now resides in the Country Music Hall of Fame and Museum in Nashville. Carter's imprint on guitar—and country music in general—is so deep that one can't imagine the country-western style existing without her. —MM
Notable Gear: '28 Gibson L-5.
Charo
As if it weren't enough to be a fine guitarist—GP twice named her "Best Classical Flamenco Guitarist in the World"—Charo's over-the-top looks and performing talents skyrocketed her to fame early on. (By 1967, she had already been on The Ed Sullivan Show four times!) Charo definitely knows how to captivate an audience, and with her solid background in classical music—she began studying classical and flamenco guitar in a school in Madrid founded by Andrés Segovia for underprivileged children—she has single-handedly advanced flamenco music for the betterment of humanity, even though she has also expressed some regret that her stage persona has tended to overshadow her musicianship and seriousness as a guitar player. —AT
Notable Gear: Various classical and flamenco guitars.
Laura Chavez
Chavez's 6-string magic has elevated the blues of Lara Price and the late Candye Kane to world-class levels. She has carved out a stinging, soulful, and personal sound that encompasses Texas, California, Chicago, and Mississippi styles—all derived directly from the originators. Talented fingers and heavy strings let her deliver maximum tone with minimal distortion. Authentic blues guitar doesn't get any better than this. —MR
Notable Gear: Fender Stratocaster, Vero Twentieth Century Limited, Fender Bassman.
Deborah Coleman
Blues guitarist Coleman once said she was inspired to play by Jimi Hendrix and the Monkees. There are certainly echoes of Hendrix in her sexy bends, liquid tone, stabbing note choices, and sweet sustain (which, at times, can get to David Gilmour levels of near infinity). But it's a challenge to find the Monkees in there—unless the band's pop hits informed her almost spell-like sense of melody. —MM
Notable Gear: Gibson Les Paul.
Felicia Collins
Collins may be best known for the soulful playing and singing she contributed over the years as a member of the house bands on David Letterman's CBS late-night shows, but she has also toured and recorded with Al Jarreau, Cyndi Lauper, Whitney Houston, and the Thompson Twins. And one of her biggest fans is super-producer (and her '80s bandmate in Outloud) Nile Rodgers. With that seal of approval, you know she's funky. —JG
Notable Gear: Hamer Daytona, Model T, and DuoTone guitars; Taylor acoustic; Fender and DV Mark amplifiers.https://youtu.be/SlYN-FRfuBs
Elizabeth Cotten
Although he was likely oblivious as to his role, Cotten's brother had a hand in "helping" her create the distinctive alternating-bass technique known as "Cotten Picking." Elizabeth—or "Libba"—first learned to play on his banjo, but as he was right-handed, and Libba was left-handed, she turned the banjo upside down. "I couldn't change the strings around because they were his," she once said. When she switched to guitar, she adopted the same approach, and a unique method of fingerpicking was born. —MM
Notable Gear: Martin 000-18.
Courtney Cox
Tribute bands seldom get tons of respect from the media, so it's rather a huge deal that Cox—a member of the Iron Maidens since late 2008/early 2009—was able to cut through any professional snottiness to become a bona fide guitar celebrity. A graduate of Paul Green's School of Rock, YouTube views for Cox's shred-tastic Iron Maidens' performances can number as high as seven million. Take that! —MM
Notable Gear: Caparison Guitars, Jackson Adrian Smith Signature in absinthe green, Peavey Valve King half-stack.
Debbie Davies
When Davies first started ripping it up with Maggie Mayall and the Cadillacs three decades ago, Bonnie Raitt was pretty much the only other female blues guitarist on the scene. Having received the imprimatur of being asked to tour with Albert Collins as his featured guitarist—and with more than a dozen solo records behind her—Davies is the player who made the way a little easier for the Sue Foleys, Laura Chavezes, and Susan Tedeschis of the world. —MR
Notable Gear: Fender Stratocaster, Fender Super Reverb.
Ani DiFranco
DiFranco stands out among the folkie crop for taking her guitar playing as seriously as her lyrics tackling social injustice. Using myriad open tunings, and wearing fingerpicks taped to the fingers of her right hand, DiFranco's approach is aggressive and percussive—sometimes raw and thrashing—but never at the expense of a deep pocket. Like a funk bassist, she thumps, snaps, and pops her way into the listener's DNA. —JL
Notable Gear: Alvarez Yairi WY1 Bob Weir Signature, 1957 Magnatone Twilighter 260 2x12, Rivera Sedona 1x15.
Kat Dyson
Dyson's main gig is lead guitarist for Italian superstar Zucchero, but the versatile funk-rocker has also worked with Cyndi Lauper, Mick Jagger, and, most notably, Prince. Beyond respecting her groove and chops, bandleaders love Dyson for her dedication to songs. "I once suggested to Prince that he add an intimate moment in the set where he performs solo acoustic guitar." Prince initially laughed her off, but soon implemented the idea. "Crowds loved that," says Dyson. "A good song can withstand a hurricane." —JG
Notable Gear: Paul Reed Smith Custom 24, BluGuitar Amp 1, Hughes & Kettner Tubemeister.
Sue Foley
Armed with a soulful voice and a guitar style flavored with plenty of Texas flair—but has also been shaped by by rockabilly, surf, Stones-y rock, and even punk—Foley uses a combination of a thumbpick and fingers to get her sound. As she told GP, "A straight flatpick approach doesn't appeal to me at all, as it's not dynamic enough for what I'm going for." The Canadian-born guitarist turned pro at 16, and released her first record—Young Girl Blues—at 21. Foley has earned a wealth of accolades, including several nominations at the International Blues Music Awards in Memphis. —AT
Notable Gear: Fender Pink Paisley Telecaster, Fender '59 Bassman Reissue.
Lita Ford
Her tenure in the Runaways alone would have cemented Ford's stature as an influential and edgy guitar badass. But, although she had some massive hits in the mid '80s that made her a big star, Ford's constant grit and grace in the face of adversity is what makes her more than an MTV icon, and her music much more than mere pop fodder. "I'm a feel person," she once told me, and that emotion flows through every note she plays—which is why GP honored her with its Certified Legend Award in 2013. —MM
Notable Gear: BC Rich "Black Widow" Warlock, Marshall JCM 800.
Mimi Fox
Joe Pass once told Fox, "You have a lot of fire in the belly—don't ever lose that." If the ambitious music on Fox's ten solo albums is any indication, she'll always have that fire. Fox's deep melodic, rhythmic, and harmonic vocabulary has landed her on stage with Diana Krall, Branford Marsalis, and other jazz luminaries. Plus, like her hero, Pass, Fox is one of those virtuoso jazzers who is equally comfortable performing solo or with a combo. —JG
Notable Gear: Heritage H-575 Mimi Fox Signature.
Vicki Genfan
Genfan blew our minds—as well as those of judges Joe Satriani, George Lynch, Steve Vai, Elliot Easton, and Brendon Small—when she took the crown at Guitar Player's 2008 Guitar Superstar competition with an assault of cascading melodies, percussive attacks, shimmering harmonics, and a slide-guitar section. Since that evening, Genfan has performed around the world in festivals, house concerts, and "van tours," and shared her talents through instructional videos. —MM
Notable Gear: Luna Vicki Genfan Signature.
Donna Grantis
Reaching the semi-finals of the North American Jimi Hendrix Electric Guitar Competition at 17, and getting a Jazz Performance degree from McGill University prepared Grantis to become an in-demand session musician in Toronto and front her own band. But nothing could have prepared her to be tapped as guitarist for Prince's project, 3rdEyeGirl. Trading blazing solos with the late Purple One on a nightly basis, she proved her mettle, and earned a place in guitar history. —MR
Notable Gear: PRS CE 22, Traynor heads and Traynor YBX212 cabs.
Sharon Isbin
This Grammy-winning classical virtuoso has performed at the Obama White House, became founding director of Juilliard's Guitar Department, and won Guitar Player's Best Classical Guitarist honors. Isbin has also explored mixing other textures with her style, most notably on her 2011 album Guitar Passions, where she recorded with Steve Vai, Stanley Jordan, Nancy Wilson, and Steve Morse. —MM
Notable Gear: Michael O'Leary classical, '07 Thomas Humphrey Millenium Le Sacrifice, Antonius Mueller classical.
Poison Ivy
Although she was often overlooked—mostly due to husband/vocalist Lux Interior's crazed, larger than life persona—Ivy helped invent psychobilly with the Cramps in 1976, and forever forged the sound of punk-rockabilly guitar. Taking a few cues from Link Wray ("The most apocalyptic, monumental sound I ever heard," she told GP in 1990), Ivy never backed off from the violence, danger, and aggression she embraced as the sound of rock and roll. —MM
Notable Gear: '58 Gretsch 6120, blackface Fender Pro Reverb.
Kaki King
King made playing technically advanced solo-acoustic guitar cool again. Standing on the shoulders of the late new-age icon Michael Hedges, King took the art of percussive two-hand tapping to new heights, but she's no one-trick pony. King is also a fantastically musical fingerstylist, and a fearless artist who expanded her palette to include electric and pedal-steel before returning her focus to the acoustic. King won Best Acoustic Guitarist in GP's 2013 Reader's Poll. —JL
Notable Gear: Ovation Adamas Kaki King Signature, L.R. Baggs Para Acoustic D.I. and Preamp.
Sarah Longfield
Longfield's massive YouTube following may be partly due to her whimsical take on guitar and often-humorous videos, but she's also one seriously talented shredder. And, oh yeah, she uses an 8-string, fanned-fret guitar to launch her torrid blitzes of riffs and solo lines. Her band, the Fine Constant, shows a more serious side of her, and explores guitar approaches that are ambient and pretty or vicious and raging. —MM
Notable Gear: Strandberg 8-string.
Bibi McGill
When McGill took a big solo with Beyoncé during the 2013 Super Bowl half-time show, sparks flew,— literally. (Her pointy Jackson Randy Rhoads had been rigged with pyro.) However, it's the fire in McGill's fingers that earned her a long-running job as musical director for Bey's backing band. The dynamic guitarist has also toured with Pink and gained acclaim as a DJ, yoga instructor, and manufacturer of her signature line of kale chips. Renaissance woman! —JG
Notable Gear: Various D'Angelico guitars.
Gretchen Menn
Menn—who is the daughter of former GP editor Don Menn—gained national popularity as the "Jimmy Page" of the tribute act Zepparella, and also exploded on YouTube with videos from her first solo album, Hale Souls. Late last year, she released Abandon All Hope—a musical interpretation of Dante's Inferno—and not only worked on her chops, but also intensely studied classical orchestration. The resulting hybrid of rock guitar and classical textures is truly astounding. —MM
Notable Gear: Ernie Ball Music Man Silhouette, Gibson Les Paul.
June Millington
Once described by GP as the "hottest female guitarist in the music industry," Millington is perhaps best known for being a co-founder and lead guitarist of the all-women rock band, Fanny. Fueled in part by her guitar chops and bold tone, Fanny was hugely responsible for inspiring a generation of women to write and play their own music. Millington went on to establish her own Fabulous Records label, and released several solo albums between 1981 and 1988. Her greatest contribution, however, may have been conceiving the "Institute for the Musical Arts," which was her idea for how to empower women in their pursuit of music careers, and promote equality in the music industry and other cultural spheres. —AT
Notable Gear: '56 Gibson Les Paul, Les Paul Junior TV Special, J-50 acoustic.
Check Out YouTube: "Running."
Memphis Minnie
Born Lizzie Douglas in 1897, "Minnie" taught herself to play guitar and banjo at an early age, and, after leaving home home at 13, started performing (initially under the name "Kid" Douglas) in the rough-and-tumble mecca of blues known as Beale Street in Memphis. As Memphis Minnie, she recorded for a variety of labels (Bluebird, Columbia, Checker, Decca, and Okeh to name a few), and was a fearless live performer. There are stores of her taking on (and winning) head-cutting contests with Big Bill Broonzy and Muddy Waters. —AT
Notable Gear: National archtop, National wood-bodied electric.
Joni Mitchell
Mitchell's expansive catalogue of original tunings, her creative use of capos, her unique fingerpicking patterns, and her daring technological temperament make her one of the most influential, yet perhaps least well-understood folk icons. But consider this: In his July 2004 GP interview, Prince advised budding players to nail rhythm guitar first by listening to Ike Turner. He closed by saying, "Put any colors you've learned from Joni Mitchell on top of that, and then you've got something!" —JL
Notable Gear: 1956 Martin D-28, Parker Fly Mojo, Roland VG-8 guitar.
Noveller
Live, ambient-guitar looping was largely a niche practice until Sarah Lipstate came along. Performing as Noveller, she has brought her epic soundscapes to large theaters as the handpicked opening act for St. Vincent, and, of all people, über-fan Iggy Pop. Pumping a rotating roster of pedals through her Boomerang looper, Lipstate creates ever-shifting washes of sound and melody that take looping to a place of pure emotion. —MR
Notable Gear: Fender Jaguar, Fender '59 Bassman Reissue, Boomerang looper.
Orianthi
Orianthi was first introduced to GP by Carlos Santana, Steve Vai, and Paul Reed Smith, and, as a result, she took the stage at our 2004 redesign concert at NAMM at 19 years old. She got the gig-of-a-lifetime with Michael Jackson for the London extravaganza that was tragically not to be, and we put her on our cover in 2010. Her electrifying playing and songwriting have inspired scores of young girls to try their own skills at guitar, and her YouTube views are in the mega millions. She recently partnered with former Bon Jovi guitarist Richie Sambora to form RSO. —MM
Notable Gear: Various PRS models.
Mary Osbourne
Hugely influenced by seeing Charlie Christian play in her hometown of Bismarck, North Dakota, Osbourne's natural musical talent and savvy improvisational skills soon enabled her to be sitting in on jam sessions on New York's famed 52nd street with some of the biggest names in jazz. By 1945, she had become a prominent enough performer to headline a concert in Philadelphia with no less than Dizzy Gillespie, Art Tatum, Coleman Hawkins, and Thelonious Monk. Osbourne worked extensively throughout the '50s, and spent the remainder of her life in Bakersfield with her husband (trumpeter Ralph Scaffidi), where she taught music and continued to play locally and in L.A. —AT
Notable Gear: Gibson ES-150, 1952 Gibson L-5, 1962 W.G. Barker, Stromberg cutaway.
Ana Popovic
A near-perennial guest star on the mostly male Experience Hendrix tours, the hard-working Popovic released her most ambitious album last year—the three-CD Trilogy—and expanded her stylistic explorations beyond her usual blues to rock, funk, and jazz. She tours almost incessantly, and artists such as Bruce Springsteen, Billy Gibbons, Joe Bonamassa, Buddy Guy, and Gary Clark Jr. extol her talents as a dedicated, evolving, and kick-ass guitar player. —MM
Notable Gear: '57 and '64 Fender Stratocaster reissues, Fender Bassman, '66 Fender Super Reverb, Mesa/Boogie Mark IV.
Arianna Powell
Powell was already a versatile rock/funk/fusion guitarist before she left Pennsylvania two years ago in hopes of finding better work in California. After arriving in Hollywood, Powell quickly gained respect for her fiery solos and pro demeanor, and landed tours with Nick Jonas, Black Eyed Peas, and other headliners. —JG
Notable Gear: '04 Fender American Standard Stratocaster, '12 Gibson ES-339, Paul Reed Smith Custom 24.
Gabriela Quintero
Quintero is one of the finest acoustic-rhythm specialists around, as well as an exhilarating live performer. Together with her performance partner, Rodrigo Sanchez, Rodrigo y Gabriela have perfected the art of the nylon-string duo. Quintero's ripping rasgueado rhythms and percussive body taps conjure momentum like a freight train for Rodrigo's razor-sharp linear lead licks. —JL
Notable Gear: Custom Yamaha nylon-string acoustic-electric.
Bonnie Raitt
With her instantly recognizable voice and endlessly cool slide playing, Raitt has been mesmerizing fans for decades. Though her style is deeply rooted in early blues, Raitt knows how to blend those influences with classic singer-songwriter material to forge a sound all her own. She has an uncanny knack for picking great songs to record, and she always knows how to make her guitar parts stand out—all while supporting the tune with her soulful melodic lines. Raitt has released so many great records that it's hard to pick a fave. —AT
Notable Gear: Fender Stratocasters, Larry Pogreba resonator guitar with aluminum body, Black Wing amps.
Emily Remler
A graduate of Berklee College of Music, Remler was a fluid jazz player whose style was influenced by Charlie Christian, Herb Ellis, Pat Martino, Wes Montgomery, and Joe Pass. Remler died at only 32, but during her short career, she recorded seven studio albums, won "Guitarist of the Year" in Down Beat's 1985 international poll, became the artist-in-residence at Duquesne University, and received the "Distinguished Alumni Award" from Berklee. Bob Moses, the drummer on her albums Transitions and Catwalk, said, "Emily had that loose, relaxed feel. She swung harder and simpler. She didn't have to let you know she was a virtuoso in the first five seconds." —AT
Notable Gear: Aria Pro II Herb Ellis, Borys B120 hollowbody, Gibson ES-330, Ibanez GB-10 George Benson, Korocusci classical.
Allison Robertson
Robertson's blend of classic-rock sensibilities and punk energy in the Donnas made for a rousing onslaught of impassioned guitar noises, so we put her on our cover in January 2005. We wish we knew where she is these days, as she has been rather quiet. (Do we need to put her face on a milk carton?) When active, her encyclopedic recall of rock riffs, her unfettered delivery, and pugnacious tone produced a novel, more revved-up take on '70s hard rock. —MM
Notable Gear: Gibson Les Paul, Gibson Explorer Pro, Marshall amps.
Aleks Sever
A native of Croatia who grew up in Germany before finally landing in L.A., Sever started out playing acoustic guitar and piano before finding that the electric guitar gave her the freedom to express what she wanted to say musically. On her two recent instrumental albums, Danger Girl and Extravagant, Sever's playing reflects influences that range from James Brown and Jeff Beck to SRV and Prince. Her funk groove is awesome, she can play fast as hell, and she puts it all together with tons of soul. —AT
Notable Gear: Fender American Standard Telecasters, DigiTech RP-500, Fender amps.
Leni Stern
Few artists unite the American jazz tradition with world influences more effectively than genre-defying guitar adventurer Stern. Whether she's playing on her own solo albums, or on Eclectic (the collaboration between Eric Johnson and her husband, Mike Stern), captivating rhythms, memorable melodies, and the tantalizing tones of a wide range of stringed instruments are her raison d'être. —JG
Notable Gear: Fender Custom Shop Stratocaster.
Nita Strauss
Throughout his long and legendary career, Alice Cooper has surrounded himself with some pretty amazing guitarists, and his current foil is Strauss, whose metal edge (she was formerly a member of the Iron Maidens) energizes both Cooper's early hits and his later-era rockers—even though producer Bob Ezrin cautioned during her audition that "this band needs a rock guitarist." Warning aside, Strauss' shred gymnastics are actually dynamic, melodic, and, at times, scary fast. —MM
Notable Gear: Ibanez Custom Nita Strauss Signature, Ibanez S Series, Marshall JVM 410H.
St. Vincent
In an effort to avoid clichés on her first record, Annie Clark—a.k.a. St. Vincent—worked out her guitar solos on a MIDI keyboard and then learned them. Since then, she has trusted her originality to keep the guitar work interesting. And rightly so, as evidenced by her unique use of fuzz pedals to create synth-like hooks and epic noise-inflected solos. A partnership tour and album with David Byrne has helped her bring "weird" into the mainstream. —MR
Notable Gear: Ernie Ball Music Man St. Vincent Signature model, Kemper Profiler.
Susan Tedeschi
The other half of the Tedeschi Trucks Band, Tedeschi was already an established solo artist when she found herself on tour supporting the Allman Brothers. That's how she met Derek Trucks, and the rest is history. Tedeschi could well have the best voice of any guitarslinger around, and her guitar playing is icing on the cake. Although her soloing these days seems to take a back seat to Truck's amazing slide work, she is a formidable lead player who absolutely knows how to make a solo elevate a song. —AT
Notable Gear: Fender Telecaster, Fender Super Reverb, Vox wah, Moollon Overdrive.
Sister Rosetta Tharpe
Born in 1915, Tharpe began playing guitar and singing in church at age four. After moving to Chicago with her Christian-evangelist mother, Katie Bell, she went on to become a major force in the forging of gospel and popular music—which began with her 1939 hit, "This Train." Tharpe was a fierce guitarist who could fire off killer licks on par with any player of the era. Her swinging double-stops and twangy picking greatly influenced Chuck Berry, and she also had a huge impact on Elvis Presley. It all adds up to giving a lot of credit to the Sister for helping birth rock and roll. —AT
Notable Gear: 1961 Gibson SG/Les Paul Custom, 1929 Gibson L-5, 1931 National Triolian, Gretsch G117 Double Anniversary.
The Great Kat
A belligerent self-promoter with zero patience for crap guitar technique, The Great Kat's September 2005 GP interview, quite frankly, scared the holy heck out of lots of our readers. But this Juilliard-trained violinist's turbocharged, speed-metal readings of classical pieces were pretty astounding when she first appeared in the late 1980s. They're still impressive, in fact, and Kat (born Katherine Thomas) may be one of the fastest guitarists of all time. If only she'd quit screaming at us. —MM
Notable Gear: Cook KAT Signature, Burns Scorpion, Jackson V-style.
Carmen Vandenberg
Schooled at London's Academy of Contemporary Music, yet steeped in the blues, Vandenberg is forging a new approach to rock guitar. She was recently Jeff Beck's co-guitarist, and her band Bones incorporates the blues into modern rock—with some hip-hop and punk attitude thrown in—recalling the dismissal of musical categories displayed by the Yardbirds after they hired a certain young guitarist. Full circle? —MR
Notable Gear: Fender American Vintage '53 Reissue Telecaster, Peavey/Hammond TR-30.
Nancy Wilson
Wilson's masterful fingerpicking on her nylon-string guitars was a standout element of the Heart experience, and it could be argued that Ovation's success with its acoustic-electric models in the '70s had much to do with her use of them in concert. Seeing the Beatles on The Ed Sullivan Show in 1964 sent Nancy and her sister Ann on their musical journey, but it wasn't until Nancy agreed to bring her irresistible guitar/vocal chops to a fledgling group called Heart in 1974 that things really got rolling. Keep an eye on her latest project, Roadcase Royale, with Prince singer Liv Warfield, —AT
Notable Gear: '63 Fender Telecaster with PAF humbucker in the neck, Martin HD-35 Nancy Wilson Signature Edition, Takamine NP-16A, PRS Custom 22/12.
Xuefei Yang
Yang started playing classical guitar at seven years old in her native Beijing, China, and had become world renowned while she was still in primary school. Critical acclaim only intensified as she traveled internationally, and Yang began piling up prizes from various competitions, including the San Francisco International Guitar Competition and London's Ivor Mairants Guitar Award. Even considering all the accolades, most people who hear Yang will attest that her touch, tone, and musicality are sublime. —MM
Notable Gear: Smallman classical, Ramirez Elite.
Yvette Young
Like Nori Bucci, a visual artist as well as a musical one, Young's impressive dexterity and two-handed tapping create undulating atmospheres and contrapuntal melodies for her math-rock band, Covet. The San Jose, California, artist's singular approach has caught on with players and guitar fans alike, as hundreds of thousands of YouTube viewers devour her song uploads. —MM

Notable Gear: Strandberg Boden 7.
All the latest guitar news, interviews, lessons, reviews, deals and more, direct to your inbox!
Guitar Player is the world's most comprehensive, trusted and insightful guitar publication for passionate guitarists and active musicians of all ages. Guitar Player magazine is published 13 times a year in print and digital formats. The magazine was established in 1967 and is the world's oldest guitar magazine.
When "Guitar Player Staff" is credited as the author, it's usually because more than one author on the team has created the story.