Smashing Pumpkins' Billy Corgan, James Iha and Jeff Schroeder Detail the Band's Rejuvinated Triple-Guitar Approach
Corgan and co plug back in and crank it up on 'Shiny And Oh So Bright Vol 1.'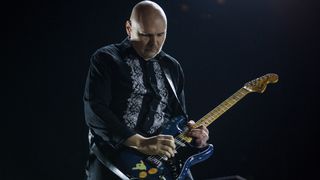 (Image credit: Victor Moriyama / Stringer)
In February of this year, Smashing Pumpkins announced a reunion of three-fourths of the original, founding lineup that had skyrocketed them to alt-rock glory in the 1990s.
Since then, that trio — singer, guitarist and primary songwriter Billy Corgan, drummer Jimmy Chamberlin and guitarist James Iha — has been doing exactly what fans expect reunited bandmates to do: embarking on a massive tour that celebrates their history by diving deep into the music they created several decades ago. They've been joined by guitarist Jeff Schroeder, who for the past dozen years has been a member of the band alongside Corgan, the Pumpkins' only constant presence over their 30-year career. (Founding bassist D'arcy Wretzky was initially approached before talks devolved into a public he-said-she-said spat between her and Corgan.)
But while the Pumpkins have been trotting out classic fuzz-drenched '90s anthems like "Cherub Rock," "Today" and "Bullet with Butterfly Wings" to adoring arena audiences on their current Shiny and Oh So Bright tour, they've had something else up their sleeves — namely, an album of all-new material. Titled Shiny and Oh So Bright, Vol. 1 / LP: No Past. No Future. No Sun., it's the first record to feature Corgan, Iha and Chamberlin since 2000's Machina/The Machines of God and Machina II/The Friends & Enemies of Modern Music. The new effort is only just being released, even though it was more or less completed back when the group officially announced its reunion.
From the beginning, Smashing Pumpkins had no intention of making a new album. When they first got together with producer Rick Rubin at his Shangri-La Studios in Malibu, it was with the goal of recording and releasing one song that, Corgan explains, "would sort of say to everyone, 'Hey, we're back together now. We're going to go out and play some music and hopefully make some more good music.' So what we did was put together 16 song demos, and then we whittled that down to eight, thinking Rick would pick one."
Rubin's choice? "Rick was like, 'Let's do all of 'em!'" Iha says with a laugh. "And that's what we ended up recording."
The result is an eight-song effort that hearkens back to the classic Pumpkins sound but is also unlike anything they've done in the past. To the latter point, Corgan hesitates to call Shiny and Oh So Bright, Vol. 1 / LP: No Past. No Future. No Sun. an album. True to the effort's title, he says, "I'm more comfortable with the term LP, in the tradition of what used to be called a long player. Because it's not a conceptual album like, say, [1995's] Mellon Collie and the Infinite Sadness. It's more like a collection of eight tunes from a particular session."
One of those eight tunes, the distortion-drenched space-rock workout "Solara," was released earlier this year as the "Hey, we're back together now" song. A prime slice of classic-sounding Pumpkins, it's also the one new song in the Shiny and Oh So Bright live sets, and slots in nicely next to heavier tracks like 1995's "Zero" and 2000's "The Everlasting Gaze." But elsewhere on Shiny and Oh So Bright, Vol. 1, the Pumpkins touch on various other aspects of their diverse sound, from the sleek and propulsive "1979"-like alt-rock of "Silvery Sometimes (Ghosts)" to the shimmering dream-pop of "With Sympathy," the metallic snarl of "Marchin' On" and the piano-and-strings pomp of "Knights of Malta."
Whether or not Shiny and Oh So Bright, Vol. 1 is an album in the traditional sense, it's a welcome return to form for the Pumpkins and, in Corgan's estimation, a necessary step in the reunion process. "That's a big caveat for me for continuing the band past the 30-year mark at all," he says. "As much as the world likes to focus on our catalog — and obviously the tour does, and I take responsibility for that — the primary focus still needs to be on creating new music."
Corgan, Iha and Schroeder recently sat down with Guitar Player to discuss that new music, their respective roles in the recording process and the gear they used in the studio for Shiny and Oh So Bright, Vol. 1. Corgan also took time to reflect on the Pumpkins' sometimes difficult dynamic, as well as his own complicated relationship with the guitar. Additionally, the frontman revealed that, until very recently, he was ready to put the band to bed for good. "I felt the well was dry," he concedes.
But with Iha and Chamberlin back in the fold, and Schroeder still along for the ride, that feeling has changed. "I didn't expect to be here," Corgan says. "But now that I am it's like, 'All right, let's go — I'm ready to plug back in and crank it up. Let's do this!'"
It's fair to say many longtime fans are going to hear that Shiny and Oh So Bright is a "reunion" record and expect it to sound something like Smashing Pumpkins circa the early-to-mid '90s. When you listen to the album is that what you hear?
Billy Corgan: You know, I really don't know how to answer that question. And I'm not trying to be cagey by saying that. I just don't agree with how most people characterize our music. I mean, most people that recognize me in airports, they say, "Hey, are you the guy that sang 'rat in a cage?' " But most fans who've been along for the entire ride — including the different iterations of the band posthumous to the breakup in 2000, and then of course solo works and stuff like that — they realize that Smashing Pumpkins music is quite a vast and diverse set of influences and results.
James Iha: I think Billy just writes the way he writes. And it's hard to write songs with your older records in mind, trying to recreate that magic. Because that was a different time, a different everything. At the same time, you're creating new songs and you have the weight of the whole catalog behind that, because these are songs that people remember. So you can't just, I don't know, bring in a DJ and make a totally new kind of thing. The only thing you can do is try to make good songs that have a good vibe and see what comes out. Otherwise you're just chasing something, and that's not a free and easy way to write.
Corgan: That said, does this material slot into the wide width of the actual reality of the band's music? Yeah, it's not too dissimilar. Or, what your question is really asking — and I'm not being pissy — "Does it seem familiar to the guy on the street?" Yeah, it would seem to. But do we care? No.
What was the dynamic like in the recording studio between you, James and Jimmy?
Corgan: I think what surprised me was how comfortable it was. Because we had so much recording experience together, we just kind of went back to the way we used to work. Everybody just fell into their lane.
Jeff, how was it for you to be there with three-fourths of the original Smashing Pumpkins band?
Jeff Schroeder: It was great. Obviously I've worked with Jimmy before [Chamberlin has been recording and touring with Smashing Pumpkins solidly for the past decade] but never with James. And I did have one of those moments sitting there in the tracking room at the studio in Malibu, looking around and essentially seeing this version of the band, and then looking through the glass and seeing Rick Rubin, and that was a pretty surreal experience. It made me feel very thankful, and very happy to be there participating.
Billy, in past interviews you've called Smashing Pumpkins an "open-source collective," meaning that musicians come in and out of the lineup, but still the band continues on with you at the helm. That being the case, what is special about having James and Jimmy together again with you?
Corgan: You know, I think it's taken me a long time to appreciate what it is about the combination of James, Jimmy and I — who were responsible for the majority of what people would recognize as the band's seminal work — that yields high results. And I say that with humility.
But here's one example: We were in the studio, and Rick pulled me aside and he said, "I get it." And I was like, "What do you get?" And he said, "James softens the metal." And what Rick meant by that is, James has a way of taking the blunt-force trauma of how Jimmy and I approach rock music and creating a softer, more psychedelic kind of layering thing that somehow makes it feel cooler or sexier. And when you see it happen and you notice it, especially because it hasn't been around for a while, you're like, "Oh, that's that thing that people like!"
James, does that make sense to you?
Iha: [laughs] Yeah. I mean, this time there were definitely a couple of heavy songs where I knew I wasn't going to be able to make the tracks any heavier. So I just looked for little melodic details or hooks that I could put in to bring out a different kind of sound here and there. My feeling is, if you try to make the guitars even heavier, it just winds up sounding one-dimensional. So I would look for something else to do.
If James "softens the metal," what does Jeff bring to the band?
Corgan: Jeff is a lot like Jimmy in that he's committed to his instrument at this other crazy level. Jeff practices six hours a day, no joke. I mean, Jeff had his guitar with him on the plane yesterday because he wants to practice on the off days! The last thing I want to do on off days is play guitar, you know what I mean? So Jeff brings a level of technical expertise that I don't have. Plus, he's been here now for 12 years, and he was a fan before he played in the band. So he has this really unique perspective on what he wants to hear from the band, and it's one that we don't have because, you know, we were the guys who rode around in the van. And as much as we like to think we understand other people's perspectives about our music because of the things they say to us, it's not the same as actually having experienced what it's like to stand in a crowd in 1994 and see the band playing like our hair's on fire.
Schroeder: I've been in the band long enough that I've played so many of these songs. But I think when Billy and James play together, it just has that sound. I don't know how to put it into words other than it's that sound that they created together. It's become very identifiable as a Pumpkins-esque thing. When you hear it you just go, "Wow, there it is!" And I love that I can just add my thing over the top of that.
What was everybody's main guitar and amp setup on the record?
Corgan: I mostly played my Reverend signature model. It was really the first time I've had an opportunity to use it in this kind of situation, and I was quite happy and pleased with the sound. Amp-wise, I used two vintage Laney amps — one is a classic Tony Iommi model from, like, 1970. And I mean it's a vintage one — it's not the reissue that they did. And it's just a beast. It's like the loudest amp you've ever heard in your life. And then the other one is the model that Tony used in the mid '70s that's basically the Sabbath Bloody Sabbath sound. So I used a combination of those amps at different times to create the "big wall" guitar sound.
On Shiny and Oh So Bright, how many guitar tracks are in that "big wall"?
Corgan: If you just look at it from a rhythm perspective, generally it's two.
That's considerably less than it was back in the old days, when an average Pumpkins song could have any number of guitar tracks on it.
Corgan: Yeah. But I mean, probably my most-listened-to band over the last couple of years is Judas Priest. I've really gone back to that classic cranked-amp approach. With all the Pro Tools and shit that people do these days, I just prefer a sound that's more in the hands than in the stacking.
James and Jeff, what were your setups?
Iha: I just kind of played whatever was around. There was a rack of guitars in the studio, and I'd try out a couple different ones really fast and see what worked. I also brought in a Les Paul Custom. It's a newer one, and it's chambered, which is great — because they're so heavy! Then for amps, I know there was some Friedman in there. But again, it was whatever was around in the studio.
Schroeder: The guitar I used the most was a '72 Les Paul Deluxe Gold Top with mini humbuckers. I also had a Copeland, which is a guitar made by a guy out in Austin, and that one has mini humbuckers as well. And my main amp was a Carstens Warm Machine. It's a 50-watt British-style, single-channel, point-to-point boutique type of amp. When I tried it I was like, "Wow, this is one of the best amps I've ever heard in my life!" So I used that for most of the recording.
Billy, earlier this year while the band was in the studio recording the new album, you posted a note on Instagram that said, among other things, "the guitar feels once again like the preferred weapon of choice." Was there a point for you over the past years where it didn't feel that way?
Corgan: I think that feeling was a combination of things. One is that I've played guitar for 36, 37 years now. It's like a long relationship. You respect the relationship but you're not always in love. So there's that. And then secondarily, you know, I wasn't necessarily in a hurry to pick up a guitar when the majority of alternative stations in America wouldn't even play a song if it had a guitar on it. Why would you make new alternative-rock music if no one's gonna hear it? And I don't buy the quasi-argument of, "Oh, just make your music and do what you believe." It's like, everybody is susceptible to the ways of the world. The Stones made a disco album, you know? Things happen, the world moves on and you find yourself kind of questioning whether the thing that brought you to the dance is the thing that is also going to drive you out the door.
Another thing is that most of what people identify as, you know, in quotations, the "classic Smashing Pumpkins guitar style," I developed that style when I was about 18 years old. So at some point I had to ask myself, Can I evolve on the instrument or am I just repeating myself? And I actually found a lot of inspiration recently by playing acoustic, which brought out a whole new vein of songs and kind of relaunched me as a songwriter into a different place than I'd been in a long time. But finding myself back in the band now, it's like, Okay, are we gonna do this again? And if the answer is yes, it has to come from a place of love or it's just going to sound weak.
All that said, had James and Jimmy not returned to the band, do you think Shiny and Oh So Bright would have come out sounding significantly different?
Corgan: Actually, I was done making Smashing Pumpkins albums. When I finished [2014's] Monuments to an Elegy, I was pretty sure that was it.
Really?
Corgan: Oh, yeah. I felt I had nothing else to say. I felt the well was dry and I was like, "I don't want to do this anymore in this way." I didn't expect a situation where we would be back together with three-fourths of the OG lineup, and with James back as a contributor. I didn't see that coming.
Clearly, you're now rejuvenated.
Corgan: Yeah. And again, I have this great perspective on what everybody brings to the table. And now that I understand it, I really cherish it and I promote it in a way that maybe I didn't before. Simply put, me, James and Jimmy, and now Jeff for 12 years, we're a deadly unit.
James, in your mind are you back in Smashing Pumpkins for good? Or are you taking a one-day-at-a-time approach?
Iha: I'm back in the band. But I think before all this started, I was thinking more, Let's just see how this goes and take it from there. But you know, it's been great. The shows have been great, and everyone's excited — tired, but excited. Because we're playing pretty long shows! [laughs] But I'm pretty happy with everything.
So what does the future hold for Smashing Pumpkins?
Corgan: I don't know that we're in a place in our lives where we can sit there and make plans for 10 years. I certainly have plans for 10 years, but it doesn't mean we're going to be able to do them, and I'm certainly not going to run my mouth about all of it, because at the end of the day it just comes down to whether all of us are in the same place emotionally.
Schroeder: Right now I think the vibe is the best it's ever been. And I think everybody is very cognizant of the special moment that's been created. So we want to continue down that road. At the same time, as far as what the future holds, I don't think we can give any definite type of answer. But I can say that we're definitely having a great time playing.
Corgan: The music's never been the problem. It's always been more about how we relate to one another. But now we have more perspective on our relationships, and that's the most important thing. So one thing I know is this: Nowadays, if you see us on a stage playing together, it's because we really, really want to be there.
All the latest guitar news, interviews, lessons, reviews, deals and more, direct to your inbox!
Rich is the co-author of the best-selling Nöthin' But a Good Time: The Uncensored History of the '80s Hard Rock Explosion. He is also a recording and performing musician, and a former editor of Guitar World magazine and executive editor of Guitar Aficionado magazine. He has authored several additional books, among them Kurt Cobain: Montage of Heck, the companion to the documentary of the same name.