"That Act of Defiance Became My Superpower": Host of 2022's She Rocks Awards Lzzy Hale Talks Finding Her Voice as a Female Artist
The frontwoman of Grammy-winning hard rockers Halestorm looks forward to spreading the love again at this year's prestigious awards.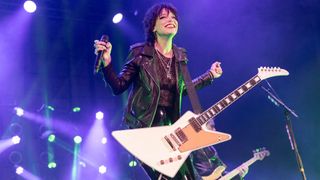 (Image credit: Roberto Ricciuti/Redferns)
This year, the She Rocks Awards will be celebrating its 10th anniversary.
Founded in 2012 by WIMN – the Women's International Music Network – the event serves to honor those trailblazers who have made significant contributions to the music industry.
Encompassing MI pros from all walks of life – from artists, educators and engineers to media, manufacturers and label execs – the 2022 She Rocks Awards will see appearances from Carmen Vandenberg of Bones UK, Meredith Brooks (who is celebrating the 25th anniversary of "Bitch") and Yvette Young of Covet.
Hosted by Halestorm's Lzzy Hale – Gibson's first female Brand Ambassador – the She Rocks Awards will be taking place this Thursday, June 2, at The Ranch in Anaheim, California.
Guitar Player caught up with Hale for a brief chat ahead of the event…
This year is something of a milestone. How does it feel to be hosting the She Rocks Awards again?
It's always fun to be on the other side and honor my sisters – these people who have been working so hard. To see their eyes light up is a beautiful thing.
The fact that we can bring people together and make new friends is great. All of us ladies are quite busy, and we hardly get to see each other on the road.
How does this growing worldwide community support and encourage each other?
I want to provide a sense of unity and positivity – exulting what really makes all of us our truest selves. It's beautiful to see that happening.
Everybody lifts each other up. It's such a positive experience. All of these people not only encourage each other but they encourage me to own my weird and put that positivity out there.
Do you think people can be discouraged from being themselves within the music industry?
Oh yeah, absolutely. We are all up against brick walls or locked doors that we have to break through or kick down.
But I think it's interesting because when you decide to own yourself for everything that you are, suddenly those things become your secret weapon.
It's important for people to know that, because forward progress (regardless of whether you're a woman or man) doesn't happen when you play it safe. And it doesn't happen if you try to fit in and go with the flow or just be quiet in the corner.
When you decide to be loud in whatever way that is, that's when other people are inspired to do the same and it becomes a wave. I've seen a lot of that happening. It's a beautiful time to be alive.
Would you say there are more role models for female guitarists these days?
I remember only ten years ago when I was the only girl singer/guitarist on a festival bill. Part of the reason I started playing guitar was because there was nobody in my scene doing that. To play electric guitar on stage and sing at the same time was something I could do to stand out.
Now, ten years later, it's different. We just came from a festival where a good 60 per cent of the acts were all women. Not only that, but Gibson told me young women are the people buying the most guitars right now.
I remember being the only one at these festivals when I was a kid and now I'm surrounded by girls who are just like me.
We didn't get into hard rock because we wanted to impress our boyfriends or because we got dragged there by a guy – we did this because it's a part of us.
Being a hard rock fan, did you feel like an outsider growing up?
I grew up on a lot of classic rock thanks to my parents, so when I was eleven through eighteen I was listening to Dio and Alice Cooper and all of that.
That was when I first discovered I was different from the other girls my age because I was trying to introduce them to this music and they were having none of it! [laughs]
Was that a pivotal moment for you?
I think it was a pivotal moment in my life. But my childhood naiveté was actually helpful because I just had no idea that it wasn't cool.
I had the best talks with my dad who was overjoyed I was discovering that I was different. I would have those conversations with him, you know: They don't like my music and they don't understand that I want to be in a band.
But he told me that was good because most of them will like their music just because it's on the radio or just because their friends like it. But I loved my music because it was truly a part of me.
That act of defiance became my superpower in middle school. I didn't care if nobody else liked my music. Because I liked it. And that was enough.
It's great to be able to recogize those moments and pass that wisdom on.
I can link those moments to what is in the present day and has become my mission statement. I like to be that encouragement.
It can be hard at times to find your crew – the people like you. But then once you find them, you can develop and become a force to be reckoned with.
How old were you when you started your band?
We started the band when I was 13 years old. There were literally interventions after class because my teachers were worried. [laughs]
We were obsessed with it, and we still are. We didn't even change the band name! We named the band Halestorm on a whim.
Are there any highlights of this year's She Rocks Awards you're particularly looking forward to?
I'm looking forward to seeing Carmen Vandenberg from Bones UK. She's a virtuoso on guitar. Carmen is debuting a solo project, so I'm really looking forward to that. She's a true musician's musician. She blows my mind every single time. It's amazing what she's accomplished.
I'm also looking forward to celebrating the 25th anniversary of [Meredith Brooks's] "Bitch" and hearing everyone singing along to that.
It's mind-blowing that song came out 25 years ago... Which was around the time we started Halestorm!
For more information on this year's She Rocks Awards click here.
A small number of tickets currently remain available here.
All the latest guitar news, interviews, lessons, reviews, deals and more, direct to your inbox!
Rod Brakes is a music journalist with an expertise in guitars. Having spent many years at the coalface as a guitar dealer and tech, Rod's more recent work as a writer covering artists, industry pros and gear includes contributions for leading publications and websites such as Guitarist, Total Guitar, Guitar World, Guitar Player and MusicRadar in addition to specialist music books, blogs and social media. He is also a lifelong musician.