What Might Hendrix's Pedalboard Look Like If He Were Alive Today? Roger Mayer Reveals His Thoughts and Talks New Jimi-Inspired Effects Pedals
The guitar pedal and studio guru releases revamped versions of his Axis, Spitfire, Visage and Voodoo Blues stompboxes.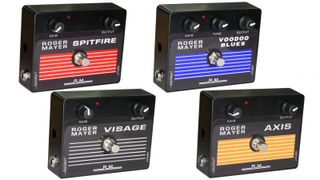 (Image credit: Roger Mayer)
Jimi Hendrix "secret weapon" Roger Mayer has released four new effects pedals based on some of his most popular designs that initially arrived in the iconic rocket ship and Vision series casing.
The new Roger Mayer Axis, Spitfire, Visage and Voodoo Blues pedals are the result of customer feedback and utilize a more pedalboard-friendly format, as per the popular Roger Mayer 4644 Drive.
"There are no hard and fast rules with a pedalboard," Mayer told us. "These pedals are for serious players as well as people at home who just want to have fun."
Earlier today, Guitar Player caught up with the legendary studio engineer – a close ally of Hendrix during the late '60s – to discover more about his new stompboxes... and to find out what he thinks Jimi's pedalboard might look like if he were alive today.
Roger Mayer Visage
"The Visage is the same concept as our rocket ship Visage. The controls are simply Gain and Output. Plus, it has 45 parameter variations you can tweak yourself by using three different banks of jumpers inside the pedal. You can pull the jumper off and put it in a new position for a different tone.
"It's based upon the modifications I did on the Fuzz Face type of pedals during my period of working with Jimi Hendrix. It's opened up a plethora of combinations for anyone who's interested in that type of sound (and it's much quieter than any other form of Fuzz Face-style pedal you'll ever find.)
"The idea is that once you play around and find your favorite combination, you can leave it like that. It hasn't been designed to be changed on the fly, although you could. It's great for recording and finding a sound that really fits the track, which is what I did with Jimi.
"It utilizes silicon transistors; we don't use germanium transistors anymore because they're too noisy and unpredictable. The reason I did the Visage originally was to show that a silicon design, when done properly, sounds great.
"So with 45 combinations, that will answer any questions about what sounds Jimi Hendrix may have used. How you use it is down to you, but a Visage with an electric guitar plugged into a Marshall is awesome."
Roger Mayer Axis
"The Axis has been around for many years in the rocket ship format, but that didn't have any of my studio tweaks in it. This version has got 27 parameter combinations that you can tweak. As with the Visage, these are my studio-proven techniques. Some of them can be subtle to the untrained ear.
"Along with Gain and Output knobs, the Axis can be set up in a variety of ways, from a boost with very little distortion to a more aggressive type of sound that you will instantly recognize as being used by Jimi Hendrix.
"It's never been done before, so you can expect all kinds of different tones out of this pedal that no one will have heard. It sounds different to a Fuzz Face."
Roger Mayer Voodoo Blues
"This design has proven popular with a lot of artists and is an FET type of distortion with compression. It introduces a very musical set of even-spaced harmonics. (Even-spaced harmonics are harmonics that sound nice because they bear a musical relationship to the fundamental note.)
"We don't classify this as a fuzz pedal; it's more a blues guitar pedal that's great plugged into a Fender or a Marshall tube amp.
"The Voodoo Blues has got a Tone control along with Gain and Output knobs. This enables you to fine tune the blues tone without adding more distortion, so it's useful. Like the previous version, this pedal creates "musical overtones with feedforward compression."
Roger Mayer Spitfire
"As per the original Spitfire this is a heavy, heavy, heavy hard rock fuzz. Again, it's very musical-sounding. It produces a classic triode tube type distortion like you would hear using Marshall guitar amplifiers. It distorts but without sounding raucous or nasty and it retains your guitar's characteristics, which was an important aspect of Jimi Hendrix's recordings.
"All in all, these are very pedalboard-friendly pedals. We're not making any pedals with batteries anymore because people don't tend to use them. Batteries can even introduce noise themselves, say if there's a bad connection or it's rattling around for example.
"They also have extensive power supply filtering and can be used with virtually any type of pedalboard power supply. In fact, they've got over 120dB of noise reduction. It's actually better than battery performance because of the way the capacitors and smoothing is designed.
"Furthermore, they all feature a six-layer printed circuit board design, which means they are triple-shielded internally. So they're extremely quiet and are resistant to all forms of external electrical noise.
"These units are very, very quiet and punchy in comparison to other designs."
Considering Hendrix was at the cutting edge of electric guitar tone in the late '60s and early '70s, we asked what Mayer thought the late, great guitarist's pedalboard might look like if he were alive today.
"Well, when Jimi played live, he needed to be able to really put on a show and perform freeform," underscores Mayer, "so I don't think it would be overly complicated. I mean the most important thing we discussed back then was that we had to limit the amount of decisions put in front of him.
"The combination of guitar controls, amp distortion, Fuzz Face, wah pedal, Uni-Vibe and Octavia is a huge palette of sounds, if you can play the guitar well. Huge! And don't forget: during a live performance, the public aren't able to perceive many tonal differences because of acoustic reverberations.
"[Venue] acoustics are generally not the ideal place to be nit-picking, but the studio is different because then you're trying to create a sonic palette with which to paint a detailed masterpiece of an audio picture.
"After all, playing live is about entertaining the public… isn't it?"
Visit the Roger Mayer website for more information.
All the latest guitar news, interviews, lessons, reviews, deals and more, direct to your inbox!
Rod Brakes is a music journalist with an expertise in guitars. Having spent many years at the coalface as a guitar dealer and tech, Rod's more recent work as a writer covering artists, industry pros and gear includes contributions for leading publications and websites such as Guitarist, Total Guitar, Guitar World, Guitar Player and MusicRadar in addition to specialist music books, blogs and social media. He is also a lifelong musician.