Here's Why Jimi Hendrix Ditched His Strat for a Tele on Two Iconic Tracks
"Secret studio weapon" Roger Mayer recounts the curious tale as it happened on the night.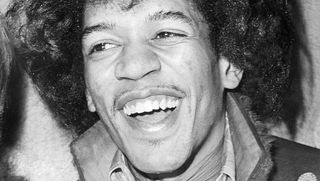 (Image credit: Peter Timm\ullstein bild via Getty Images)
During the mid-'60s, Roger Mayer was working as a scientist for the UK government specialising in acoustic analysis. But his listening skills went much further than that. Having already turned his hand to developing revolutionary guitar tones with the likes of Jeff Beck and Jimmy Page, in 1967 he struck up a close friendship with new kid on the block, Jimi Hendrix.
Working closely with Hendrix in the studio to achieve some of the most groundbreaking tones in rock 'n' roll history Mayer soon became known as the guitarist's "secret studio weapon".
Hendrix's psychedelic masterpiece "Purple Haze" is notable for being the earliest recording featuring Mayer's Octavia effect. Along with the Octavia, Fuzz Face, Vox wah, Uni-Vibe, and Marshall stack, Hendrix is synonymous with the Stratocaster, having used the iconic Fender solidbody almost exclusively throughout his trailblazing career of the late-'60s.
Almost.
In this brand new interview with Roger Mayer, GuitarPlayer.com reveals why Jimi Hendrix ended up swapping his faithful Strat for a Tele to record his innovational "Purple Haze" solos.
When did Jimi Hendrix first use your Octavia in the studio?
The recording occurred after a gig at the Ricky Tick in Hounslow [on February 3, 1967.] That was one of Jimi's early gigs that had been booked on the strength of the success of "Hey Joe" [released in the UK in December 1966].
It was a small, upstairs venue above a bunch of shops in Hounslow, London. I guess it was maybe a 200-seater venue. It was a small club – what they called an R&B club back then – and it had a low ceiling because it was on the second floor of this parade of shops. It was just a big room, really. I reckon the overall height was no more than about ten feet. So, by the time you had a stage and a drop ceiling, there wasn't much room. I mean this ceiling was almost touching Jimi's hat!
Tear the Roof Off
Being one of Jimi Hendrix's earliest UK performances, how did the audience react?
The crowd went absolutely mad. Because nobody had ever seen anything like it. Especially the performance side of it. Jimi was doing his stuff – turning his back on the audience and playing his guitar behind his head and round his back and putting it between his legs like he's fucking the amp with it. You know, the normal sexual antics of Jimi playing. So, he wasn't thinking twice about his performance, and in the heat of the moment his guitar just went up and straight through the ceiling. [laughs]
What happened to the guitar?
Well, when he put his guitar through the ceiling, he bent one of the machine heads. Obviously, he was playing a Strat upside down, and the top E tuner got bent. That meant he couldn't keep the guitar in tune properly. This was in the early days, and he only had this one guitar with him at the gig. And the problem was we'd arranged to go to Olympic Studios afterwards to record the solos for "Purple Haze" using my Octavia.
How did you first become involved with Jimi Hendrix?
Jimi had first heard the Octavia about a week before at the Chislehurst Caves gig [in Bromley, UK]. I went backstage into the dressing room, and he played around with it using a practice amp. He said, "This is perfect for my new upcoming single." He'd already recorded tracks for these upcoming songs, "Purple Haze" and "Fire". The basic tracks were already done.
So, at Chislehurst, we'd arranged that I'd bring along the Octavia to the Ricky Tick and meet up with Jimi, then go to Olympic Studios' Studio One with him after the gig to record the solos. I brought along my Octavia and a booster."
But Jimi Hendrix suddenly had no working guitar?
"He only had one guitar at the gig – this Strat he was using – and he'd just broken it. So, on the way to Olympic, we had to dispatch Noel [Redding] off to get another one. I went in my own car, Jimi went with [Gerry] Stickells, and Noel went off in a taxi to get another guitar.
Can I Borrow Your Guitar, Mate?
What guitar did Noel Redding come back with?
It was a regular 'butterscotch' [blond] Tele, and I'm pretty sure it had a maple 'board. I think it belonged to a friend of Noel's that he used to play with. That was the only guitar we could get.
What else do you recall about Jimi Hendrix using that Telecaster?
The "Purple Haze" solos were played on the upper part of the neck and Jimi wasn't intending to use a vibrato, so it didn't really matter that it was a Telecaster. The sound of a Tele on the bridge pickup is similar to a Stratocaster in many ways. I mean it's not worlds apart if you're playing in the upper register. Plus, with the effects Jimi was using it would have been impossible to tell the difference. I mean the Octavia produces so many more harmonics. Perhaps with a Telecaster the sound might have been a little more piercing, but it was a brand-new sound anyway.
The True Birth of Boutique
Tell us about the Octavia used by Jimi Hendrix in that recording session…
It was a prototype Octavia, so it wasn't in any form of commercial enclosure. That pedal used the ferrite transformer and circuitry that we moved over to my latest Octavia, the Purple Haze Octavia. It's a replica of that original circuit, but with some added features.
Going into Olympic Studios with Jimi, we had access to different power supplies, and I brought along an extra circuit to drive the Octavia correctly – a booster I'd made to produce additional gain and change the driving impedance and the EQ. It wasn't a treble booster though. It was a different form of booster. But I can't recall if it was germanium or silicon because I was using both at the time.
What was it like watching Jimi Hendrix put the finishing touches to "Purple Haze"?
It was recorded using a four-track, and the solos were done in two or three takes maximum. Everybody's mind was blown because nobody had ever heard that type of sound before. It really made the song. It's a very unique tone, and when it was used sparingly it just worked. It was the same thing when he used it that night on "Fire" – he used it very sparingly.
When "Purple Haze" was released, it caused massive waves. I reckon that was the beginning of psychedelia for Jimi.
Purchase the new limited edition signed Roger Mayer Purple Haze Octavia here
All the latest guitar news, interviews, lessons, reviews, deals and more, direct to your inbox!
Rod Brakes is a music journalist with an expertise in guitars. Having spent many years at the coalface as a guitar dealer and tech, Rod's more recent work as a writer covering artists, industry pros and gear includes contributions for leading publications and websites such as Guitarist, Total Guitar, Guitar World, Guitar Player and MusicRadar in addition to specialist music books, blogs and social media. He is also a lifelong musician.