Jimi Hendrix's Band of Gypsys Octavia Pedal Sells for $70,400 at auction
The guitar icon used the pedal at the legendary 1970 show at NYC's Fillmore East, and on numerous other recordings.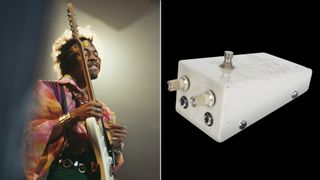 (Image credit: David Redfern/Redferns/Julien's Auctions)
The recent Julien's Icons & Idols Trilogy: Rock 'n' Roll auction played host to a number of super-rare artist-used pieces of gear. In addition to two Eddie Van Halen-customized and played guitars that sold for a combined $372,050, an Octavia pedal that Jimi Hendrix used on the iconic Band of Gypsys album went for a cool $70,400.
The gray-painted, wedge-shaped stompbox made by electronics engineer Roger Mayer sports two inputs, with a handwritten sticker on the base reading, "IN/ VOLUME/ ON/OFF and OUT/OCTAVE".
In one of the auction's accompanying interview videos, Mayer describes the Octavia as "an electrical engineer imaging device" that produces infinite repeating natural tones.
The sale was accompanied by: a letter from Roger Mayer dated 2000 confirming that he built it in 1968 and that it was used by Hendrix; a video of a 2020 interview with Mayer in which he holds the pedal and confirms Hendrix used it on the 1970 live album Band of Gypsys; a copy of Band of Gypsys showing Hendrix performing one the cover with the Octavia in the foreground; and a video copy of Band of Gypsys showing the same image, signed by photographer Joe Sia.
As he recounts in the video, Mayer met Hendrix after watching him perform at the Bag O' Nails live music club in London in 1967. "To say that everyone was overwhelmed would be an understatement," he says. "The first time I saw Jimi I said, 'Yeah, this is the real deal.'"
The pair hit it off, sharing a mutual interest in creating new guitar sounds and tones.
Image 1 of 2
Soon after, Hendrix debuted a prototype of the Octavia in a dressing room plugged into a small amplifier. Mayer recalls the guitar icon telling him "Oh, I've got an idea for that."
He was impressed enough to invite Mayer to Olympic Studios, resulting in the recording of Purple Haze, which featured the Octavia for the first time.
Hendrix went on to use the Octavia on several studio and live recordings, including Fire, the Axis: Bold as Love album and, subsequently, Band of Gypsys.
'What does the Octavia do?' you might ask. "A brief explanation of the Octavia would be that is a mirror imaging device," Mayer explains. "Which would be like holding a candle up in between two mirrors and you get an infinite succession of images. This box does that electronically."
All the latest guitar news, interviews, lessons, reviews, deals and more, direct to your inbox!
Sam was Staff Writer at GuitarWorld.com from 2019 to 2023, and also created content for Total Guitar, Guitarist and Guitar Player. He has well over 15 years of guitar playing under his belt, as well as a degree in Music Technology (Mixing and Mastering). He's a metalhead through and through, but has a thorough appreciation for all genres of music. In his spare time, Sam creates point-of-view guitar lesson videos on YouTube under the name Sightline Guitar.