Watch Jimmy Page & Jeff Beck's Epic Rock 'n' Roll Hall of Fame Performance
The ex-Yardbirds guitarists hit the stage with a fierce rendition of "Immigrant Song."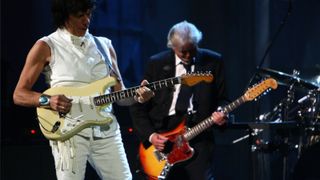 (Image credit: Theo Wargo/WireImage)
Jeff Beck and Jimmy Page's tenure in the Yardbirds is the stuff of legend.
Soon after Eric Clapton parted ways with the band in 1965 (to join John Mayall & the Bluesbreakers), Beck was recruited as his replacement.
Coinciding with the arrival of fuzz pedals in the mid-'60s – notably the Sola Sound Tone Bender – Beck's innovative use of the effect along with his highly inventive approach to guitar playing heralded the start of the psychedelic rock era.
Following a particularly rowdy gig one night in 1966, Yardbirds bassist Paul Samwell-Smith abruptly quit the band, whereupon Jimmy Page offered to step in.
However, Page soon swapped bass duties with the group's co-founder and guitarist Chris Dreja in order to play electric guitar alongside his friend Beck.
Suddenly, the Yardbirds represented one of the most formidable guitar duos in the annals of rock.
"It worked out that we did the dual guitar thing as soon as Chris Dreja could get it together with the bass," recalled Page.
The following interview extract originally appeared in the July 1977 issue of Guitar Player…
What do you remember most about your early days with the Yardbirds?
"One thing is it was chaotic in recording. I mean we did one tune and didn't really know what it was. We had Ian Stewart from the Stones on piano, and we'd just finished the take, and without even hearing it [producer] Mickie Most said, 'Next.'
"I said, 'I've never worked like this in my life,' and he said, 'Don't worry about it.'
"It was all done very quickly, as it sounds. It was things like that that really led to the general state of mind and depression of Relf and [drummer] Jim McCarty that broke the group up.
"I tried to keep it together, but there was no chance; they just wouldn't have it. In fact, Relf said the magic of the band disappeared when Clapton left [British rock/blues guitarist Eric Clapton played with the Yardbirds prior to Beck's joining].
"I was really keen on doing anything, though, probably because of having all that studio work and variety beforehand.
"So it didn't matter what way they wanted to go; they were definitely talented people, but they couldn't really see the woods for the trees at that time."
You thought the best period of the Yardbirds was when Beck was with them?
"I did. Giorgio Gomelsky [the Yardbird's manager and producer] was good for him because he got him thinking and attempting new things. That's when they started all sorts of departures.
"Apparently [co-producer] Simon Napier-Bell sang the guitar riff of "Over Under Sideways Down" [on LP of the same name] to Jeff to demonstrate what he wanted, but I don't know whether that's true or not. I never spoke to him about it.
"I know the idea of the record was to emulate the sound of the old "Rock Around the Clock"-type record – that bass and backbeat thing. But it wouldn't be evident at all; every now and again he'd say, 'Let's make a record around such and such,' and no one would ever know what the example was at the end of the song."
Can you describe some of your musical interaction with Beck during the Yardbirds period?
"Sometimes it worked really great, and sometimes it didn't. There were a lot of harmonies that I don't think anyone else had really done, not like we did.
"The Stones were the only ones who got into two guitars going at the same time, like on old Muddy Waters records. But we were more into solos rather than a rhythm thing.
"The point is, you've got to have parts worked out, and I'd find that I was doing what I was supposed to, while something totally different was coming from Jeff. That was all right for the areas of improvisation, but there were other parts where it just did not work.
"You've got to understand that Beck and I came from the same sort of roots. If you've got things you enjoy, then you want to do them – to the horrifying point where we'd done our first LP [Led Zeppelin] with "You Shook Me," and then I heard he'd done "You Shook Me" [Truth].
"I was terrified because I thought they'd be the same. But I hadn't even known he'd done it, and he hadn't known that we had."
In 2009, Page joined Beck on stage at the Rock and Roll Hall of Fame Induction Ceremony having inducting his old bandmate into the esteemed ranks.
While Beck is strapped with his trademark Stratocaster, Page opts for a Fender Electric XII.
After the epic "Beck's Bolero" draws to a close, the pair launch into an incendiary instrumental rendition of Led Zeppelin's "Immigrant Song," proving that after all those years they still share a unique chemistry.
Browse the Yardbirds catalog here.
All the latest guitar news, interviews, lessons, reviews, deals and more, direct to your inbox!