"Sometimes You Can't Really Tell Who's Playing": Keith Richards On His and Ronnie Wood's Rare Musical Chemistry
This classic interview from the GP archive reveals some fascinating insights into the Rolling Stones' twin guitar sound.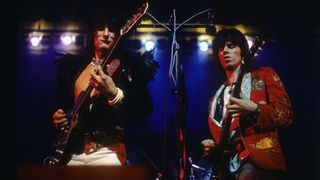 (Image credit: David Warner Ellis/Redferns)
Keith Richards and Ronnie Wood's musical partnership is one of the longest enduring high-profile guitar pairings in the history of rock 'n' roll.
As a former member of the Jeff Beck Group and Faces, Wood had already established a name for himself by the time he was recruited by the Rolling Stones in 1975.
Filling the shoes of guitarist Mick Taylor (who joined the Stones in 1969 in order to replace founding member Brian Jones) Wood quickly fell into a groove with Richards.
The pair had previously established a musical connection while working together on Wood's star-studded 1974 debut solo album, I've Got My Own Album to Do, and it's follow-up, 1975's Now Look.
Wood had also previously collaborated with the Stones on their hit single "It's Only Rock 'n Roll (But I Like It)," playing acoustic guitar alongside Richards' electric guitar parts on the recording.
Following major contributions to the Stones' 1976 LP Black and Blue and his participation in the band's Tour of the Americas '75, Wood was eventually announced a fully-fledged member.
Blurred Lines
The Rolling Stones is built around a two-guitar sound, itself an extension of Richards' own uniqueness. He helped blur forever the line between lead and rhythm guitar, substituting a riffing technique in which melodic embellishments are grafted onto a vigorous rhythmic treatment of chords, partial chords, and low-register lines.
Richards' role in the group has been analyzed countless times. The consensus: Without Keith Richards there wouldn't be a Rolling Stones.
"In other bands they follow the drummer," explained Wood, "The Stones follow Keith, and they always have."
While some have even asserted that "Keith Richards is the Rolling Stones," the guitarist himself is the first to stress that any band member's indispensability is a two-way street: "The musicians are there to serve the band. All that matters is whether something furthers the overall sound."
Back in the early '80s, Guitar Player spoke to Richards about his unique musical chemistry with Wood. The following interview extract originally appeared in our April 1983 issue…
You've often mentioned the two-guitar sound as a cornerstone of the band. On Still Life there's a different kind of interplay – probably tighter than ever.
Well, Ron's getting better [laughs]. I think that's due to the fact that Ron and I have been working together now since '75, and the more we play together the tighter we get it.
It sounds like you and he are two sides of the same coin, like you could almost change places.
We do [laughs]. If he drops a cigarette I'll play his bit, and we'll realize later that I've covered for him or he's covered for me.
And you think at the time, "Oh, my God, what a gap," but when you listen to the tape, you find that it's been fixed right there at the moment, in a very un-thought-about way.
We pick it up and cover each other so that sometimes you can't really tell who's playing.
When Ron joined in 1975, did the band have to make a change in the way you interact or rehearse?
No, that was the beauty of it. He was already so familiar with our stuff. After Mick Taylor left, we rehearsed for about six months with a lot of good guitar players from all over the world. And we could work with them, you know; they could work with us.
But when Ronnie became available and suddenly walked in, that was it; there was no doubt. It was easy.
With Mick Taylor's style so well defined as a lead guitarist, there seemed to be a clear distinction between the two of you.
It was much harder to get a Rolling Stones sound with Mick Taylor. It was much more lead and rhythm, one way or the other. As fabulous as he is as a lead guitarist, he wasn't a great rhythm player, so we ended up taking roles.
When Brian and I started, it was never like that. It's much easier than with Brian, personally. But also with Ron, the basic way we play is much more similar, and this isn't in any way to knock Mick. I mean, he's a fantastic guitar player. But even if he couldn't play shit, I'd love the guy. But chemically we didn't have that flexibility in the band.
It was, "You do this, and I'll do that, and never the twain shall meet." With Ron, if he drops his pick, then I can play his lick until he picks it up, and you can't even tell the difference.
Had you and Ron worked together very much before he joined the group?
Yes, for about 18 months. And I did a lot of work on Ronnie's first and second solo albums. He's never been the same since.
Have you found that your styles affected each other, now that you've been working together for several years?
Yeah, that's what's great about it. I neglect something, and he makes up for it. That's the great thing about two guitar players, because if you get it right, you know when to lift one of his licks, and vice versa, without thinking about it.
He lifts more of mine than I do of his [laughs].
When the two of you are onstage, how much of your interaction is subject to change?
It depends on the sound system. If you're going to make a change, you need to hear what you're doing in the first place, so a lot of that gets down to technicalities of the stage monitoring.
On our last tour in '81 we had those long ramps out to the sides of the stage. The idea of having that stage is to get out where most performers don't get with audiences of that size.
Well, if the monitors aren't working out there, and you're just making signs at the sound guys instead of concentrating on your playing, then you forget it, just leave it.
But if the sound's good and you can hear everything, then you tend to give it a bit more, adjust more to what's going on, change as you go.
Do you have much trouble communicating onstage at that volume?
It's all done by semaphore and eye signals. It's the only way you can really do it.
But the thing is, there isn't that much need for communication or looking at each other, except when things go wrong. Otherwise the communication is just through the music.
But if things are going wrong, then everybody's looking at me: "How's he going to get out of this?"
Browse the Rollings Stones catalog here.
All the latest guitar news, interviews, lessons, reviews, deals and more, direct to your inbox!
Rod Brakes is a music journalist with an expertise in guitars. Having spent many years at the coalface as a guitar dealer and tech, Rod's more recent work as a writer covering artists, industry pros and gear includes contributions for leading publications and websites such as Guitarist, Total Guitar, Guitar World, Guitar Player and MusicRadar in addition to specialist music books, blogs and social media. He is also a lifelong musician.