Would Elvis Have Been 'King of Rock 'n' Roll' Without Scotty Moore?
Watch this classic clip from The Ed Sullivan Show and decide for yourself.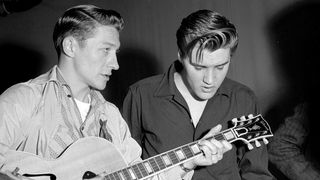 (Image credit: Michael Ochs Archives/Getty Images)
On this day in 1956, Elvis Presley recorded his record-breaking single "Hound Dog" at RCA's New York studio. Clocking in at just two minutes and fifteen seconds this short, sharp shock of rock 'n' roll manages to squeeze in not one but two original guitar solos by Elvis' right-hand man, Scotty Moore. Having been put through his paces recording dozens of takes (it is believed number 31 made the final cut) Moore later referred to his contribution on this landmark recording as "ancient psychedelia".
By this time, Elvis had become a national star, appearing on The Milton Berle Show to a television audience of over 40 million earlier in the year. Having smashed viewer ratings again on The Steve Allen Show, the band entered the studio the very next day to record "Hound Dog". And less than two weeks later, this monumental track hit the airwaves, capturing the raw energy and excitement of a new era where the electric guitarist increasingly took centre stage.
In this video from October '56 – Elvis' second TV appearance on The Ed Sullivan Show – Moore is playing the dual 'Alnico' pickup-loaded '54 Gibson L-5CESN he'd acquired the previous year. Early on in the clip he can be seen (and heard) adjusting his custom-built Ray Butts-designed EchoSonic amplifier. Inspired by Chet Atkins' use of the amp, Scotty ordered his tape echo-equipped EchoSonic in '55 and used it continuously for many years on stage and in the studio to achieve his signature slapback sound.
While this clip shows Elvis casually strumming his tooled leather-covered Martin D-28 and throwing some impressive shapes, its Moore's distinctive rock 'n' roll guitar tone that really cuts through the mix.
This chart-topping single ultimately went on to sell millions of copies, while Moore's exemplary rock 'n' roll riffing inspired countless budding guitar players the world over. Indeed, as Keith Richards once wrote, "I might not have wanted to be Elvis, but I wasn't so sure about Scotty Moore. Scotty Moore was my icon."
Discover more about Scotty Moore and Elvis Presley here
All the latest guitar news, interviews, lessons, reviews, deals and more, direct to your inbox!
Guitar Player is the world's most comprehensive, trusted and insightful guitar publication for passionate guitarists and active musicians of all ages. Guitar Player magazine is published 13 times a year in print and digital formats. The magazine was established in 1967 and is the world's oldest guitar magazine.
When "Guitar Player Staff" is credited as the author, it's usually because more than one author on the team has created the story.