Watch Eric Clapton and Keith Richards Jam with Chuck Berry
The ultimate triumvirate of guitar legends lets rip in this 12-bar blues bonanza.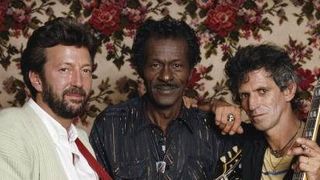 (Image credit: Terry O'Neill/Iconic Images/Getty Image)
"We've been working hard! Let's take a break and jam a little bit," yells Chuck Berry in this classic 80s clip. And we couldn't agree more. It is the holiday weekend after all.
Often cited as the 'Father of rock 'n' roll' Chuck Berry moved to Chicago in the mid-50s where he met Muddy Waters and became immersed in the Chicago blues scene. After signing to Chess Records, Berry released his first single with the label – the 1955 rock 'n' roll groundbreaker "Maybellene" – which soon made him a million-selling number one hit artist. More genre-defining bangers followed, including "Roll Over Beethoven" in '56, "Rock & Roll Music" in '57, and "Johnny B. Goode" in '58.
In this clip, the rock 'n' roll founding father is joined by his protégés Eric Clapton and Keith Richards for a dynamite 12-bar blues jam. While Berry is seen playing his familiar Gibson ES-355, the British blues guitar gods have each opted for a Fender Stratocaster – Clapton, an early slab rosewood 'board (opens in new tab) sunburst model with a 'mint' nitrate 'guard, and Richards a Mary Kaye 50s-style (opens in new tab) maple neck model with gold hardware and a blond finish.
While Richards and Berry were known to fall out occasionally (indeed, the pair even came to blows on one occasion) they certainly look like they're having fun here, and their mutual love for each other's guitar playing is palpable. We hope you find this short video as inspiring as we did and that you get to do some jamming of your own this holiday weekend.
Buy the 1987 Chuck Berry Hail! Hail! Rock 'n' Roll documentary soundtrack here (opens in new tab)
Get the latest news, reviews and product advice straight to your inbox.
Thank you for signing up to The Pick. You will receive a verification email shortly.
There was a problem. Please refresh the page and try again.