The 40 Most Important Guitar Solos in Rock
From rock's bluesy beginnings through to its metallic peaks, here are the most vital solos in its extensive history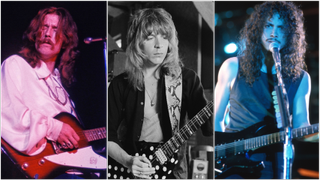 (Image credit: Getty)
Certain guitar solos are infused with magic. They may or may or may not be technically challenging, flashy, or otherwise virtuoso, but they have that special something that sets them apart from what came before, and they typically alert guitarists everywhere that their world has forever changed.
What's more, those magic solos tend to inspire legions of guitarists to attempt to unlock their technical and tonal mysteries, and permeate the six-string community's collective unconscious, reemerging later as direct and indirect influences on individual players' styles. Somewhat paradoxically, however, there is no consensus on which solos have achieved this iconic status.
When we began working on this story, we came up with a lengthy list of solos to include. Our first task was to set up some guidelines. We decided to limit the list to electric rock solos, along with blues and jazz-rock fusion solos that influenced rock. We also set a limit of one solo per artist.
At that point, there were still many more than 40 solos on the list, so we had to make some hard choices. To start, guitarists who were hugely influential overall, but couldn't be tied to an ultra-influential solo—such as Tony Iommi and George Harrison—were cut.
We then had to narrow down our selections to just one for each artist, which was difficult for someone like Eric Clapton, whose entries at that point included "Crossroads," his cover of Freddie King's "Hideaway" on the Blues Breakers album, and his historic wah workout on "White Room." Once the smoke cleared, however, we had reached consensus.
The solos are organized chronologically—including those that fall within the same year—because we thought it would be instructive to see how they relate to each other historically. We hope that you like we came up with and perhaps even discover an overlooked gem or two for yourself.
---
1. Elmore James "Dust My Broom" (1951)
Jimi Hendrix originally called himself Jimmy James and Maurice James in homage to Elmore, and every bluesman since the '50s—particularly slide players—owes something to the King of the Slide Guitar.
Played in an open-D tuning (D, A, D, F#, A, D, low to high), probably on a Kay flattop or Harmony Sovereign with a D'Armond pickup, the slide hook on this tune, and the solo based on it, reappear countless times throughout blues and rock music.
---
2. Les Paul "How High the Moon" (1951)
The super-syncopated, slap-back soaked runs, chukka-chukka doublestops with bluesy bends, plucky cascading figures, and idiosyncratic ornamentations in Paul's two solos helped propel this standard up the charts, and further established Paul as the most creative electric guitarist of his generation. It was recorded with his "old Epiphone"— a.k.a. "the Clunker" and "the Breadwinner"—with custom-wound hot pickups and other major modifications.
---
3. Scotty Moore "That's Alright, Mama" (1954)
Armed with his Gibson ES-295 through a '52 Fender Deluxe, Scotty Moore, bassist Bill Black, and their bud Elvis, had no idea what a firestorm they were about to create with this early single.
Moore's simple, to the- point style covered the drummer-less bases quite easily with a fat tone and swinging musicality, giving this rather hillbilly ensemble some dangerous sonic heft.
His break on "That's Alright, Mama" inspired everyone from George Harrison to Keith Richards to Jimmy Page, as well as Danny Gatton, who never missed an opportunity to throw a Moore homage in the middle of one of his famed rockabilly rave ups.
Moore's barking double-stops and approximation of a tic-tac bass line on "Mama" are as hooky as it gets, making this solo one of the most important ever.
---
4. Eddie Cochran "Sittin' in the Balcony" (1957)
Slinging a 1955 Gretsch 6120 Chet Atkins/Nashville G Branded guitar with a Gibson P-90 in the neck slot, Cochran, with his iconic presence and echo-drenched tones, hugely impacted early rockers—such as Lennon and McCartney, who bonded over Cochran's "Twenty Flight Rock" upon meeting in 1957— and innumerable players thereafter, particularly Brian Setzer.
The twangy solo on Cochran's first hit, "Sittin' In the Balcony," crackles with the influence of his heroes Chet Atkins, Joe Maphis, and Johnny Smith.
---
5. Chuck Berry "Johnny B. Goode" (1958)
While some people might not consider this song's intro a "solo," it might be the most important rock guitar part ever recorded. The doublestops essentially usher in the post-Elvis rock era, and the tone and balls of this iconic part would echo in the playing of George Harrison, Keith Richards, Eddie Van Halen, and Angus Young... and that's just one tenth of one percent of the players who have copped these licks. Listen to it again. You'll see.
---
6. Hank Marvin "Apache" (1960)
A primary influence on nearly every British guitarist of a certain age, Marvin created a dreamy, echo-y sound on this #1 U.K. hit that was achieved by playing his Stratocaster— the first in England—through a Meazzi Echomatic tape delay and a Vox AC30. Marvin mostly used the bridge pickup, but picked near the neck, and palmed the vibrato arm to impart his trademark twang.
---
7. Freddie King "Hideaway" (1960)
Freddie (a.k.a. Freddy) King cobbled "Hideaway" out of parts lifted from tunes by Hound Dog Taylor, Jimmy McCracklin, Robert Lockwood Jr., and even Henry Mancini. Between the breaks where he recycled bits of "The Walk" and "Peter Gunn," King played stinging solos that he plucked on a P-90 equipped Les Paul using a plastic thumbpick and metal fingerpick.
Eric Clapton did his own version of the tune on John Mayall's 1966 album, Blues Breakers, and the success of "Hideaway" made it a launch pad for a number of other King instrumentals that would further his notoriety as one of the top blues guitarists of the '60s and '70s.
---
8. James Burton "Hello Mary Lou" (1961)
Having turned pro as a teenager on the Louisiana Hayride, Burton was a seasoned vet by the time he became the lead player in Ricky Nelson's band, which was featured regularly on the TV show The Adventures of Ozzie and Harriet.
Burton was a great rock and roll player, as evidenced by his Chuck Berry-style solo on "Believe What I Say," but he also inspired legions of pickers with his explosively twangy lead break on "Hello Mary Lou."
Burton's playing on Merle Haggard's early '60s hits like "Mama Tried" and "Swingin' Doors," inspired the late, great Roy Nichols, who said, "I learned a lot from Burton, and I copied some of his licks, but I couldn't copy him to a 'T'."
---
9. Jeff Beck "Over Under Sideways Down" (1966)
Along with the Rolling Stones, no band inspired more hard-edged guitar- wielding maniacs than the Yardbirds. Beck's playing on their classic garage rock anthem is, like much of his playing at this time, inspired by the groovy sounds of the sitar.
Equal parts spacey modal madness and meth-infused pentatonic fury, it still ranks as some of Beck's most inspired playing, and that says a lot. And not only was Beck's otherworldly playing inspirational to a generation of guitarists, but his punky stage demeanor and nasty sonic streak (a '54 Fender Esquire into a Vox Tone Bender fuzz and AC30), served notice to everyone that a new sheriff was in town, and he was kicking ass.
---
10. Albert King "Born Under a Bad Sign" (1967)
If Stevie Ray Vaughan, Eric Clapton, and Jimi Hendrix lift your licks lock, stock, and barrel, your influence has been spread very far and very wide. In fact, one can make the case that Albert King was the most influential King, just by virtue of the not-so-subtle tributes by his admirers.
King Albert's authoritative bends and economical phrasing are required study for anyone who wants to play blues-rock guitar. On this cut, the Velvet Bulldozer lives up to his nickname, making his Gibson Flying V moan, scream, and move mountains with sweeping bends and a stinging tone that delivers all of the nuances in his playing. It also proves that, even though SRV and Clapton could "do" Albert, they were never really even close.
Get the latest news, reviews and product advice straight to your inbox.
Thank you for signing up to The Pick. You will receive a verification email shortly.
There was a problem. Please refresh the page and try again.