Here's Why Leslie West is a Guitar Legend Like No Other
With fans that ranged from Pete Townshend to Eddie Van Halen and Yngwie Malmsteen, the Mountain guitarist inspired players across the genres.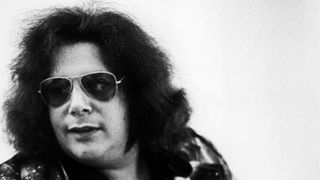 (Image credit: Michael Putland/Getty Images)
When Leslie West passed away on December 23, 2020, at age 75, the list of guitar legends queueing up to honor him told its own story.
Many of them are among the players who appear on the new release Legacy: A Tribute to Leslie West (Mascot label Group), featuring contributions from such luminaries as Slash, Zakk Wylde, Yngwie Malmsteen, Steve Morse and Martin Barre, all of which highlights West's towering influence over rock and roll's many diverse strains.
To the uninitiated, West is best remembered for "Mississippi Queen," an essential hard rocker from the classic rock canon.
Anyone with a deeper interest in the music West created, both as a member of Mountain and under various solo and band guises, would know his work is crammed with thundering riffs and exquisitely expressive soloing.
It's a veritable treasure chest packed with memorable, moving songs.
In acknowledging the guitarist's monumental influence, nearly everyone sooner or later (and often immediately) seizes upon the same word: tone.
The sound that West achieved with a P-90-loaded Gibson Les Paul Junior has been consistently cited as one of the most distinctive in rock music. His sonic signature is a thick, singing tone that has both weight and depth, and a vibrato that can sustain a note for days.
His phrasing is all about economy. The man wasted not a single note to overplaying, or tried to dazzle with bombastic flurries of speed.
As he said many times, his aim was to create solos that could be sung, and music that moved the heart and soul, rather than impressed minds with its technical prowess.
He was born Leslie Weinstein, in New York City, 1945, but grew up in Hackensack, New Jersey, before returning to New York and living in several neighborhoods.
After his parents divorced, he shortened his surname to West, gaining an air of showbiz cool as he cast off his Jewish ethnicity.
He discovered the power of rock and roll as a child when he attended what he thought was a taping of The Jackie Gleason Show, the comedian's popular CBS television program. "My uncle used to write for Jackie Gleason, and my grandmother used to take me to all the tapings," West recalled.
"One summer, she took me to see Jackie Gleason's American Scene Magazine [Gleason's show from 1962 to 1965], but there was a replacement. Tommy Dorsey and Jimmy Dorsey had the stage show instead, and you know who was the guest on the show? Elvis Presley.
"That's when I started playing guitar – saw that son of a bitch come out and go, 'Well it's one for the money,' and thought, I gotta play this thing."
West's first taste of success came as a member of the Vagrants, a blue-eyed soul group from Long Island that scored a couple of minor regional hits with "I Can't Make a Friend," in 1966, and a burning cover of Otis Redding's 'Respect," in 1967.
A fascinating clip from this time, filmed in 1966 for the American-British teen movie, Disk-O-Tek Holiday, shows the Vagrants performing "Oh, Those Eyes," with West stepping forward for a great solo in an otherwise fairly unmemorable song.
He mimes to the music with a 12-string Danelectro, but his main axe at that point was a 1958 sunburst Fender Stratocaster that he bought with his bar mitzvah money.
"When the Vagrants started, we all wanted new guitars, so I traded it in for – get this – a Kent," he once revealed. "A red Kent with three pickups! It was disgusting."
Although the Vagrants never achieved much success, playing in the band introduced him to multi-instrumentalist songwriter and producer Felix Pappalardi, who oversaw some of the group's work.
When West parted ways with the Vagrants in 1969 to pursue a solo career, Pappalardi came along to produce and play on his solo album, Mountain.
Although the record was named for the guitarist's larger-than-life physique, by the time it hit the stores West had proposed launching a power trio with that title and asked Pappalardi to come onboard, along with drummer N.D. Smart.
West had good reasons to pick the talented producer, not the least being that he had worked with Cream, the ultimate supergroup, producing their 1967 psychedelic breakthrough, Disraeli Gears, as well as the two albums of theirs that followed: 1968's bluesy Wheels of Fire and 1969's swan song, Goodbye.
While it was obvious for Rolling Stone to describe Mountain as a louder version of Cream, given Pappalardi's background, it was also accurate.
Mountain's music was packed with explosive, dynamic blues and rock masterpieces that could sit comfortably alongside the likes of Hendrix, the Who and Ten Years After, all of whom performed that year at Woodstock, where Mountain appeared on the second day of the festival.
They scored the gig – only their third show as a band – due to the fact that they shared an agent with Hendrix.
"We were getting five grand for it, which was incredible money for your third show in 1969," West revealed.
At the dawn of the age that brought forth a new breed of powerhouse guitar hero, his guitar playing immediately resonated with listeners hungry for unique voices.
West always said he wasn't a fast player – all that mattered to him were tone and a desire to have a vibrato like a classical violinist.
As he said in 1987, "I'm no great guitarist technically, but you wanna know why people remember me? If you take a hundred players and put them in a room, ninety-nine of 'em are gonna sound the same.
"The one who plays different…that's the one you're gonna remember. I learned that you should think about the song, think about the chords you're playing behind. Most of my solos come right out of those chords. You play the notes within the chords and try to pick a melody from there."
His powerful guitar tone was matched by his equally imposing declamatory vocals.
The contrast with Pappalardi's softer voice does much to belie the clichéd description of Mountain's music as the forerunner of heavy metal. That simplistic tag overlooks how broad the scope of their music was, with both light and shade in their sound and across their albums.
West's guitar tone was as immense as the man himself.
His reputation was built on his use of the humble Les Paul Junior with a single P-90 pickup. West saw the advantage of having the extra space that a single-pickup guitar gave him when it came to generating his distinctive use of pinched harmonics.
"You gotta have the Junior to do 'em right, because of the single pickup," he said once, when demonstrating his technique.
"See the way the strings can bend down when you hit 'em? If there was a neck pickup, it'd be in the way. You bury the pick with your thumb and you have all the room you need."
By the time the first Mountain album was recorded, West had a couple of Juniors from the 1950s, both a single and a double-cutaway.
"The single-cutaway had a better sound than the other one," he said. "I used to string them with standard sets of La Bella strings, but I'd substitute a .010-gauge A banjo string for the high E string and move the other five strings down one slot, because you couldn't get extra-light sets at that time."
When it came to amplifying West's gutsy approach, a happy accident led him to finding the perfect fit.
"It was just two Sunn stacks with the [Sunn] Coliseum PA heads," he explained. "They were Hendrix's old amps, re-Tolexed and reconed.
"See, the PA heads had those four inputs and a master volume, which started the distortion thing for me. This was years before guitar amps had master-volume controls. The head had huge transformers and gigantic KT88 tubes, and the cabinets were loaded with Eminence speakers, which never hurt your ears even with the treble all the way up."
It was that amp that appeared on 1970's Climbing!, Mountain's debut album, which included the song that would forever be linked with West: his raging hard rocker, "Mississippi Queen."
"I'd turn the mic volume and the master all the way up, and overdrive the thing like crazy," he said.
Arriving on the heels of their Woodstock performance, Climbing! received strong reviews and reached number 17 on the Billboard chart, propelled by both "Mississippi Queen" and "Theme For an Imaginary Western," a song written by Cream bassist Jack Bruce for his first solo album.
By this time, Smart had moved on to join Great Speckled Bird and Corky Laing had come onboard, solidifying Mountain's most celebrated lineup.
West's talents were widely lauded by the rock cognoscenti. When the Who arrived in New York City in 1971 to record what would become Who's Next, Pete Townshend asked him to perform in the studio with the group so that they could track the songs as a live act and eliminate guitar overdubs.
Although West's recordings with the band were unused after the Who subsequently remade the album back in England, some of them' including an early version of "Won't Get Fooled Again," showed up as bonus cuts on reissues of Who's Next and on an extended version of the leftovers compilation Odds and Sods.
Mountain's second album was, in the minds of many, their best. Nantucket Sleighride came out in 1971, peaking at number 16, one spot higher than their debut.
Among the highlights were West's opening track, the hard-charging "Don't Look Around," his funk-boogie "You Can't Get Away" (a worthy successor to the similar "Mississippi Queen") and Pappalardi's haunting "Travellin' in the Dark."
But it was the title track that showed Mountain at their best, a prog-like mini opera about whalers leaving for sea and the perils they faced.
Key to the drama was an instrumental centerpiece that showed all four musicians – by now Mountain had been fortified with keyboardist Steve Knight – whipping up a formidable storm of hard rock, powered along by West's gloriously overdriven power chords.
Oddly, this fragment served as the theme tune for Britain's long-running political discussion show Weekend World, in the 1970s.
Unaware of its use, West was apparently bemused by the enthusiastic response the song would get when Mountain performed it in the U.K.
The end of 1971 saw Mountain release Flowers of Evil, comprising a side of live tracks recorded at New York City's Fillmore East that same year, and a side of new studio tracks.
The fact that the band could deliver only one side of original material demonstrates how their relentless workload had drained their creative energies. Worse, relations between West and Pappalardi had begun to deteriorate.
The guitarist explained in later interviews that the change came when the bassist claimed a quarter of writing royalties for "Mississippi Queen," despite having written what West called "a handful of notes."
As the guitarist admitted, drug use exacerbated their problems, and after a 1972 U.K. tour, Mountain broke up.
It was here that the Cream connection reared its head again, when in 1972, West and Laing teamed up with Jack Bruce to form the supergroup West, Bruce and Laing.
The lineup generated intense record industry interest, with Columbia signing the band to a lucrative contract deal.
Why Dontcha, their 1972 debut album, was a worthy entry into West's catalog, but is inferior not only to the previous Mountain studio albums but also to Bruce's work with Cream.
While it sold well, the band struggled with their follow-up, Whatever Turns You On, which just scraped into Billboard's top 100.
By then, fighting had taken its toll. West, Bruce and Laing split up. Joined tenuously by their contractual obligations, they issued one last disc, the 1974 concert album Live 'n' Kickin'.
For a band that had been together just 18 months, it was a fruitful union, albeit a short-lived one that produced little of consequence.
Apparently, the time apart had done West and Pappalardi some good. In an unlikely turn of events, Mountain reformed to tour Japan in 1973 and released the live album Twin Peaks.
After extensive touring both overseas and in the States, they released a new studio album, Avalanche, in 1974. While not a bad disc, it again fell short of the first two Mountain records, and the group carried on touring until the end of the year, when they broke up once again.
West continued to play live and recorded a couple of solo albums, including 1975's The Great Fatsby and 1976's The Leslie West Band.
He was rumored to have been in line for a shot at replacing Mick Taylor in the Stones, a match-up that seemed ideally suited on paper, given the way that guitar duties were divided between Taylor and Keith Richards during Taylor's tenure.
Unfortunately for West, Ron Wood, who seemed born to be a Rolling Stone, snagged the spot, returning that group's sound to the organic interweaving of guitars that had been its modus operandum prior to Taylor's arrival.
West briefly lost his love for music in 1977, only to be reinvigorated by the emergence of Van Halen's self-titled 1978 debut album.
While Eddie Van Halen's pyrotechnical electric guitar technique might seem a million miles away from West's deeply blues-rooted approach, he was a huge admirer of the elder man's playing.
As the two formed a friendship, West's desire to play returned, even as the brand of music he was known for fell from favor.
Perhaps the only concession he made to the emergence of the era of shred was in his change in equipment. In addition to abandoning his Les Paul Junior for a variety of pointy 1980s axes, he developed a particular fondness for headless guitars.
West also began to introduce some subtle whammy-bar histrionics into his playing, perfectly exemplified in his 1992 appearance on The Dennis Miller Show, in which West was at his most commanding, plugging a Steinberger into a pair of Marshall stacks as he roared through "Mississippi Queen" before making a segue into "Nantucket Sleighride."
Mountain would continue to reform sporadically over the subsequent decades, although without Pappalardi, who was shot dead by his wife in 1983 under suspicious circumstances.
Released in 2007, their Bob Dylan covers album, Masters of War, was an unlikely entry in the group's catalog but was much better than might have been expected.
West's heavyweight guitar-and-vocal combo powered many of the tracks to hard-rocking heights that allowed him to take ownership of the songs.
Perfect examples of the Mountain blitzkrieg approach are "Everything Is Broken," "Mr. Tambourine Man," "Highway 61 Revisited" and "Subterranean Homesick Blues."
West's ability to shift from those powerhouse vocals to a softer, more reflective treatment was perfectly showcased on his acoustic guitar reading of "Blowin' in the Wind," before it morphs into a dinosaur-sized stompathon.
West recorded a number of solo albums for various labels over the years and continued to tour extensively, even through the various health problems that dogged him throughout his life.
He had managed to deal with long-standing addiction problems only to be diagnosed with diabetes in the mid 1980s, and then had further problems when he developed bladder cancer around the turn of the millennium.
West recovered but had new issues with his diabetes, which led to him having to have his right leg amputated at the knee in 2011.
He continued to play live shows and record, even after so many setbacks. He lost a considerable amount of weight which undoubtedly improved his overall health, but sadly he died from a cardiac arrest in 2020.
West's legacy is clear in the number of artists who sought to work with him during his career and in the tributes that were reported at the time of his passing.
Even if he were remembered only for "Mississippi Queen," that one song would be enough to cement him as one of the most strident axe-slingers in the history of a genre not short on killer guitarists.
However, West had so much more to offer, and an exploration of his back catalog will reveal numerous riches, not only from his early period of success with Mountain but also right through to the later blues guitar albums that he recorded as a solo artist.
In truth, you can't go far wrong with any of his albums, as any Leslie West solo is a masterclass in tone, touch and taste from the ultimate "feel" player.
Image 1 of 2
Order Legacy: A Tribute to Leslie West here.
All the latest guitar news, interviews, lessons, reviews, deals and more, direct to your inbox!
Mark is a freelance writer with particular expertise in the fields of '70s glam, punk, rockabilly and classic '50s rock and roll. He sings and plays guitar in his own musical project, Star Studded Sham, which has been described as sounding like the hits of T. Rex and Slade as played by Johnny Thunders. He had several indie hits with his band, Private Sector and has worked with a host of UK punk luminaries. Mark also presents themed radio shows for Generating Steam Heat. He has just completed his first novel, The Bulletproof Truth, and is currently working on the sequel.