Steve Morse: My Career in Five Songs
Bach transcriptions, power chords and grasshoppers. Steve Morse reflects on inspired tracks from his long career.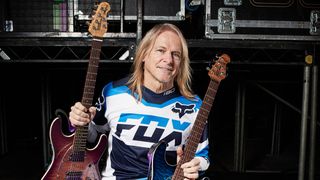 (Image credit: Future / Olly Curtis)
Steve Morse has a long history with Guitar Player. Back in 1981, readers voted Dixie Dregs' Industry Standard the year's Best Guitar Album, while Morse himself received Best Overall Guitarist, an accolade he won for five years in a row, at which point he entered the Guitar Player Gallery of Greats.
In 1984, "The Introduction," the title track from his solo debut album, was featured on our flexi disc Soundpage, giving readers a chance to enjoy his unique combination of melodic invention and insane chops.
It was the age of shred, and Morse was ahead of the game, thanks to his success with the Dregs, who combined southern rock, fusion and prog in a distinctive sonic stew. In our present age of socially conscious rebranding, it's interesting to recall why the Dregs dropped Dixie from their name.
"Audiences thought we were some kind of Dixieland jazz band," Morse explains. "We were just three kids coming up with band names as a joke, and we thought the Dixie Dregs sounded funny. None of us were even from the South."
Morse's solo career really took off with "Tumeni Notes," from his third solo album, 1989's High Tension Wires. The track is a master class in alternate picking, on which he displays the face-melting speed most players can achieve only with sweep picking.
By then, he'd been a member of Kansas, which he joined in 1985. Since 1994, Morse has been in Deep Purple, who have just released Whoosh! (earMUSIC), a collection of thoughtful and inventive songs that take their lyrical cue from today's world and the direction in which it's headed, without ever sounding preachy or sanctimonious.
On the new record, Morse's playing is as invigorating as ever, and while he suffers from arthritis, it's had no discernible effect on his ability to weave his signature lines in and out of Deep Purple's distinctive sound.
"It's in my family," he says of his arthritis. "There's no doubt that all my years of playing have made it worse, but I've adapted my technique to deal with it. The most difficult has been trying to pick from the elbow rather than the wrist.
"Most of my technical practice is designed to perfect that. I go through a show pretty well now, though at times there is lot of pain that requires pharmaceuticals. I tried a treatment of blood-sucking mosquitos yesterday," he says, laughing. "But it didn't seem to help!"
Like other performing acts, Deep Purple have been sidelined by Covid-19 and the worldwide shutdown of live music.
"We've lost 18 months of work," Morse laments. "We've only played one show this year. It is so bad for so many artists who have depended on their live income. For a lot of people, royalties don't help much, even when they're getting them. You look at Spotify and you'd need a computer to work out what percentage of one percent your royalty check would be."
In addition to Deep Purple, Morse has continued to work with his Flying Colors side project, which released its third studio album, Third Degree, last year, and has just issued the new live album Third Stage: Live in London. He has also periodically revisited the Dregs, both to tour and record.
Given his long career and numerous bands, we were curious to see which five tracks Morse considers among his most important.
"Take it off the Top" – Dixie Dregs ('What If,' 1978)
"I was working on an idea for a song, and I realized that I wanted to compose more parts for it, rather than have a lot of improvisation. When the verse came in, it had a lot of power chords, and the idea was to start with the rock riff in E.
"I was trying to simplify my writing a bit, but then I slipped back into the more complex route, just like somebody falling off the wagon. [laughs] The song has a bit of southern rock, fusion… You know, that mixture that is kinda like the Dregs' philosophy.
"I can't really help that, because I don't see any real distinctions between styles. I basically play a style of music that I call 'tonal music.' I don't write in atonal styles. Others might say it is different styles, but I'd probably say that they're sub-styles.
"There's a lot of commonality between disparate musical genres. For example, church organ music and the chord progressions in a lot of heavy songs have a lot in common. On the first part of the song, I'm choking the pick with my fingers and moving back up the low-E string to generate those harmonics. It's a subtle effect, but I think it makes listeners sit up and pay attention."
"Night Meets Light" – Dixie Dregs ('What If,' 1978)
"This song marks the first time I ever composed a piece following nothing but the melody. A lot of times I think of chords and melody together, but not for this. It was a bit like a violin piece or something, where I was chasing the melody and I ended up with some interesting arpeggiated parts and some very confusing timing.
"When I was finished and I analyzed it, I thought, Oh boy! [laughs] The timing sometimes changes from one bar to the next. I tried to fix it and make it more regular, but it sounded dumb.
"Back when we cut this track, we used to play shows for a percentage of the door. At the time, we were up in the mountains of Virginia, about 700 miles from home, and we were broke. It was a week before our next gig, which we hoped would pay enough to get us back home.
"We were staying in some cabins that were usually used for skiers; it was out of season, so no one was there, and we could stay all week for free. We were so poor that Steve Davidowski, our keyboard player, was catching grasshoppers to eat. [laughs]
"While we waited for the gig, we set up all of our gear and played each day. I showed the song to the guys, and we kept working on it. It went through a period of evolution and refinement, which caused them some frustration. They'd say, 'That's not how you played it a few minutes ago!' And I'd say, 'I'm refining it!'" [laughs]
"Tumeni Notes" – Steve Morse ('High Tension Wires,' 1989)
"When I was learning to play classical guitar, I played through a lot of traditional studies. They would concentrate on left-hand position, right-hand technique or whatever, and I used those concepts to find ways to home in on things that I felt needed work in my own playing.
"I still write my own studies to fix possible weak links in my playing, and that's how 'Tumeni Notes' evolved. I was trying to improve my one-note-per-string skipping technique with the pick, and the B section – where it goes to C sus and then G/C – remains the hardest thing I've ever written.
"When you write something, you play it over and over to get the right combination to please your ear, and at that point it didn't seem like it was impossible to play. The piece fit me like a glove, performance-wise. Now it is like a death trap. [laughs] It particularly exacerbates my wrist problems.
"At that time, I twisted my wrist and picked in an arc, which enabled me to get accuracy and speed, and I could mute and unmute with the palm of my hand, which made it exceptionally clean. Now it's different. I have to use the traditional non-arcing technique. I still have speed, but I can't jump between the strings as easily."
"Hereafter" – Dixie Dregs ('Dregs of the Earth,' 1980)
"Almost everything on this could be played as a solo classical guitar piece, with the melody on top of the chords. It was very intently through-composed. I really like the chordal movement in it. All the chords have slight suspensions, and a lot of them have inner moving voices as it changes.
"I like the way the melody and harmony run through at the same time in some places. I think there's a lot of Celtic influence in my playing from my grandfather being a Cajun fiddler; I think there are many similarities between the two styles.
"I also listened to and played a lot of traditional music, like John Dowland lute pieces and Bach transcriptions for classical guitar. Those influences really come through on 'Hereafter,' which, to my ears, has quite an ancient feel about it at times.
"I definitely gravitate to Renaissance-period music, where so much lute music has been transcribed for classical guitar. I actually played it on acoustic 12-string, which is very difficult to keep in tune with the moving voices."
"Man Alive" – Deep Purple ('Whoosh!,' 2020)
"Some of the suspensions in the chords require very long stretches to get those different voicings, which are a key part of the sound. They're not terribly unworkable positions, but it's definitely a big difference from the traditional thumb-over-the-neck rock power-chord grips.
"The solo on this is an attempt to play something different from what I would normally do. Bob Ezrin, the producer, didn't like the jazzy overtones that I was bringing to it. He wanted me to go for something simple. I was playing his cheap Danelectro/Sears baritone guitar, which has strings like radio antennas. [laughs]
"The good thing about long, high-tension strings is that it's really easy to get artificial harmonics, and they ring very true. It forced me to keep the solo slow and simple.
"A guitar that compels you to play differently really helps you concentrate on the music. I used artificial harmonics on almost every note. It stands out in my mind as a weird combination of things that make it a little different from the rest of my work on the new album."
Deep Purple's new album, Whoosh!, is out now on EARMUSIC.
All the latest guitar news, interviews, lessons, reviews, deals and more, direct to your inbox!
Mark is a freelance writer with particular expertise in the fields of '70s glam, punk, rockabilly and classic '50s rock and roll. He sings and plays guitar in his own musical project, Star Studded Sham, which has been described as sounding like the hits of T. Rex and Slade as played by Johnny Thunders. He had several indie hits with his band, Private Sector and has worked with a host of UK punk luminaries. Mark also presents themed radio shows for Generating Steam Heat. He has just completed his first novel, The Bulletproof Truth, and is currently working on the sequel.