Watch The Who's Earliest Known "My Generation" Performance Film
This 1965 clip shows the fledgling rock stars causing a big s-s-sensation.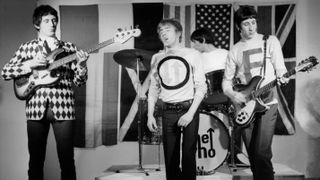 (Image credit: Michael Ochs Archives/Getty Images)
On this day in 1965, The Who released their debut album, My Generation. Featuring an alternative cover and track listing, the U.S. version – titled The Who Sings My Generation – was released the following year.
While it became a top ten hit in the U.K., The Who's debut long-player failed to chart in the U.S. although has since been widely lauded as one of the greatest rock albums of all time.
The album's title track, "My Generation," was released as a single both in the U.K. and U.S in the Fall of 1965. Peaking at number 2 in the U.K. it became the highest charting single in the band's history along with 1966's "I'm a Boy."
This 1965 clip is believed to be the earliest footage of The Who performing their definitive track live. Towards the end, it appears guitarist Pete Townshend and vocalist Roger Daltrey experience something of an onstage spat.
Reportedly, tensions were running high following Daltrey's return after being fired for assaulting drummer Keith Moon and flushing his speed down the toilet!
As seen in this film, Townshend was among the first well-known British musicians to play Rickenbacker electric guitars and would soon become synonymous with the American brand.
"Pete Townshend took it somewhere else," Rickenbacker author Martin Kelly told Guitarist magazine in a recent interview. "He really played the hell out of his Rose Morris 6- and 12-string models. If you get a 12-string, you can play pick-y stuff like [Roger] McGuinn but if you hit it hard, you can really get the sound of those early Who records.
"Pete often played a 1993 with flatwounds, and he hammered the fuck out of it. It's such a great sound and similar to how [Paul] Weller played Rickenbackers. Guy Picciotto from Fugazi is the same – he's very heavy handed with it. If you think of those three guitarists – Townsend, Weller and Picciotto – they all play in a harder style. Rickenbackers have a delicate feel to them, but they're pretty tough. Especially the way they're built now."
Not so tough as to withstand the wrath of Pete Townshend and a stage floor, however. On several occasions, the guitarist sacrificed these gorgeous instruments in the name of rock 'n' roll during intense performance rituals.
Recalling the first time he destroyed a Rickenbacker on stage in 1964, Townshend told Guitar For the Practicing Musician magazine, "I banged it against this low ceiling and [the headstock] fell off… I just decided to just finish it off in a very carefully considered act of artistic destruction, and I smashed it up. I realized then that there was this incredible excitement in the audience."
Order the Deluxe version of My Generation from Amazon here.
The Kelly brother's definitive Rickenbacker book is finally available here.
All the latest guitar news, interviews, lessons, reviews, deals and more, direct to your inbox!
Rod Brakes is a music journalist with an expertise in guitars. Having spent many years at the coalface as a guitar dealer and tech, Rod's more recent work as a writer covering artists, industry pros and gear includes contributions for leading publications and websites such as Guitarist, Total Guitar, Guitar World, Guitar Player and MusicRadar in addition to specialist music books, blogs and social media. He is also a lifelong musician.