Watch Cream's Legendary "Sunshine of Your Love" Farewell Performance on the Anniversary of 'Disraeli Gears'
By Rod Brakes published
Eric Clapton, Jack Bruce, and Ginger Baker bring the house down at London's Royal Albert Hall in 1968.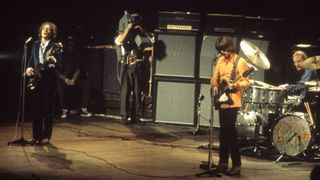 (Image credit: Estate Of Keith Morris/Redferns)
On this day, in 1967, the world's first supergroup – comprising Eric Clapton, Jack Bruce, and Ginger Baker – released their breakthrough second album, Disraeli Gears. A touchstone of '60s psychedelia this hard rock masterpiece broke the power trio in America and became a top-ten platinum-selling classic.
And yet despite the band's success all was not well in the Cream camp. Part way through their gargantuan Spring 1968 US tour the end was already in sight when they decided to call it a day.
Forming in July 1966, the group spent a mere two years making music together before officially announcing their forthcoming disbandment in July 1968.
Later, in October 1968, Cream set out on their American "Farewell" tour. Returning to England the following month, they played their final two shows of the era on home turf.
"On 26 November, 1968, Cream played their final two shows at the Royal Albert Hall in London," wrote Clapton in his 2007 autobiography. "Before the gig started, I just wanted to get it over with, but once I was up on stage, I became quite excited. I thought it was great that we could do this and keep our heads high, and walk away from the whole thing with a fair amount of good grace."
For the sake of posterity, the BBC captured both of the band's performances and the footage was later assembled into a rockumentary that was screened on UK television in 1969.
Bruce later recalled that by this stage the reaction to Cream was so great "we looked at each other and thought 'Are we doing the right thing?' There was a feeling of regret but nobody was able to step forward and say 'Oh, let's not do this!'"
Indeed, the crowd's reaction to their rendition of the top ten single "Sunshine of Your Love" says it all.
As the BBC narrator in this clip points out, "The Cream have played together for only two years, but in that time have almost singlehandedly given rock a musical authority which only the deaf cannot acknowledge... Eric Clapton: a 23-year-old ex-stained-glass window designer, rated by most as the finest instrumentalist of his kind in the world."
Although Cream were originally together for a relatively brief period their heavy, psychedelic blues style became a huge influence on electric guitar players as rock music progressed throughout the '70s.
And with its signature blues-based riff ploughed through a wall of Marshall amplifiers "Sunshine of Your Love" ultimately set a template for hard rock and metal.
Buy Disraeli Gears and other Cream classics here (opens in new tab).
Rod Brakes is a music writer with an expertise in all things guitar-related. Having spent many years at the coalface as a guitar dealer and tech, Rod's more recent work as a journalist covering artists, industry pros and gear includes writing hundreds of articles and features for the likes of Guitarist, Total Guitar, Guitar World, Guitar Player and MusicRadar, as well as contributions for specialist books, blogs and social media. He is also a lifelong musician.
Get the latest news, reviews and product advice straight to your inbox.
Thank you for signing up to The Pick. You will receive a verification email shortly.
There was a problem. Please refresh the page and try again.