The Keith Richards Guide to Distortion
The Rolling Stone comes clean on distortion in this archive interview from the December 1992 issue of Guitar Player.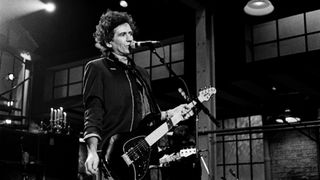 (Image credit: Stacia Timonere/Getty Images)
30 years ago, Guitar Player's Jas Obrecht and Jesse Gress met with Keith Richards in New York. While they were admiring a photo of some vintage fuzz pedals, Richards sauntered into the room, large tumbler in hand...
"Oh, vintage Fuzz-Tones? Well, there's the first one [points to a Colorsound pedal]. But where's that fucking "Satisfaction" one? They bunged me. I mean, it was a miracle. Whatever it was, it was the first one Gibson made [the Maestro FZ-1 Fuzz-Tone].
"I was screaming for more distortion: 'This riff's really gotta really hang hard and long,' and we burnt the amps up and turned the shit up, and it still wasn't right. And then Ian Stewart went around the corner to [a music store] and came around with a distortion box: 'Try this.'
"It was as offhand as that. It was just from nowhere.
"I never really got into the thing after that, either. It had a very limited use, but it was just the right time for that song. The riff was going to make that song or break it on the length that you could drag that [sings fuzz line] – unless you wanna get horns, which didn't work.
"We didn't have the time, and it wouldn't sound right. Yeah, it was one of those fortuitous things."
Distortion has become extremely popular again…
"I suppose it's got something to do with the state of everybody's life. [Laughs]
You've certainly been guilty of some pretty filthy guitar tones.
"Yeah, man. Still lookin' for 'em."
"999."
"It's bad, huh? Yeah, I figured you might be talking about that. Believe it or not, that's through a Palmer speaker simulator. A little box, no speakers. This is against all my principles, right? I plugged that mother in, and it's also through a Twin. But that sound basically comes out of the Palmer.
Waddy [Wachtel] and I are purists about amp sounds, but we couldn't deny that thing. At the right setting, it was, "Whoa! Hey! We can get this now, but it's taken a long time to find it."
Traditionally, how would you go about getting a nice distortion?
"I'd set up that Twin and maybe slave a little Champ. Put it through the both of 'em and then mix. If I'm looking for some kind of distortion, I usually use two amps rather than go for it out of one thing, because I've always found that a really good distortion needs to come from two different places.
"Obviously, it's not true for 'Satisfaction,' where it's an obvious thing, but you want some distortion and some clarity at the same time where you need it, so I'd rather put it through two amps and overload one of them."
Small amps?
"Yeah. Champ or a little Silvertone, a Kay thing. I've got these little relics lying around, all of those weirdo amps. Bump that one up, use the other one for clear, and then you can mix the two in where you want them.
"It's very rare on a track that you want the same sort of distortion all the way through. I like to be able to play with it, so I can bring one amp up. Put them on separate tracks so you can juice the distortion where you want it.
"You have the opportunity to play around with it after you've played it, because when you're playing it, you're not going to hear exactly what's going down on the tape. You've got the cans on."
You have a Fender Twin that's serial number #A00003. Is that the third one made?
"Yeah. It's a bad amp, man! I wish I'd had it from day one! It takes a while to find those."
Browse the Keith Richards catalog here.
All the latest guitar news, interviews, lessons, reviews, deals and more, direct to your inbox!