Watch Mick Taylor's Chaotic Baptism of Fire with The Rolling Stones
The ex-Bluesbreaker does well to hold it together during his massive Hyde Park debut.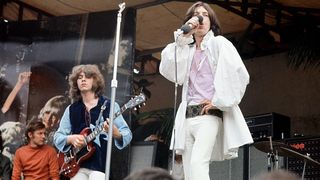 (Image credit: Syndication/Mirrorpix/Mirrorpix via Getty Images)
Watching this clip of Mick Taylor performing "Sympathy for the Devil" at Hyde Park – filmed 52 years ago today – evokes infinitely more sympathy for him than it does for the fallen angel himself. Complete with diabolic tuning and a supporting cast of Hells Angels, all hell breaks loose when hysterical fans begin invading the stage. Taylor, having now officially joined The Rolling Stones, was out of the proverbial frying pan and into the fire.
Barely in his 20s when he was recruited to replace The Rolling Stones' ailing guitarist Brian Jones, this performance at Hyde Park was to be Taylor's live debut with the band. It was, however, overshadowed by founding member Jones' death just three days prior.
Nevertheless, it was decided the show must go on, and as a tribute to their fallen comrade, a vast number of white butterflies were 'released' on stage. Unfortunately, rather than joyously fluttering from the confines of their boxes, many of those poor creatures simply flopped to the ground overcome by heat and exhaustion.
It was not a good omen...
Added to the pressure of this being Taylor's first public performance with The Rolling Stones was the fact that he found "the greatest rock 'n' roll band in the world" to be shockingly under-rehearsed. "They sounded like a typical bunch of guys in a garage playing out of tune and too loudly," he once remarked. Indeed, they had not performed in public for over two years. The estimated 250,000-500,000 attendees at Hyde Park probably did little to settle his nerves.
Us guitar nerds will notice Taylor's Bigsby-equipped Cherry Red SG-style early-'60s Gibson Les Paul Standard. Taylor used the guitar on The Rolling Stones' American tour later in the year before it was stolen in the early-'70s from the band's house in France.
Several other electric guitars disappeared during the theft, including this Gibson Flying V belonging to Keith Richards.
52 years after the event, this highly repeatable film shows a turning point in the band's historical career, while its "Sympathy for the Devil" climax seems to distil the organised chaos of The Rolling Stones into one hugely entertaining clip. Despite everything, it's hard to look away.
Rent and purchase the full-length film on DVD and Blue-ray here
All the latest guitar news, interviews, lessons, reviews, deals and more, direct to your inbox!
Guitar Player is the world's most comprehensive, trusted and insightful guitar publication for passionate guitarists and active musicians of all ages. Guitar Player magazine is published 13 times a year in print and digital formats. The magazine was established in 1967 and is the world's oldest guitar magazine.
When "Guitar Player Staff" is credited as the author, it's usually because more than one author on the team has created the story.